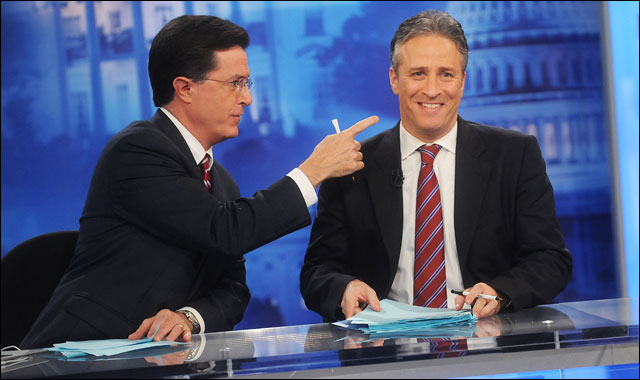 Now that the election is over, Jon Stewart and Stephen Colbert won't have Mitt Romney to beat up anymore.
They'll find new targets. Both "The Daily Show With Jon Stewart" and "The Colbert Report" have been through presidential election cycles before and not lost creative a step in skewering both politicians and the often-partisan media that covers them.
But it's not just those two topical series that Comedy Central is hoping will lift it out of a third quarter slump. The net was off 26% and down to 750,000 total viewers in primetime from July-September compared to the same time frame a year ago. It also saw a decrease of 22% in the 18-34 demo — a sweet spot for advertisers who sell their wares to the young adults who tune in.
If it wasn't for the Stewart and Colbert's antics, things could have been worse. For the year "The Daily Show" is averaging an all-time high of 2.5 million viewers while lead-out "The Colbert Report" clocks in with 1.8 million each night.
"It's hard to overstate how important they are," said Kent Alterman, the cabler's head of original programming and production. "Not only do they provide a big voice for the network, but a big premium for advertisers. Their influence and importance goes everywhere."
Despite the rough third quarter, Alterman and his exec team — including just-promoted Gary Mann as senior VP of original programming and development — say the fourth quarter is significantly ahead of the third quarter and better than 2011's fourth quarter. And from president Michele Ganeless on down, there's reason for optimism at the Viacom cabler based on the net's upcoming slate.
The channel's top-rated show, "Tosh.0," which averaged 3.6 million total viewers in its fourth season, will return in 2013 and venerable "South Park" continues to generate more than 3 million viewers for first-run episodes.
Creatively, the net is happy with the comedy duo's series "Key and Peele," which generated lots of online buzz for their President Obama skits during the campaign and could be a long-term player.
"It was no accident that as Obama got elected to a second term, 'Key and Peele' kept exploding in popularity," Alterman said.
Alterman has high hopes for many of the new series set to debut next year, including Nick Kroll's sketch show, "Inside Amy Schumer" and "The Jeselnik Offensive." Both Schumer and Anthony Jeselnick have made a name for themselves performing on Comedy Central's roasts.
As for priorities heading into the new year, Alterman said that while reality has long been the net's staple, scripted programming remains vital.
"I would like to get more narrative things going, like 'Workaholics.' It's an area in which there is more to be mined," he said.