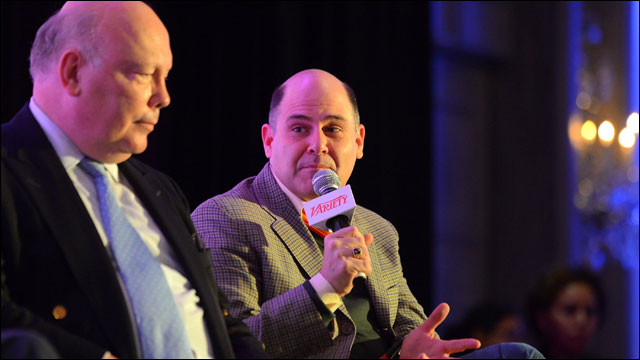 Above: 'Downton Abbey' exec producer/creator Julian Fellowes and 'Mad Men' exec producer/creator Matthew Weiner attend the Variety Emmy Elite Showrunners Breakfast in Century City
With 10 Emmy-nominated showrunners in the same room, the Variety Emmy Elite Showrunners Breakfast offered a feast of insider insight and idiosyncrasy Friday.
"Homeland" exec producer Alex Gansa dropped a figurative bomb in more ways than one when he mentioned that the show had seriously considered letting the lead character played by Damian Lewis blow himself up.
"We were fully prepared to kill Brody off at the end of the first season," Gansa told attendees at Century City's Intercontinental Hotel, "until we saw Claire (Danes) and Damian together and realized, that's the show."
On a panel that also featured Julian Fellowes and Gareth Neame ("Downton Abbey"), Vince Gilligan ("Breaking Bad"), Matthew Weiner ("Mad Men") and Terence Winter ("Boardwalk Empire"), Gansa also revealed one of the morning's many interesting writerly secrets when he said that to this day, he regularly reads — and steals from — old "NYPD Blue" scripts, a fact that had to tickle audience member and former "NYPD" star Dennis Franz.
All the drama showrunners offered comedic sides of themselves, perhaps none more so than Fellowes, who said the media scrutiny of shows in America was child's play.
"If you think you are bad off here, try the British press," Fellowes said. "I had a whole two pages attacking my mother, who died 30 years ago."
Participants in the comedy panel, which included "The Big Bang Theory" director Mark Cendrowski, exec producers Alec Berg ("Curb Your Enthusiasm"), Jenni Konner ("Girls"), Armando Iannucci ("Veep") and Steve Levitan ("Modern Family"), were no slouches with the quips and revelations, including those relating to the use of improv in the final product.
"The idea that 'Curb' is improvised is a misnomer," Berg said, noting the show has fiercely detailed outlines. "If it's all improv, I don't know what I'm doing in that office for six months."
Levitan and Cendrowski sighed jealously at the more relaxed shooting schedules of their HBO counterparts, including "Curb." Levitan recalled once seeing Larry David golfing and saying, "That looks like the swing of someone shooting 14 episodes a year."
When David shot back, "I'm only doing 10," Levitan joked, "Oh, then your swing should be better."
For more from the Emmy Elite Showrunners Breakfast, visit variety.com/thevote