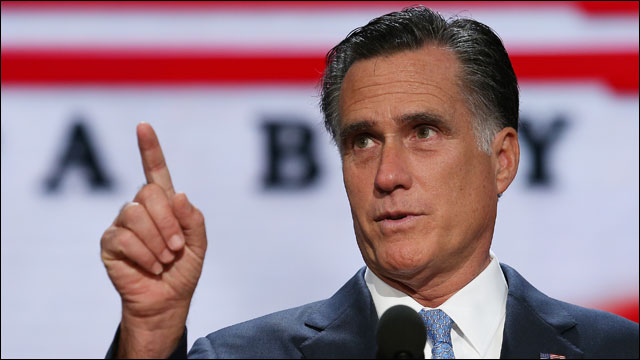 TAMPA, Fla. — With Mitt Romney now the official Republican presidential nominee, the question for Hollywood is what a Romney presidency would mean for showbiz.
Even with Clint Eastwood appearing Thursday night at the con- vention, and Romney having gathered an array of endorsements and celebrities to support him, the candidate has fewer industry ties than John McCain in 2008 and George W. Bush when he first ran in 2000.
Romney has never spoken to Friends of Abe, the fellowship of showbiz conservatives that has hosted a who's who of Republican leaders and popular figures, including Paul Ryan. Nor has he held a Hollywood-centric fundraiser like the previous GOP standard-bearers had by this point.
The pressing question is how Romney's views would translate on the policy front at a critical time for the industry as it grapples with challenges including piracy, trade and runaway production.
Romney has seldom addressed issues specific to Hollywood, but his campaign has said that he will offer robust protections for intellectual property; still, in a presidential debate he came out against the Stop Online Piracy Act, the anti-piracy legislation that was sidelined in January amid protests from Internet activists and the tech industry.
Romney has said that he would take a tough position on China as a trading partner, but much will depend on execution and who he would tap for key trade and commerce posts.
His campaign's professed zeal for deregulation is something that Romney surrogates and supporters say should be good for the business side of Hollywood.
The Republican party platform's call to repeal the FCC's "net neutrality" rules, for instance, could spur innovation and perhaps new platforms for entertainment product. But whether that shift would be good for showbiz depends on the vantage point. The industry was split over the issue, and writers in particular led the way in calling for such regulation.
At the Republican convention, Romney supporters said the industry has good reason to back their candidate: economic self-interest.
"The industries that appreciate that their intellectual property, including copyrights, are essential, need to get behind somebody who understands that the creation of wealth is sometimes long and difficult, and when the payday comes and it's large, you shouldn't be penalized for it," said Rep. Darrell Issa (R-Calif.).
Romney has been specific when it comes to some of the cuts he would make to government support for the arts and public television. He has called for zeroing out funding for PBS, the National Endowment for the Arts and the National Endowment for the Humanities, arguing that they should survive on their own with private contributions.
On the subject of broadcast indecency, Republican administrations have traditionally taken a harder line than Democrats, something that Romney would be able to do with Republican appointments to the majority of the FCC.
The GOP platform includes language saying that "current laws on all forms of pornography and obscenity need to be vigorously enforced." But while the issue has come before the Supreme Court twice, scrutiny of a more robust indecency regime hasn't really resolved the conflict.
Conservatives also have been calling for an overhaul of existing telecommunications laws, including media ownership, which they see as burdensome and outmoded, and the Republican party platform singles out such laws as being antiquated in the tech age. Where Romney stands on this front is uncertain.
Generally, lobbying sources say that it is difficult to predict specific policy initiatives, since so much depends on who is put into key posts and what kind of clout they command in a new administration.
Another way of looking at the impact of a Romney White House, and a Republican-controlled Congress, has less to do with policy planks and more to do with influence.
John Feehery, president of QGA Communications, said the entertainment industry should worry where it is positioned relative to the tech sector and "how you define intellectual property."
"The problem with Hollywood is they put almost all of their eggs in the Obama bucket," said Feehery, noting that President Obama continues to garner support during this cycle from most of the studio chiefs, with the exception of News Corp.'s Fox because of Rupert Murdoch's political stance.
Feehery was brought in to the MPAA for a senior position in 2005 to provide some conservative balance after studio chiefs selected Dan Glickman, a former Democratic congressman and former Secretary of Agriculture, to succeed Jack Valenti as chairman. At the time, the GOP-led Congress was in the midst of the so-called "K Street Project," a drive to fill key lobbying posts with Republicans, and when the movie business lost out on a key tax provision, it was viewed as punishment for the hiring of Glickman and not a party figure to fill the post.
Feehery also said that if a Romney administration pursued tax reform, there would be a lobbying scramble to preserve incentives and tax breaks that benefit the industry.