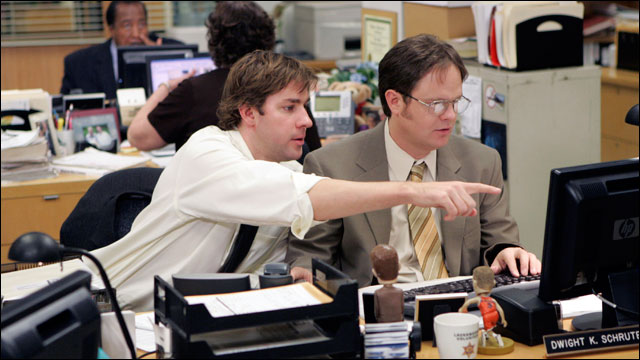 Despite reigning as NBC's highest-rated scripted program, "The Office" will close its doors after its upcoming ninth season.
Longtime exec producer Greg Daniels, who returned to showrunner duties this year after a three-season absence, said the decision was driven by creative concerns, not commercial considerations.
"This year feels like the last chance to really go out together and make an artistic ending of the show," said Daniels, who adapted the show — which ran for all of 14 episodes in the U.K. from 2001-03 — into an NBC stalwart that is on target to reach the 200-episode mark.
NBC had considerable incentive to try to extend the franchise, which has the youngest average audience (under 36 years old) of any scripted show on ABC, CBS or the Peacock, and is also the NBC's biggest DVR gainer in live+7 ratings, jumping 46% from a 2.8 rating to 4.1.
Daniels, however, said that NBC Entertainment chairman Bob Greenblatt was supportive of the decision.
"Greenblatt has been a producer and is very creative, and I think he really responded to the ideas that I pitched him at the beginning of the season — just the twist and turns that I have planned — that it would be better to actually call it the last season of the show," Daniels said. "I know he had a lot of new shows — a lot of people would cling to what was working to help them launch (them). But like I said, I think he was very open to a creative pitch."
"Certainly, we're not leaving for any reasons other than the ones I've described. The show is very healthy and valued at NBC. I'm actually a little surprised how supportive they've been (regarding the decision)."
Said Greenblatt: "'The Office' is a classic, award-winning television comedy, and all of us at NBC couldn't be prouder to have produced and telecast the series as it heads into its ninth season….Fans are in for a treat. It's always difficult to see these kinds of shows come to an end, but we are honoring the cast's and producers' desire to make this the final season."
The announcement does allow NBC to promote the final season of the series in a way the network hasn't had an opportunity to do since the departure of "ER" in 2008-09. With the expected departures of such cast members as Jenna Fischer, Ed Helms, John Krasinski and Rainn Wilson (the latter for spinoff project "The Farm"), the end date also forestalls having to deal with casting issues more complex than the departure of series star Steve Carell in 2011.
"I think it could (go on), and we had debated whether we could reboot it," Daniels said. "The format is a very strong format. For example, we are introducing two new characters this year (played by Clark Duke and Jake Lacy) who I think are very, very funny, and you could see a world where new people keep coming on the show. But ultimately, I think this feeling (of) wanting to wrap up these arcs and do justice to the existing characters in the most creative and explosive way means the show will be changed in such a way that if anything was to continue, it just wouldn't be the same show.
"John and Jenna and Ed and Rainn are producers this year," Daniels said, "and they're very in on this vision and this pitch. I think we all had a lot of passion for it and it was persuasive."
While praising Paul Lieberstein (who is exec producing "The Farm" with Wilson) for his work as "Office" showrunner the past three seasons, Daniels said the final season would focus more on arcs than standalone episodic comedy. He added that it will reward longtime fans with story developments that include incorporating the documentary crew that has been theoretically filming the lives of the characters for nearly a decade.
"People always say, 'Why are they still filming? What are they after?' We're going to explore that … for comedic effect," Daniels said.
In addition, while acknowledging obvious hurdles to it happening, Daniels didn't rule out the possibility of Carell coming back for a final appearance.
"We would certainly wish for it," Daniels said. "We're not going to put pressure on Steve by writing something that would only work if he returns, but it would be fantastic. I think for him, he really loved how he was exited and probably is anxious about not messing up such a stylish exit — so that's a perfectly legitimate point. So we'll see. We just have ideas for the ending, but if he were to participate, we'd have good times."
Daniels added that he would recruit Ken Kwapis, who directed the pilot, to helm the finale, saying that "we're going to try to have a big exciting party, and get old folks as well as new folks for whom it's their last chance to be on 'The Office.'"
The legacy of the show is considerable. In addition to anchoring Thursday nights on NBC for the past several years, "The Office" has been a veritable farm system for writers and showrunners, including "Parks and Recreation" exec producer Michael Schur (whose new two-year overall deal with Universal TV was announced moments before "The Office" news).
"The Office" was also a pioneer in using sales of episodes on iTunes to generate revenue and viewer interest that not only helped sustain the series during its early years but also helped legitimize the Apple endeavor as a platform.
"The show has run over twice as long as high school, I was saying to the crew," Daniels noted. "It's such a rare and lucky thing. … It's the best professional experience of my life."