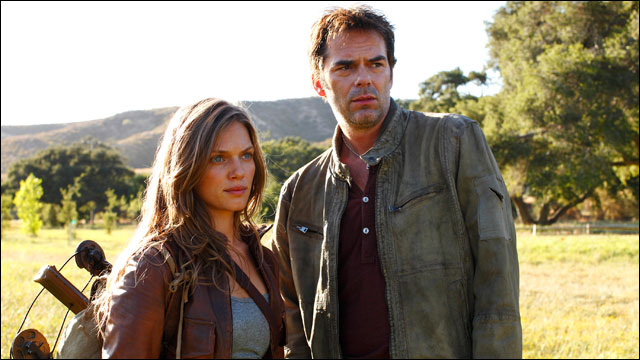 NBC is the first network this fall to begin ordering back-nine episodes for its new series, giving the go-ahead for "Revolution," "Go On" and "The New Normal."
The Peacock has gotten out of the gate in strong shape with these series, and it's also seeing traction for the third cycle of "The Voice," which launched in fall for the first time.
"We're very pleased with early results of the last three weeks of our fall season rollout," said Robert Greenblatt, NBC's chairman of entertainment. "The strategy for this season was to draft off the promotional platform of the Olympics and then begin our season early and strong. I think we've accomplished both of those goals, yet we know it's a long season and there's much work ahead of us."
While the 10 p.m. slot has been a trouble spot for the network in the past, "Revolution" has defeated both ABC's "Castle" and CBS' "Hawaii Five-0" with a 3.6 rating/9 share in the 18-49 demo and 9.8 million viewers on Mondays.
"Revolution" is also receiving extremely high DVR playback: It's tied with ABC's "Modern Family" as the most watched show on DVR, although it's still early in the season.
Sci-fi series, about what happens on Earth when all the electricity has been mysteriously turned off, is produced by Warner Bros. Television and Bonanza Prods. and exec produced by Eric Kripke, J.J. Abrams and Bryan Burk. Jon Favreau, who directed the pilot, serves as co-exec producer.
The cast includes Zak Orth, JD Pardo, Giancarlo Esposito and David Lyons.
On the comedy side, Matthew Perry starrer "Go On" is averaging a 3.2 rating and 8.6 million viewers overall. Laffer got a early preview during NBC's Olympics coverage and has served as a solid Tuesday 9 p.m. lead-in to "The New Normal," which also was picked up for a full season.
In its Sept. 11 timeslot premiere, "Go On" — about a radio sports talk host (Perry) who, with the help of a support group, is learning to deal with the death of his wife — scored a 3.4 rating, which was the best comedy debut for the network in the last two years.
From creator Scott Silveri, who exec produces with Todd Holland, Karey Nixon and Jon Pollack, "Go On" is a homegrown series for NBC as it is produced by Universal Television.
As for "The New Normal," from creators Ryan Murphy and Ali Adler, show is averaging a 2.2 rating and 6 million viewers. Skein most recently saw 74% retention from "Go On," which is a good sign for the net.
"The New Normal" is produced by 20th Century Fox Television. Dante Di Loreto exec produces with Murphy and Adler. Andrew Rannells, Justin Bartha, Georgia King and Ellen Barkin co-star.