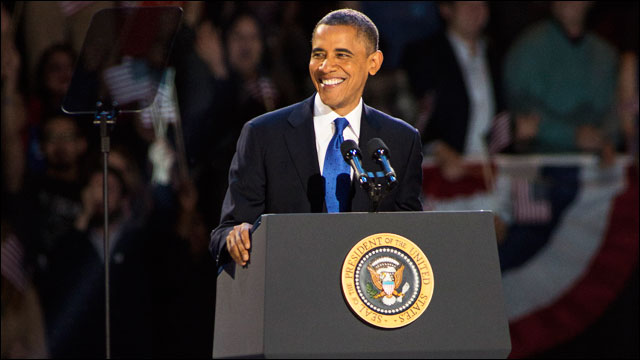 NBC was the ratings leader on Election Night while CBS appears to be the only broadcaster to improve upon its performance of four years ago. And on the cable side, CNN and Fox News both drew large auds — but they're headed in opposite directions.
CNN, which has suffered massive ratings decline over the last few years, drew the largest audience for the period of 7 p.m. to 2 a.m. ET, according to Nielsen.
It averaged 8.8 million viewers and 4.3 million in the 25-54 demo, which is most appealing to the newsies. Just a tad behind in total viewers was Fox News with 8.7 million viewers overall, though it lagged well behind in the 25-54 demo (3.4 million). MSNBC drew 4.6 million, including 2 million in the demo.
During the more traditional 8-11 p.m. primetime hours, where it typically dominates its cable news rivals, FNC hit an all-time high with 11.45 million viewers, peaking with 11.8 million in the 10 o'clock hour. CNN averaged 9.25 million, and MSNBC pulled 4.67 million. (CNN did edge out FNC in primetime among adults 25-54).
Indicative of the ratings trajectories for both networks in recent years, Fox News saw its primetime election audience surge 27% vs. 2008 (9.04 million) while CNN faded by 25% (from 12.30 million). In 2008, CNN outdrew FNC by more than 3 million viewers.
MSNBC was down 21% (from 5.89 million in 2008).
The election was called for Obama at approximately 11:15 p.m. ET, just as Fox News contributor Karl Rove was disputing his own network's decision of putting the crucial state of Ohio in the column for President Barack Obama. Roughly 11.5 million were watching the cabler during the Rove brouhaha, a number that was probably helped by Twitter users encouraging followers to switch to FNC.
The preliminary affiliate-based numbers released Wednesday by Nielsen for the broadcasters include breaks for local programming and are thus subject to revision. Nielsen was unable to finish processing Tuesday night data on Wednesday, and instead will issue final numbers Thursday.
According to the prelims, NBC's coverage averaged a 4.6 rating/10 share in adults 18-49 (down 2% from four years ago) and 12.6 million viewers overall. ABC ran second with a 3.8/8 in the demo (down 19% from 2008) and 11.1 million viewers overall. CBS remained third (2.7/6 in 18-49, 8.4 million viewers overall), but it continues to see improvement with Scott Pelley front and center; the Eye was up 8% from four years ago
Fox (2.0/4 in 18-49, 5.0 million viewers overall) was down 9% from 2008.
Comparisons to 2008 were not available for Univision, whose coverage Tuesday averaged a 1.4/3 in 18-49 and 3.5 million viewers overall.
ABC, CBS, NBC and Fox combined for an average audience of 37.1 million viewers in primetime Tuesday — nearly identical to the 36.6 million who watched the same networks' entertainment lineups a week ago. The big week-to-week gains are instead expected to be seen on cable outlets CNN, Fox News and MSNBC.
According to viewing levels from Nielsen, 45.2% of adults 18-49 were watching television Tuesday night, an increase of 17% from last Tuesday. The biggest tune-in came among adults 55 and older, where 61.5% were watching. Among persons 12-34, 37.9% watched, and among adults 25-54 it was 50.2%.