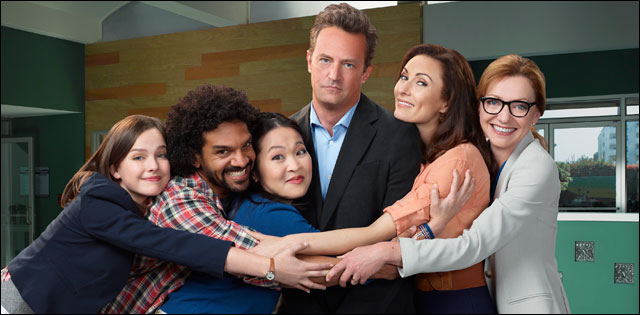 Now that NBC has overachieved in drawing audiences to its Olympic coverage, the task at hand is to parlay that viewership into helping build awareness for the network's new fall series.
NBC isn't waiting until the Olympic flame is doused; the strategy begins Wednesday night when a sneak preview of the Matthew Perry laffer "Go On" airs at 11:04. The Peacock hasn't used a full-court marketing approaching in alerting auds of the sneak but is hoping a substantial number of those glued to the Games will stay awake for another half-hour. The aim is to get a quiet buzz started.
NBC is actually taking a financial hit in two ways with the move: Ending its Olympics coverage an hour earlier than normal to make room for the "Go On" pilot means a loss of potential Olympics revenue — and it's airing "Go On" commercial-free.
Peacock execs believe those short-term losses will ultimately pay off if the effort is instrumental in helping the show succeed.
NBC's Vernon Sanders, who heads the current division, said the net doesn't want to squander the additional viewers coming to the network for the Olympics: "We're not looking at this as pressure, just an opportunity," he said.
"Animal Practice" is getting a similar post-Olympic pilot preview immediately following Sunday's Closing Ceremonies. Sitcom will air at 10:30 p.m.
According to NBC, both "Go On" and "Animal Practice" will get another preview prior to their official premiere dates, which are Sept. 11 and 26, respectively.
Actually, the second episode of "Go On" will air on Sept. 11 even though the date has been labeled as the show's debut.
"We're hoping that by the time we get there, many people will have sampled this," Sanders said. "Those who enjoyed the pilot will want to see a second episode."
Sanders said those two laffers, rather than Ryan Murphy's "The New Normal," which is receiving some positive buzz,were chosen as sneaks because they anchor NBC's comedy blocks — "Go On" at 9 p.m. Tuesdays and "Animal Practice" at 8 p.m. Wednesdays — and are instrumental in building winning nights.
On the drama side, NBC will double-pump "Grimm" beginning next week. Peacock's fantasy skein will air on five consecutive Mondays and repeat on Fridays before eventually settling in on Fridays only.
Series is one of NBC's few recent hits; the thinking is to give enough additional season-two exposure to satiate fans looking forward to coming back and maybe attract new viewers as well. Network has been promoting "Grimm" extensively during the Olympics.
"We knew we had something special coming out of the Olympics, and this seemed to make sense," said Sanders of "Grimm."
So while NBC is basking in the glow of positive headlines — primetime is dominating the ratings race, and even "Today" has seen its numbers rise significantly while all are in London — the prospect of not fully utilizing the momentum of the Games hangs over execs at 30 Rock and Universal City.
"Without question, we want to deliver," Sanders said. "We hope we have some improvement."