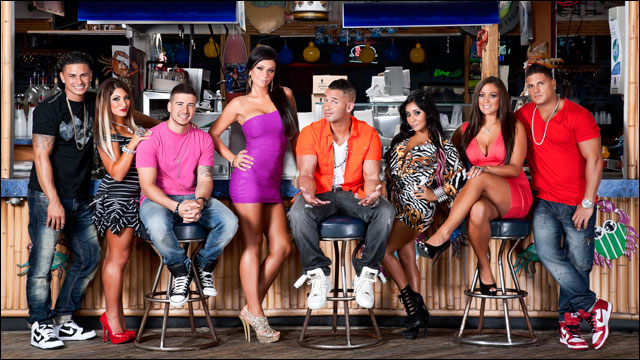 "Jersey Shore" will be no more.
MTV has decided to cancel its signature franchise series following the upcoming sixth season, which launches Oct. 4. Ratings for the last few seasons have been declining, and the cabler decided to make the announcement five weeks before the final season so it can market it as the last, hoping that viewers who may have turned away will return to say goodbye.
It was December 2009 that the network introduced America to a houseful of fist-pumping, tan-loving and partygoing Italian-American twentysomethings. Soon after the debut, personalities such as Snooki, the Situation, Pauly D and JWoww became part of the cultural conversation.
The series, which was a big destination for the 12-34 demo, hit a ratings high for the premiere of the third season when 8.4 million tuned in. By the fourth episode, that record was shattered when 8.8 million viewers watched and it remains the most-watched series episode in MTV history.
As part of the marketing plan to promote the final season, MTV will air the one-hour retrospective special "Gym, Tan, Look Back" at 6 p.m. Sept. 6 prior to the net's "Video Music Awards" telecast. At 7 p.m., as part of the net's kudocast preshow, the "Jersey Shore" cast will discuss the last season.
"Gym, Tan, Look Back" will also take a sneak peek at the sixth season. Earlier in the day beginning at 11 a.m., MTV will air a "Jersey Shore" marathon.
MTV has tried to use the "Jersey Shore" franchise to spin off other series. Net has already ordered a second season of "Snooki & JWoww," which will end its first season Sept. 13, but the future of "The Pauly D Project" looks very much in doubt after the skein opened to soft ratings.
"Jersey Shore" is exec produced by SallyAnn Salsano of 495 Prods. and Jacquelyn French.