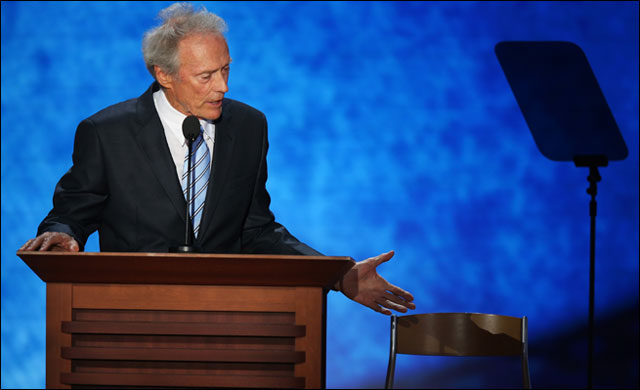 Above: Clint Eastwood engaged in a conversation with an empty chair and Teleprompter during Thursday's Republican National Convention (Photo by GettyImages).
TAMPA, Fla. — Everything about Mitt Romney's night at the Republican National Convention played to script: His speech, the carefully polished and patriotic films, an "American Idol" winner and a gallery of Olympians.
Then there was Clint Eastwood. The surprise speaker, who endorsed Romney earlier this month, took to the stage, talked of how unusual it might be to see a movie star at a GOP gathering, and then probably showed that there's good reason why campaigns don't like leaving anything to chance.
Eastwood engaged in a conversation with an empty chair and Teleprompter, a skit that was meant to offer snappy doses of snark but one that came across as a strange blend of "Harvey" and performance art.
Nevertheless, Eastwood did recover, earning standing ovation and cheers when he said of Obama, "When somebody does not do the job, we got to let him go."
One delegate then shouted, "Go ahead, make my day." After Eastwood said he did not "say that anymore," he relented and led the crowd in a chant of his catchphrase.
Twitter erupted with comment, only magnified because the convention was so otherwise carefully crafted. The comments about Eastwood were so quick that within minutes there was a new handle: @invisibleobama.
Eastwood's very appearance at a convention was unusual. Although he was once mayor of Carmel, Calif., and is a longtime Republican, he has rarely takes the active role in politics in the way that many major actors do for Democrats.
Yet he found himself swept up in this year's partisan politics when he narrated Chrysler's "Halftime in America" Super Bowl spot, meant to show that Detroit, and by extension America, was on the rebound.
After it ran, Eastwood denied that it was a veiled endorsement of the Obama campaign and its bailout of the auto industry.
Romney's speech cast a very different message than the Chrysler ad. The message was of America in decline, and that Obama presided over it. A film tribute to Ronald Reagan, heavy in Hollywood uplift, was followed by a duo appearance by Newt and Callista Gingrich, with Newt at several points comparing Obama to the administration of Jimmy Carter.
Romney, too, mentioned Carter, as he sought to recast a famous line that Reagan used against Carter in the 1980 campaign, "Are you better off now than you were four years ago?"
"How many days have you woken up feeling that something really special was happening in America?" Romney said. "Many of you felt that way on Election Day four years ago. Hope and change had a powerful appeal. But tonight I'd ask ask a simple question: If you felt that excitement when you voted for Barack Obama, shouldn't you feel that way now that he's President Obama?"
Much of the evening was spent trying to personalize Romney, who, according to recent polling, trails Obama in personal likability.
Romney's son Craig, talking about the family history, choked up for a few seconds, one of the few emotional moments in a convention in which speaker after speaker seemed carefully placed to drive home a theme — and then to repeat it over again.
Friends, work associates and even Olympians talked of Romney, but perhaps the most marked speakers were those from the Mormon Church, where he was a senior leader. Romney has rarely talked of his Mormon faith on the campaign trail, but fellow church members highlighted his charitable act
Romney himself addressed his faith, talking up the sense of community that it brought,
"We prayed together, our kids played together and we always stood ready to help each other out in different ways," he said. "And that's how it is in America. We look to our communities, our faiths, our families for joy, our support, in good times and bad."
He also gave a response to the Obama campaign's aggressive attacks on his tenure at Bain Capital and the notion that the company was more concerned about profit than the lives of its workers.
"When I was 37, I helped start a small company," Romney said. "My partners and I had been working for a company that was in the business of helping other businesses. So some of us had this idea that if we really believed our advice was helping companies, we should invest in companies. We should bet on ourselves and on our advice. That business we started with 10 people has now grown into a great American success story."
The campaign looked to the convention as a way to introduce, or reintroduce, Romney to the American public. But reflecting his persona, his convention was cool, restrained and businesslike. Protests, kept blocks away from not only the convention but anywhere that the delegates may be wandering through the streets of Tampa, waned as the week wore on. Ron Paul delegates were upset by rules changes put forth by the Romney team, but their grievances on the floor were kept to the earlier part of the week.
Spontaneity was scarce, even when it was made to seem that way. On the convention's first night, some delegates waved what looked like homemade signs. But they all read the same thing, which happened to be the night's theme: "We Built It." On Wednesday night, a delegation took it upon themselves to march through the corridors outside the arena, but what they said was hardly anything controversial: "So goes Maine, so goes the nation."
That's why it's all the more ironic that the one figure who lives and dies by a good script, Eastwood, delivered the most unpolished performance of the week.