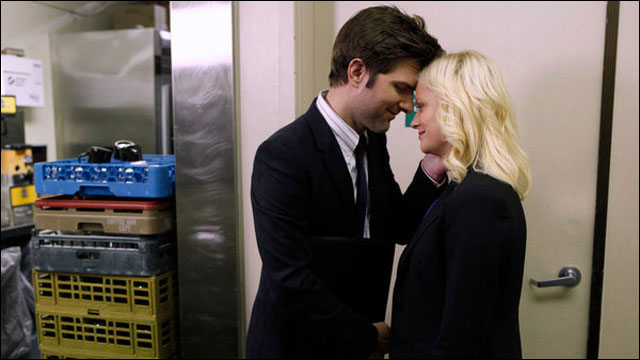 Watching a year's worth of TV can make all those stories and characters feel like a giant blur, especially if you're a voracious viewer. With so much storyline to disseminate, taking in dozens of series can fall into the category of becoming a chore.
Yet, what makes those endless hours watching TV worth it are the moments that take your breath away.
In most every series, there is that scene or two that just sticks with you — a conversation between characters, a pause, an action — that you can't forget.
A majority of those scenes, at least for me, come from dramas in the cable universe. For the most part, I disdain reality programming, so you won't see anything from "The Real Housewives" series or the elimination of a contestant on a musical competition series on this list of TV's best moments of 2012.
Comedies have those moments as well, though they may be harder to define. If you're laughing throughout a 30-minute episode of "Modern Family" or "New Girl," which was the biggest laugh can be difficult to assess. And, in all honesty, there are more quality dramas on the air than top-notch comedies.
Here are a handful of standout smallscreen memories from 2012:
Goodbye, Lane: Jared Harris' Lane Pryce was the quiet one among the drinkers, smokers and philanderers on "Mad Men," and he might have been the most proud. That extreme adversity to shame cost him his life. He hung himself rather than admit he was fired from the company for embezzling funds to pay his own taxes. It was a shocking way to see his character written off.
Goodbye, Lane – Jared Harris' Lane Pryce was the quiet one among the drinkers, smokers and philanderers on "Mad Men," and he might have been the most proud.
R.I.P. Opie: The friendship between Opie and Jax on "Sons of Anarchy" was the soul of SAMCRO, and to see Opie get his head split open and collapse on a cold jailhouse floor was too much for Jax to bear. He spent the entire season avenging his soulmate's death.
He wants me: Mayim Bialik's turn as wannabe sexaholic Amy never fails to slay me, and "The Big Bang Theory" episode in which she fakes an illness and Jim Parsons' Sheldon volunteers to take care of her and rub Vicks on her chest was the highlight of the season. The two of them in any scene together is comedy gold.
So it was you, Jamie: This was more of a slow boil that a singular dramatic moment, but what we learned on "The Killing" was that it was Jamie, a key cog in Billy Campbell's mayoral campaign, who did in Rosie Larsen. That it took 26 episodes to get there, however, was a road that felt way too long for some.
The proposal, part 1: Leslie (Amy Poehler) and Ben (Adam Scott) were made for each other on "Parks and Recreation," but with Ben moving to Washington, D.C., and Leslie winning a seat on the Pawnee, Ind., city council, the fear was their workload would interfere with their romance. Ben made sure that wasn't the case when he decided an engagement was more important than helping a Florida politician win the election.
The proposal, part 2: It had aristocracy, but no love. That's why we knew the relationship on "Downton Abbey" between Lady Mary and the prickly Sir Richard was never going to happen. But when Matthew finally popped the question to Mary on bended knee, it was worth the season-long build-up.
Zombie tears: "The Walking Dead" had no shortage of shockers this season, but none was more stunning than the death of Lori (Sarah Wayne Callies) shortly after giving birth to a daughter. Losing a major character is always momentous for a series, but having her son (Chandler Riggs) shoot her to keep her body safe from zombie infection packed an emotional wallop fans won't soon forget.
Wrong place, wrong time: We wouldn't doubt for a nanosecond Walter White would kill a child to protect his meth fiefdom, but sweet Landry from "Friday Night Lights"? Yup, Jesse Plemons pulled the trigger and capped the poor kid when the preteen rode his bike to the scene of the crime following the great rail heist from "Breaking Bad."
Crate and barreled: "Boardwalk Empire" offers no shortage of compelling characters, but Irish lad Owen Slater was a standout. He protected Nucky from enemies while simultaneously wooing Nucky's wife, the lovely Kelly Macdonald. Since he was so involved in both their lives, we figured he would be around a while. But like Jimmy Darmody's fate, we figured wrong. He ended up in a box — a la Gwyneth Paltrow's head in "Seven" — creating a scene that was shocking in its audacity.
Sexual favors: Melissa Leo is an Oscar winner, so maybe that's what made her sexually suggestive scene in "Louie" even more thrilling. We always knew Louie C.K. would go "down there," but Leo was more than willing to take the plunge as well. While it may have been an uneven season, this episode was classic "Louie."
The sad truth: It's a family's worst nightmare, and one in which the writers and cast of NBC's wildly underrated "Parenthood" played to perfection. Monica Potter is trying to hide her cancer diagnosis from loved ones, but that seems impossible with a crew that's always in each other's business. When she and husband Peter Krause deliver the tragic news, it's crushing — not only to the characters but those of us at home washing away in tears.
The confession: It wasn't when, with bulging eyes and a quivering chin, that Claire Danes finally breaks Damian Lewis in the interrogation scene in "Homeland" that reset the plot for most of season two. Rather it was Carrie's affection for Brody that swayed him to fess up, and she used that emotion effectively, convincing him that their relationship took priority over his terrorist agenda.
And away they go: You don't have to be a horse-racing junkie to understand the drama of a big race, and no race were bigger than Nick Nolte's Gettin' Up Morning competing against Dustin Hoffman's Pint of Plain in a classic duel at Santa Anita in HBO's unfortunate "Luck." Sadly, that episode turned out to be the series finale and we'll never know what would have become of David Milch's equine saga.
A quiet sitdown: Sometimes a great scene has no dramatic conclusion hanging in the balance, just a pairing of superb actors at the top of their craft. That's what struck me when I watched Khandi Alexander and Clarke Peters' characters chat up one another in HBO's New Orleans-set "Treme." I'd watch these two talk about anything, at any time, all day long.
Presidential guffaws: "Veep" set just the right comedic tone in its debut season, and while many moments made me laugh, near the top of the list was when Julia Louis-Dreyfus found out the president was feeling ill and she might, at any moment, become the most powerful person in the world. It was as if one of us — a schlub who befuddled her way up the political ladder — was thrust into such a situation that brought out the comedic aspect of it all.