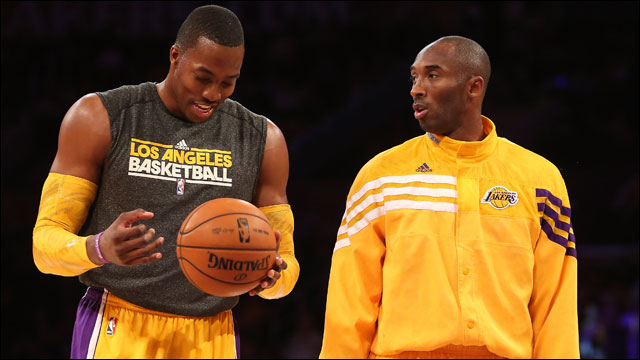 Kobe and Co. are returning to DirecTV.
Time Warner Cable Sports has struck a deal with DirecTV for the latter to air the new twin sport channels featuring the Los Angeles Lakers.
The Lakers' next home game, Friday against Phoenix, is scheduled to be available to DirecTV subscribers on Time Warner Cable SportsNet and Spanish-language companion Time Warner Cable Deportes.
The pact leaves Dish Network as the significant remaining holdout from the channels, which also feature Los Angeles Galaxy soccer, Los Angeles Sparks women's basketball and selected college and high school games. DirecTV and its 1.25 million subscribers were the biggest prize for Time Warner Cable, compared with Dish's 608,000.
At issue was Time Warner Cable's reported demand for a monthly per-subscriber fee of approximately $4, which DirecTV was reluctant to absorb or pass on to its clientele.
Demand for the Lakers among DirecTV subscribers has been huge, despite the team's tough 3-5 start even with new addition Dwight Howard. In order to shake up the team, head coach Mike Brown was fired earlier this week and replaced by Mike D'Antoni.
"We appreciate our customers' patience and are happy to have arrived at an outcome that benefits everyone involved," said DirecTV chief content officer Dan York. "We know that our customers will enjoy the great programming of these three franchises for many years to come."
This is the first year Time Warner Cable SportsNet has owned the rights to the Lakers. The Buss-family owned team earned $3 billion under a 20-year deal with Time Warner Cable.
DirecTV has been in the crosshairs of sports fans recently. Satcaster still has no deal with the Pac-12 Networks, and the college football season is in its late stretch. Because of that dispute, there were several USC and UCLA games that never aired in the Los Angeles area.
Time Warner Cable SportsNet will be found on DirecTV channel 691 in Los Angeles, San Diego, Bakersfield and parts of Fresno, as well as Santa Barbara and Ventura counties, Las Vegas and Hawaii. Time Warner Cable Deportes will be on channel 458.