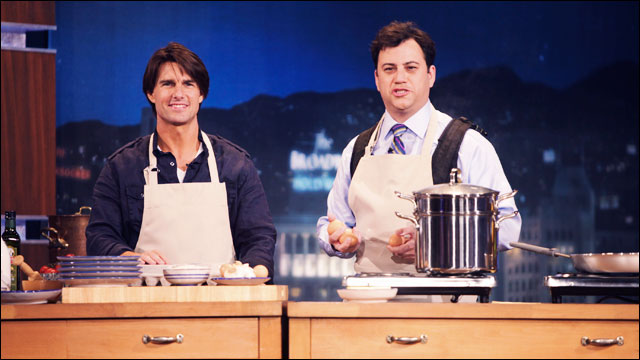 "Jimmy Kimmel Live" is ready to play with the big boys.
After airing at midnight since 2003, ABC's latenight talkshow is shifting to 11:35 p.m. beginning in January.
Kimmel will now face off directly against David Letterman and Jay Leno while "Nightline" will shift to 12:35 a.m. "Nightline" will also begin airing in primetime, at 9 p.m. Fridays, beginning March 1.
The news comes just as Kimmel has signed a two-year extension with ABC. His current deal was set to expire soon.
ABC sees the move as a way to earn larger profits in the latenight arena. Alphabet has long touted Kimmel's ability to draw viewers while "The Tonight Show With Jay Leno" and "Late Show With David Letterman" have been losing eyeballs. The increased viewership from "Nightline's" numbers will boost ad revenue for ABC.
In the 2011-12 TV season that ended in May, "Jimmy Kimmel Live" grew its audience 3% from the year before. In July there was a 15% uptick vs. July 2011.
When asked why ABC had decided now was the right time to move the show to 11:35, Kimmel told Variety: "I think it's mostly that ABC looks at the show now and can imagine putting it on against the big guys. I don't know if that was the feeling in the past."
Producers at "Nightline," which is under the Alphabet's news division, have long resisted moving from the program's 11:35 p.m. perch. When Letterman was rumored to move to ABC many years ago, execs at the show made it known that they weren't happy about taking a backseat to the entertainment side and strongly resisted the potential of an hourlong push back.
ABC aired "Primetime: Nightline" in the summer of 2011 but it didn't generate much ratings heat. Among the hours was a report on the Casey Anthony verdict as well as a few installments each under the umbrellas "Beyond Belief," "Celebrity Secrets" and "My Extra(Ordinary) Family."
"Given the passionate fanbase 'Jimmy Kimmel Live' has built over the past decade and the show's ratings and creative momentum this season, the time is right to make this move," said Anne Sweeney, president of the Disney/ABC Television Group. "There is the potential for far greater upside over the long term with this shift given increased advertiser demand for competitive entertainment programming in the timeslot."
Added ABC president Paul Lee: "The time is right for Kimmel to make this move. He's ready, and so is his audience. For the past 10 years we've built the foundation for this shift."
ABC has long used "Jimmy Kimmel Live" as a way to accentuate its primetime programming. That includes an annual post-Academy Awards telecast that began in 2006 or bringing in cast members of a popular ABC series to discuss the show, such as when the cast of "Lost" appeared following the series finale.
There's also a special edition of "Jimmy Kimmel Live" in conjunction with the NBA Finals, which airs on ABC.
In touting the move, network also said ABC News will now have a wraparound on the programming day, with "Nightline" signing off at 1 a.m. and "Good Morning America" beginning six hours later.
Kimmel is known inside the business for bringing his style of sardonic and subversive sense humor to plenty of industry events, as well as the network's annual upfront presentations in Gotham. Earlier this year he was emcee at the White House Correspondents Dinner, and he is set to host the Emmy Awards on Sept. 23.
Kimmel said he didn't expect the new timeslot to change the show much. "It's not as big as a leap moving from 12 to 11:30 than from 12:30 to 11:30. I suspect the show will still be the show."
When asked if he would reach out to Leno and Letterman to talk in jest about the new three-way latenight race, Kimmel said: "Jay and I don't have fun conversations. I don't know if it would be appropriate. But I have friends on both of those shows; there is lots of camaraderie among us that many people probably don't know exists."
Kimmel, who is 44, reaches a younger demo than either Letterman or Leno, who are both in their 60s. Kimmel doesn't see himself hosting the show until well into retirement age. "I'd like to do it for 10 more years and hope to get the opportunity to do that," he said. "I don't see myself doing it longer."
ABC News president Ben Sherwood said the new Friday timeslot will help give "Nightline," which debuted in 1980, a way to expand its reach.
"We welcome the chance to produce an hour every Friday in primetime, where new audiences will be introduced to the program's signature storytelling, interviewing and investigations. I'm confident 'Nightline' and its dynamic anchors, correspondents and staff will enjoy many successes for years to come."