TNT's "The Closer" comes to, well, a close tonight and though many of the characters and even sets will live on in spin-off "Major Crimes," it's "The Closer" that will be remembered for changing viewers' perceptions of TNT and the approach basic cable networks take to original programming.
Prior to "The Closer," TNT had aired a few original series — the last season of "Babylon 5," Wall Street drama "Bull," actioner "Witchblade" — but "The Closer," arriving in 2005, set a template for creating original series that is still followed today.
In addition those series, TNT was home for theatricals, TV movies and miniseries, sports and acquired procedurals.
" 'Law & Order' was the dominant acquired series on cable, much the same way 'NCIS' has been for USA the last couple of years and the way 'Big Bang Theory' is for TBS," says TNT president Michael Wright, who was in charge of the cabler's original movies and miniseries in 2003 when he got a greenlight to develop series. "When you're trying to grow the business, you take a show that's already watched on the network and float viewers into something new and original."
So one of Wright's mantras was to make sure the series had to be similar enough to keep the auds already watching TNT tuned in, but, at the same time, be fresh and original.
"One of the things I think we've done right is we were very clear about explaining the (TNT) audience to show writers," Wright says.
James Duff, creator of "The Closer," got that message.
"The fact that 'The Closer' was successful has to do with the clarity Michael employed in giving me my marching orders," Duff says, recalling that the exec asked for a show with a unique hook — a procedural companion to "Law & Order" that would appeal to women, and fall tonally between then-successful NBC and what other cable networks were doing. "He knew exactly what he wanted and did not beat around the bush. He was extremely precise but left me lots of room to maneuver."
Initially the producing trio of Duff, Greer Shephard and Michael Robin pitched Wright on picking up their canceled ABC series "The D.A." and continuing it on TNT. Not wanting to take anyone's leftovers, TNT opted for their third pitch, which was "The Closer." The show initially had a male lead, but that thought now seems preposterous considering what Kyra Sedgwick brought to the role as Chief Brenda Johnson.
"We were all frustrated because it just didn't seem like it was different enough," Duff recalls of the early incarnations of the show. "Greer said, 'What about a woman?' I had kind of been thinking about it but I was afraid of 'Prime Suspect' comparisons, even though she is nothing like Jane Tennison and the tone is much lighter."
"The Closer" quickly became a basic cable hit and continues to draw more viewers this summer than many broadcast network series.
This summer "The Closer" is averaging 6 million viewers for live-plus same day telecasts, making it the No. 1 scripted series on cable. In the 18-49 demo, the skein is averaging 1.3 million viewers, and 1.7 in 25-54.
"This show made clear to our audience that they can come to TNT for original scripted series," Wright says. "Without 'The Closer' there would be no 'Saving Grace,' 'Rizzoli & Isles' or 'Perception.' … In every one of those shows there's some DNA from 'The Closer.'"
The series also influenced perceptions of TNT within the creative community.
"I got a lot of calls from people asking what my experience was like and I was happy to recommend TNT," Duff says.
" 'The Closer' gave TNT a leg up in terms of being able to launch new programs. We launched a lot of new shows and showed broadcast and premium cable that basic cable was a destination. It could compete and draw a broadcast-like audience during the summer."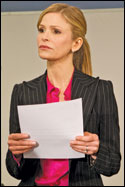 Memorable Brenda Leigh Johnson quotes:
"I never bluff, sergeant. I merely express my optimism forcefully."
"If I liked being called a bitch to my face I'd still be married."
"There is no substitute for sugar."
"He did this to eight women and he only got shot once?"
"How am I going to tell that man his wife was eaten by coyotes?"
"Maybe she trained for her suicide at the Cirque du Soleil."
"I stopped believing boys who said, 'Trust me' when I was 16."