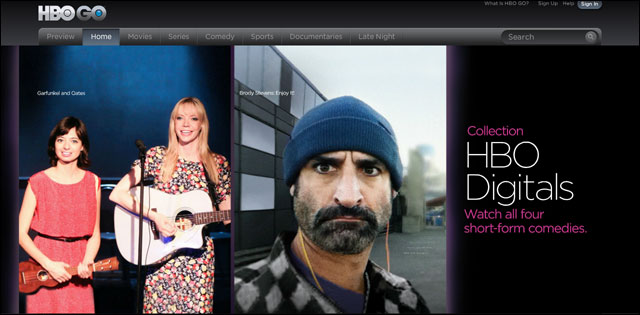 As HBO subscribers embrace the pay cabler's digital platform, HBO Go has quietly added original series to its programing mix.
Four comedies originally pitched as TV series from HBO-affiliated talent including Zach Galifianakis and Mike White were redeveloped specifically for the premium cabler's digital platform, whose programming to date has consisted entirely of repurposed content from its linear networks.
Episodes of the low-budget fare, which popped up on HBO Go earlier this week, will not air on HBO's linear channel nor be made available freely online.
While providing HBO Go with exclusive programming could be interpreted as a strategic shift significant to the future of the brand, HBO Entertainment prexy Sue Naegle explained the slate in more modest terms. "We had these fun, creative ideas coming in the door but we couldn't quite see them as full series," she said in a statement. "With the HBO Go mobile platform now available to us, we were able to consider the alternate, experimental approach of shortform storytelling. And, when it comes to comedy and HBO, experimentation is what it has always been about."
HBO, which declined to elaborat e further via a spokesman, has no plans to add to what it is billing as "HBO Digitals," which don't have a section of their own on HBO Go. The titles reside in the comedy section alongside longform series like "Sex and the City."
HBO Digitals may end up as nothing more than an inexpensive lark with a residual effect on talent relations. Providing a low-profile showcase for TV development that wouldn't otherwise see the light of day softens the blow to valued creative partners.
One of the new HBO Go series, "Brody Stevens: Enjoy It!," for in stance, was under consideration at the network as a full-fledged series as part of a first-look deal signed last year with Galifianakis, who was a regular on the now-defunct HBO series "Bored to Death."
But by playing down its original programming efforts on HBO Go, the company could also be attempting to keep expectations low for what amounts to a test of its subscribers' appetites for shortform content presumed to be more viable on wireless devices. HBO has been aggressive about getting HBO Go on a wide variety of tablets and smartphones from Amazon's Kindle Fire to Apple's iPhone. As of May, the HBO Go app had been downloaded more than 6 million times.
Galifianakis appears in and is an exec producer of "Brody," an unscripted chronicle of comedian Brody Stevens whose behavior is bizarre even before he goes off his psychiatrist-prescribed medications and things get even weirder. "Brody" is available in six 15-minute episodes.
While "Brody" was shot with HBO initially undecided as to whether the production was meant for TV or digital, the other three projects were designed for HBO Go from the start and are scripted narratives. "The Boring Life of Jacqueline," a 10-episode depiction of an unemployed actress' humdrum existence, counts White, an executive producer and star of "Enlightened," as one of its exec producers. "Single Long," which follows a group of twentysomethings in Chicago, is seven 15-minute episodes. "Garfunkel and Oates," which unfolds in five episodes running five minutes apiece, follows the misadventures of a female musical duo.