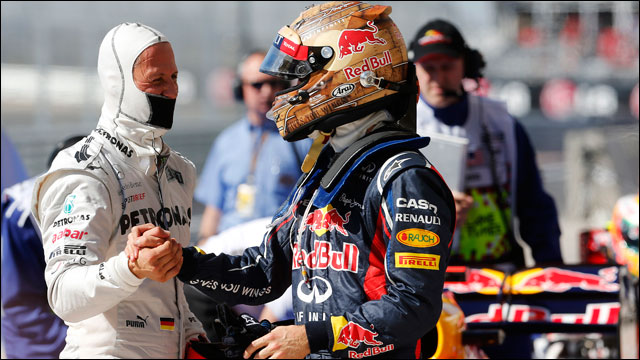 Above: F1 driver Michael Schumacher greeting Sebastian Vettel, the youngest three-time world champion, at the United States Grand Prix in Austin.
It may be the world's most popular motor sport, attracting billions of viewers, but is Formula One finally ready to take off in the United States?
F1's billionaire backer Bernie Ecclestone has lined up its biggest TV partner to date in NBC, encouraged team sponsors to use drivers to promote the brand Stateside and will turn to its deep-pocketed celebrity fanbase to rev up interest in the sport.
After holding a tight grip on the brand, the 82-year-old Ecclestone has loosened up, supporting new film and videogame deals and approving moves to court the YouTube generation.
His push was embodied by the U.S. Grand Prix on Nov. 18, the inaugural event at a new $400 million track, the Circuit of the Americas, in Austin, Texas — the heart of NASCAR country. Among the celebs in attendance were Ron Howard (whose F1 pic "Rush," about the rivalry between legendary drivers James Hunt and Niki Lauda, bows next year), as well as honchos from the world of Hollywood and Silicon Valley.
But the ke y for Ecclestone is the new deal with NBC, which will air 20 races next year as part of a four-year deal — 16 on the NBC Sports Network and four on the parent web. The new TV deal ends a previous 17-year pact with the Speed Channel. Before that, F1 bought time on st ations to air races.
The numbers tell the story. Around 117,000 people attended the Austin race to watch mostly European drivers propel their four-wheeled fighter jets through the twisty 3.4-mile sun-baked course.
Celebrities cheering on the drivers included Howard, John Lasseter, Jay Leno, Andrew Garfield, Kiefer Sutherland, Patrick Dempsey, David Beckham, Gordon Ramsay, and George Lucas, who met with Carlos Slim, the world's richest man.The track deal was brokered and financed by Texas tycoon Red McCombs, former owner of the Minnesota Vikings and San Antonio Spurs football and basketball teams.
While people watched it on cabler Speed, which aired the race, the peacock will put F1 in front of a much bigger audience.
Ecclestone has stressed in interviews that F1's fanbase will primarily grow through races being televised on major broadcasters, and sees NBC doing more for the sport than even a high-pr ofile film playing at the megaplex.
"I feel that (NBC) will promote Formula One to a level not seen before in the United States," Ecclestone says. "Together, we will endeavor to broaden the scope of Formula One coverage available to U.S. viewers."
As with any business, success in the U.S. would pump considerable coin into F1's coffers and provide its sponsors with significant exposure to new fans with disposable income.
But Ecclestone is also clear that the circuit is doing just fine without a rabid U.S. fanbase.
In locations like Abu Dhabi, Melbourne, Monaco, Shanghai, Singapore and Valencia, Spain, F1 is treated like the Super Bowl, attracting more than 150,000 spectators for one race. Some sponsors take it one step further.
"It's as big as the Olympics in terms of reach, but it's every other week," says Andreas Sigl, global director of Infiniti Formula One, who was instrumental in pairing the Japanese luxury automaker with three-time world champion Red Bull Racing. Red Bull clinched its third victory Nov. 18.
NBC has already begun discussing ways to promote the sport when it rolls out a marketing blitz in March, and an aspect of its strategy, according to team reps that have met with NBC execs, is informed by the success the web has had in raising the profiles of Olympians. To connect audiences with the colorful individuals behind the wheel, the Peacock plans to feature profiles of F1's drivers like Red Bull's Sebastian Vettel and Ferrari's Fernando Alonso.
"You have to have an emotional connection to what you're watching," says Steve Madincea, founder of sponsorship and sports marketing agency Prism, which works with F1, Red Bull, Casio and Infiniti. "It's not one thing (that will grow the sport). Every little bit helps."
It's a strategy that F1 itself is only now beginning to learn.
In the past, Ecclestone has opted to not support films like Sylvester Stallone's "Driven," saying it hurt the Formula One image. But the mogul has recently eased his grip, opening up F1's film vaults for documentaries like "Senna," about Brazil's beloved F1 champ, the late Ayrton Senna, and next year's "Rush," which Universal will release in September. Both are seen as films that will educate newcomers on the sport.
Ecclestone also has granted licenses for videogames like Codemaster's console games "F1 2012" and "F1 Race Stars," the latter of which is aimed at kids and families to help attract a new fanbase.
The mogul already has plans to expand F1 in the U.S. with three additional races over the next three years. Los Angeles, and a location in Florida, are spots being considered for races, while a 2013 event in northern New Jersey, which was to take place with the New York City skyline behind it, has been rescheduled for 2014.
Despite the TV deals and celeb glitz, growing the sport will still be tough without an American F1 champion to rally around — or even a contender, for that matter. It's been five years since F1 has raced in the U.S. (with Indianapolis ending an eight-year run inside its NASCAR track in 2007).
"In a perfect world, we need a fast American driver in the front," says Christian Horner, head of Red Bull Racing's Formula One team and a former driver himself. "At the moment, there isn't one."
Even Formula One-themed "Cars 2" didn't have an American F1 car character.
Some feel that the way drivers are now training — via computer simulators — should attract more U.S. hopefuls since in the past, most drivers made their way from the carting circuit up through GP2 and GP3 (considered like the minor leagues of baseball and not as popular in the U.S. as in other parts of the world).
"So many guys(now) come from the PlayStation generation," Madincea says. Indeed, steering wheels in the F1 cars look like videogame controllers.
But slowing the rise of up-and-comers is the fact that teams are spending $250 million a year on their cars and drivers. With that kind of money at stake, there's a hesitancy to use an untested newcomer. "The trouble is, everyone is trying to find the next Michael Schumacher," says Madincea, referring to the seven-time F1 world champion.
In fact, Austin's race took place as NASCAR, whose more traditional closed cars rumble around oval tracks, wrapped up its own season — something race organizers should keep an eye on next year. NASCAR, which inked a $2.4 billion, eight-year extension with Fox that runs through 2022, isn't worried about F1's attempt to expand on its turf, with Speedway Motorsports' chairman Bruton Smith downplaying its efforts, saying F1 racing "never has worked in this country."
What should help NBC's marketing efforts reach a broader audience are the dollars team sponsors are expected to spend.
"The biggest way the sport has changed is that 90% of (marketing) activity (used to be) done in and around the circuit," Madincea says. "Now 90% is done away from the circuit. They're reaching into consumers' worlds and bringing them into our world."
That includes marketing juggernauts like Red Bull, which began sponsoring its own racing team in 2005.
"When Red Bull came in, we were seen as the party team," Horner says. "We played our music too loud. No one took us seriously. Now the beverage brand has won F1's world championships in 2010, 2011 and now 2012.
Red Bull's participation has helped put F1 in front of the YouTube generation, with its top driver, Vettel starring in short films like "Kung Fu Vettel."
The addition of the Austin track is "massive for us," Horner says, considering the U.S. is "the biggest marke
t for Red Bull. It's important for Formula One to have a permanent circuit in the U.S.," and without a U.S. driver, he says, he sees the need for another race in the U.S. to grow the F1 brand.
Ultimately, that's up to Ecclestone, who understands both the popularity of his brand and the U.S.' lucrative market.
"America can last without F1, and F1 can last without America," he says. "But it's good to be here."
Red Bull Racing sponsor Infiniti is ready to go along for the ride.
After two years, the automaker has successfully been able to use the timing of F1's races around the world to accelerate the introduction of its vehicles and brand to regions where it didn't have much of a presence, from Australia through Brazil, execs say. The company plasters Red Bull's cars with the Infiniti logo on the front and back of its cars and on its drivers' suits, as part of its sponsorship deal.
At the same time, Infiniti is able to work with Red Bull's racers to improve the development of its vehicles, while providing its own engineers to the team.
"They build a new car every two weeks," Sigl says of the Red Bull Racing team. "But they didn't have the resources of Ferrari, Mercedes, McClaren, so we opened our tool box to them. They have 190 engineers, we have 6,000."
Infiniti says that it needed to do try something different to get noticed.
"Tell me a premium brand that hasn't been in motor sports?" Sigl asks. "To behave like a premium brand, you need the right product but you also need a powerful brand." Red Bull enabled it to do something that wasn't considered "sterile." "It's been a crazy ride," Sigl adds. "Red Bull was considered the clowns of F1. People thought we were crazy to partner with them, but the winning has helped" change their opinion.
It's especially changed the opinion of Infiniti's own dealers, who have been able to rally around the automaker's sponsorship of F1 to sell more cars. "Our dealers in Mexico and Singapore, where F1 is popular, are especially fired up," says Sigl, who's rewarded top dealers with trips to F1 races. "When we are asking them to invest in our brand, and they ask us what are we doing, instead of taking them to Hawaii, we can take them to something that really matters."
On F1's 20-race schedule, a third of the races takes place in Europe, a third are in Asia and organizers eventually hope another third to take place in the Americas, where currently Montreal, and Sao Paolo, Brazil, host races. Los Angeles and Miami are being eyed for future races, but so is Mexico City.
Now that the first-race jitters are behind it, operators of Austin's F1 circuit are hoping the track doesn't suffer from the same second-year slump that's effected other cities. Austin is certainly looking to keep interest up, with the nation's 15th largest city expected to generate around $300 million a year from the race, according to the Texas Comptroller's office. That's significantly more than even events like the city's annual SXSW film festival earn.