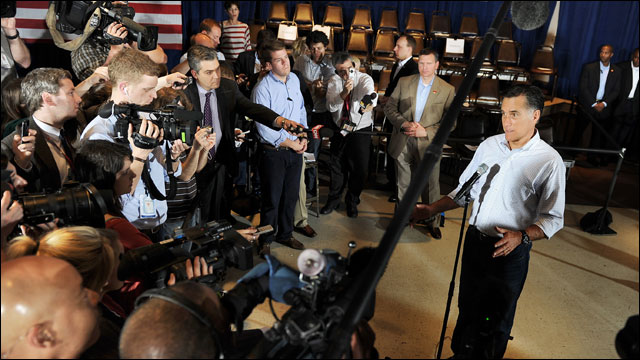 Major media outlets are about to embark on a two-week blitz of political saturation, seizing on opportunities for branding and promotion as they cover the Republican National Convention in Tampa, Fla., next week and the Democratic National Convention in Charlotte, N.C., the following week.
All that may be missing is actual news — there hasn't been genuine suspense over a presidential ticket since 1980, when Ronald Reagan's team made overtures to former president Gerald Ford to join the ticket but the talks eventually collapsed.
The dearth of breaking stories is reflected in the way that the three major broadcast networks will cover the conventions: With star anchors in place, ABC, CBS and NBC are planning three hours of primetime coverage of the Republican convention and three hours of the Democratic convention.
But even if the nets' coverage is a whisper of what it once was, you'd be hard pressed to argue that they're actually backing away from what has become each major party's primary promotional platform.
In fact, Sam Feist, CNN's Washington bureau chief and senior VP, said he thinks "these two conventions are as important …as wehave seen in a long time." His point is that much of the public will now be just starting to focus on the presidential contest in what amounts to a "reset button" to the campaign. The networks' coverage will reflect that, he said, and they will make extensive use of fact-checking segments of speeches and analysis via such things as CNN's Magic Wall, among other technology.
MSNBC president Phil Griffin said that news cabler is taking a different approach, with an emphasis on analysis and its team of personalities. It will offer coverage not just from Tampa and Charlotte abut also from swing states like Virginia, Ohio and Wisconsin.
"Some people are treating this like it is 1950; we are treating this like it is 2012," he said. "We are sending about half the people we sent before because we want to keep it national."
No matter where resources are deployed, the 24-hour news networks have ambitious plans for what will amount to nearly round-the-clock coverage. Bret Baier and Megyn Kelly are anchoring Fox News' primetime coverage; Wolf Blitzer, Anderson Cooper, Erin Burnett, Candy Crowley and John King are leading CNN's nightly coverage, and Rachel Maddow and Chris Matthews are hosting MSNBC's coverage.
Anxious to make a mark, other news nets are expanding staffs. Bloomberg Television is doubling the number of reporters, editors analysts and producers it is sending, with a special focus on business and the economy. And there are a dizzying array of plans for the use of social media and iPad apps, to the point where the conventions may start to resemble a software developer conference, with Facebook and Google each planning a substantial presence including seminars and even product demonstrations. Current TV will devote half of its screen to give a "nonstop sense of social media conversations," said its president, David Bohrman. "We will be able to identify and isolate interesting strands of conversation from millions of Twitter messages," he said.
There also will be hints of ventures to come. ABC News, which announced in May that it will launch a 24-hour news and lifestyle network with Univision, will feature Jorge Ramos in Tampa and Maria Elena Salinas in Charlotte.
Other highlights:
Past nominee pundits: Sarah Palin will not have a speaker slot at the convention, but she will be among the commentators on Fox News, along with Karl Rove, Joe Trippi and many others. Former VP Al Gore, the Democratic party standard bearer in 2000, will lead a panel of Current TV anchors and commentators on the network he co-founded. But Gore will be in New York, where Current's coverage will be based, as it would have been awkward to have him onsite on the convention floor.
Stream dreams: The recently launched HuffPost Live is planning a convention push, as is Politico and a host of other sites aiming to gain an online video foothold in 2012. And while broadcasters' gavel-to-gavel coverage is a thing of the past, the three broadcast nets are all providing substantial streaming coverage. ABC News is planning 30 or more hours of live streamed coverage on digital platforms and Yahoo, CBS News and NBC News are providing gavel-to-gavel streams.
Site bites: CNN is again building an actual eatery, the CNN Grill, just outside the convention venues in Tampa and Charlotte, with a fully outfitted broadcast studio and menus for convention goers that reflect local fare. MSNBC is planning what it calls a "consumer marketing experience" at each convention, with "Morning Joe" viewing parties that include personalized button making, photo booths and free coffee. Foxnews.com is planning a "backstage" look to the Republican convention, including not just streaming coverage but behind the scenes video of how its team covers the events.