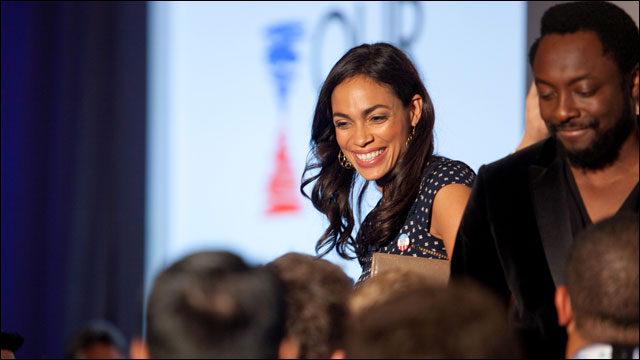 Above: Rosario Dawson and musician will.i.am attend The Huffington Post Spotlight On Job Creation Event in Charlotte, North Carolina (Photo by GettyImages)
CHARLOTTE, N.C. — Will.i.am talked of developing a headphone business, a few stars promoted a new indie movie, "Knife Fight," and the rapper Common was presented with an award for new gold record certifications.
If President Obama's re-election team has been adept at staying on message, the horde of entertainmentfigures who fanned out across Charlotte for the Democratic National Convention on Wednesday were practicing the art of diversion.
There's plenty of opportunity for it, as Charlotte this week resembles a kind of street fair of activists, display booths, concerts, small protests and more panels than can possibly be imagined. A Charlotte entertainment complex, the EpiCentre, has been transformed into a media row, where major news outlets have set up a kind of carnival of branding opportunities.
Hollywood's presence is more muted than it was in Denver in 2008, but the question of what showbiz figures do with their time in such an environment remains. With 15,000 or so members of the media temporarily dominating the population of Charlotte, seeking any kind of news, color or comment, any famous face seems to be in demand, even if the subject may not be directly related to the renomination of the President.
"Why can't we make more things here?" asked Will.i.am at a Huffington Post, NBC News and Microsoft event titled "What Is Working," which focused on innovation and job creation in the American economy.
With Dr. Dre, he developed the Beats by Dr. Dre headphones that are now sold at electronics stores and airports across the country.
"After Beats, I wanted to make a whole new piece of hardware," Will.i.am said. "Why did the Singapore government give me a grant? America's not. I'm just sayin'." The audience at the Ritz-Carlton laughed.
That may not be the message that the Obama campaign wants to convey, but such moments actually are a bit refreshing in a carefully crafted week of electoral stagecraft.
The Obama campaign's ability to carefully stage manage this week's events also hit a snag on Wednesday, when they shifted the President's Thursday speech from the 65,000-capacity outdoor Bank of America Stadium indoors to the Time Warner Cable Arena. The fear was thunderstorms, and perhaps the thought of pouring rain inspiring too many metaphors of a presidential washout.
Kal Penn, a co-chair of Obama's campaign who spoke to the convention on Tuesday night, is popping up at many places to try to talk about energizing younger voters. But he's also got to accept the inevitable: That given his role in the "Harold & Kumar" films, he will be asked about President Obama's position opposing to the legalization of marijuana.
Earlier this week, the campaign debuted a new, humorous video in which Obama calls Penn on the phone, but the actor appears with co-star John Cho as the famous stoners.
After Yahoo's Chris Moody asked Penn about the president's drug policy, Penn said, "I feel like I get this question because of the nature of the movies I'm in, and I know that you wouldn't ask Anthony Hopkins whether he eats people in real life after 'Silence of the Lambs'?"
Obama, Penn told Moody, has nevertheless been "consistent" on his stance.
And panels surrounding the DNC seem to come every hour on the hour. The National Journal, the Atlantic and Microsoft hosted an afternoon panel Wednesday with the rather broad title of "Conversations With the Next Generation," a town hall that drew Jessica Alba and Cash Warren, America Ferrera, Penn and Alfre Woodard, as well as MTV's Andrew Jenks.
The presence of celebrity is more apparent here than it was last week in Tampa, not just because that city hosted Republicans, who have a smaller footprint in Hollywood, but because the downtown area took on the aura of a police state. Outside the security perimeter, blocks of the city were cordoned off, and much of the regular population stayed home, giving it an eerie feeling of emptiness.
By contrast, Charlotte is like a street festival, as the close proximity of venues means that it's much easier to hoof it, or take one of the many rickshaws, to get from one point to the next. Street vendors line up with all kinds of Obama t-shirts, mugs and sunglasses, a counterpoint to the flood of anti-Obama merchandise that was available in Tampa. Very little anti-Romney merchandise — or even anti-Romney street rhetoric — is evident in Charlotte. On one corner on Tuesday, one man held up a "Republicans for Obama" sign. He was dressed as Abraham Lincoln.
At the EpiCentre, CNN has set up a restaurant, the CNN Grill, while MSNBC has the MSNBC Experience, where its anchors do live broadcasts. Inside a Gold's Gym, cleared of its weights and exercise machines for the week, is the sleek Bloomberg Link, center of much of Bloomberg News' TV operations, set up with a kitchen and a stage for a series of panels. A host of D.C. media figures turned out for a surprise party for Al Hunt on Tuesday.
Near a massive sand sculpture of Obama, which is actually a promotion for the city of Myrtle Beach, S.C., one man could not walk more than a few feet before being stopped by delegates and other conventiongoers insisting they have their pictures taken with him. After spending five minutes with one crowd, the man told them, "I'll bet you'll put this on your dartboard." He was Michael Steele, the former Republican National Committee chairman who is now an MSNBC commentator. "You are my favorite Republican," one man told him.
"It's nice. People are polite and kind and I appreciate it," Steele said as he walked away, beaming at the recognition.
The risk for any showbizzer who descends on this city is that they will play a kind of lottery with hotel accommodations. Rooms are scarce. Many media members are at small, decaying motels. Donors and bundlers, of course, are set up close to the action at four-star hotels like the Westin.
But the California delegation ended up at the Blake Hotel, where reports of faulty waterworks, broken elevators and poor food are rampant. Los Angeles City Councilman Eric Garcetti, who is staying there but said his accommodations are fine, said that there is even a nickname for the Blake: the Bleak Hotel.