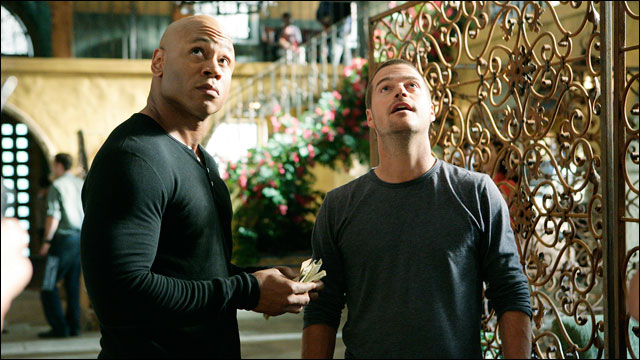 The three-comedy collision on Tuesdays this fall has resulted in a few scrapes for NBC and Fox, and a potentially fatal blow for ABC.
Meanwhile, CBS is the real beneficiary, with its vet drama "NCIS: Los Angeles" cruising down the fast lane, and dominating in all categories.
It's never good when similar programs air in the same time period, and three comedies are clearly a crowd in Tuesday's 9 o'clock hour. (It's the first time since 2005 — when Fox's "That '70s Show," CBS' "Still Standing" and ABC's "George Lopez" led off Wednesday — that three of the Big Four have looked for laughs in the same hour.)
We got to this point because, unlike Monday ("Two and a Half Men"), Wednesday ("Modern Family") and Thursday ("The Big Bang Theory"), there has been no dominant comedy airing on Tuesdays in recent years. ABC, NBC and Fox each saw the opening, and the 9 o'clock hour in particular, and had designs on the night when they made their fall skeds in May.
According to Nielsen estimates through Nov. 14, Fox's tandem of returning "New Girl" and newbie "The Mindy Project" was averaging about 4 million adults 18-49 in the hour, while NBC's rookie duo of "Go On" and "The New Normal" averaged 3.4 million. ABC's returning laffers "Happy Endings" and "Don't Trust the B in Apt. 23" drew 2.3 million.
"NCIS: Los Angeles," meanwhile, has been beating all of them with 4.7 million.
The Eye crime drama, which attracts a big group of older auds, crushes the comedies in overall audience, averaging 18 million viewers, more than ABC, NBC and Fox combined (17.4 million).
"New Girl" is the top comedy in the hour among young adults, but is way down from last fall, while the ABC comedies are a shadow of their former selves when they aired last year following top-rated laffer "Modern Family" on Wednesdays.
NBC has been a surprise player in the hour with Matthew Perry-fronted "Go On" and Ryan Murphy-created "The New Normal," which have produced solid numbers and were picked up for the rest of the season. The net's music talent show "The Voice," which airs from 8 to 9 p.m. on Tuesdays and has been winning that hour among young adults, has given "Go On" a leg up in the comedy battle.
ABC is the loser in this equation, and that's at least partly due to its lower-than-expected lead-in from "Dancing With the Stars," whose 8:30 p.m. half-hour prior to "Happy Endings" has averaged a same-night 18-49 rating (2.1), considerably lower than "The Voice's" (4.5) lead-in to "Go On."
In January, ABC is scheduled to introduce two new comedies in Tuesday's leadoff hour, which may rate even lower than "Dancing" but would make for a more compatible lead-in to "Happy Endings" at 9. NBC's schedule also will change, with Betty White's "Off Their Rockers" taking over for "The Voice," and thus neutralizing the Peacock's advantage leading into 9 o'clock.
But it wouldn't be surprising to see ABC overhaul its shaky fourth-place Tuesday lineup, which is down overall by 15% from last year. "Happy Endings" and "Apt. 23" are on life support where they are, and moving them elsewhere while bolstering Tuesday's middle hour with a drama or reality show could be the Alphabet's best hope.
Something's gotta give, because it doesn't make sense for six of the 24 live-action comedies on the Big Four to be airing in the same hour every week.