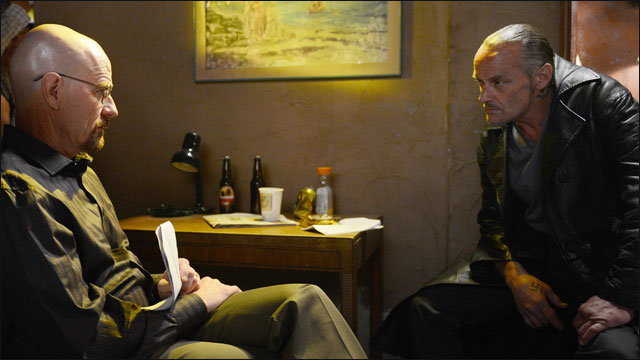 Showing the power of its crystal blue persuasion, AMC's "Breaking Bad" drew 2.8 million viewers for its final airing of 2012, a 47% bump over 2011's fourth-season finale.
The Bryan Cranston starrer technically is splitting its fifth and final season over a pair of eight-episode runs this year and next, but effectively, Sunday's seg served as a season-ender. The episode drew 1.7 million viewers in the adults 18-49 demo, 37% more than last year's Oct. 9 finale.
For the year, "Breaking Bad" averaged 2.6 million viewers overall (39% better than 2011) and 1.6 million in 18-49 (up 56%).
"That 'Breaking Bad' continues to deliver at such a remarkable level creatively, now over 50 episodes later, is a rare accomplishment that begins with (showrunner) Vince Gilligan, and the torch is carried by every member of the team on both sides of the camera," AMC prexy Charlie Collier said. "We can't wait to share the final eight episodes with our audience."
In a chat with reporters today, Gilligan said that the broad strokes of 2013's final episodes have been sketched out, but plenty of details remain to be plotted.
"There will be resolution in these final eight," Gilligan said. "We are going to swing for the fences in these final eight episodes. It's terrifying, and yet it's liberating for me and the writers, that these are the final eight hours that we'll have for this series. There's been talk of a movie, but I can tell you that none of that is even remotely on my radar. The end of this story is contained in these final eight episodes."