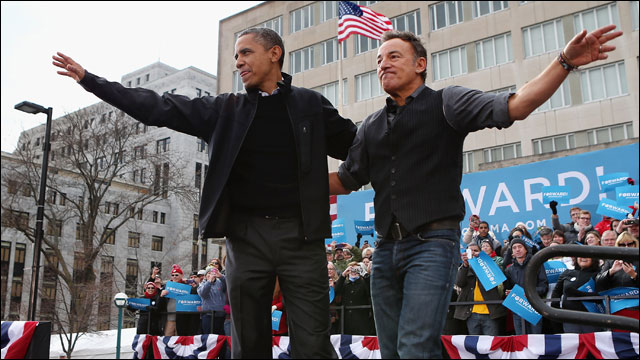 Above: President Barack Obama and rocker Bruce Springsteen wave to a crowd of 18,000 in Madison, Wisconson on Monday. (Photo by Chip Somodevilla/Getty)
As voters lined up Tuesday morning outside polling places, showbiz supporters of President Obama and Mitt Romney helped make the case for their candidate in the waning hours of the campaign.
On a soundstage at Culver Studios, the Obama campaign had set up a phone bank where hundreds of volunteers were calling swing states. Julia Louis-Dreyfus and Cameron Crowe made calls on Monday, and Burt Bacharach and Neil Diamond gave an impromptu performance there on Sunday night.
During a concert in Madison, Wis,, midway through singing "Blowin in the Wind," Bob Dylan predicted an Obama "landslide."
"Don't believe the media. I think it's going to be a landslide," Dylan said, according to the Associated Press.
Bruce Springsteen performed at Obama's final rally in Des Moines on Monday night, where the president's eyes were watery as he recounted the start of his presidential run in the state in 2007. In Manchester, N.H., Kid Rock stood on the top of a piano and performed "Born Free" as Mitt and Ann Romney came onstage.
"I have to say thank you to Kid Rock," Ann Romney said. "Let me tell you we are kids of Detroit, Kid Rock and I are, and Mitt is a kid of Detroit and we love Michigan we love Kid Rock we love that he stood up for us and helped us out for all this time."
The major networks prepared to showcase their coverage, with ABC News staging a large presence in Times Square, NBC News creating a "Democracy Plaza" at Rockfeller Center and CNN displaying a running tally of electoral votes via a light display atop the Empire State building.
On Twitter, entertainment figures implored followers to vote. Some, such as actor Mark Ruffalo, urged them to report anything out of the ordinary at the polls, with concerns over voter suppression. "Why has the GOP added a secret software patch to voting machines?" Roger Ebert said in a tweet.
"Good luck Mr. President, we stand by you no matter what and are thinking of you today. I'll never forget what you did for DADT," Lady Gaga wrote of Obama's move to decision to repeal the military's "Don't Ask, Don't Tell" policy regarding gay service members.
On the other side of the spectrum, Dennis Miller, who has campaigned for Romney, wrote, "You want a testimony to Romney's governing abilities? He got things done in Massachusetts with a legislature full of Elizabeth Warrens."