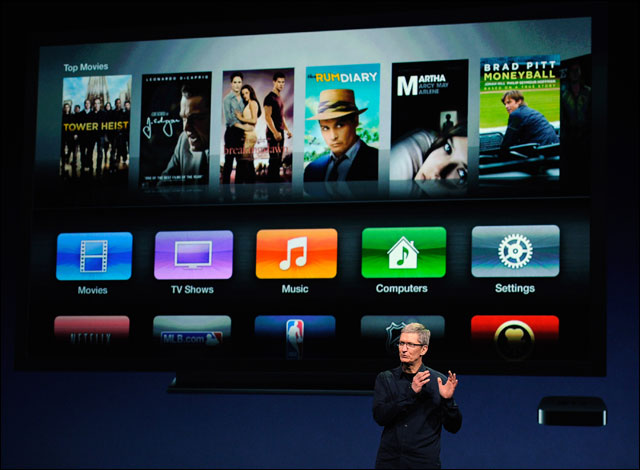 Apple CEO Tim Cook, above, at a product launch earlier this year. (Photo by GettyImages)
After snatching the music business from under the nose of the recording industry, Apple's onslaught in television may be more subdued — a set-top box used in partnership with cable operators.
The tech giant is said to be in talks with major cable operators about developing a new set-top box to provide video and host of other digital services to the home. According to the Wall Street Journal, which first reported the discussions, no deal is in place and its not clear if or when one will emerge. Apple spokesman Tom Neumayer declined Thursday to speak to any discussions, saying Apple doesn't comment on rumor or speculation.
Major cable operators led by Time Warner Cable chief Glenn Britt have acknowledged talks with an array of companies as video-delivery platforms continue to evolve. There's been much trepidation that AppleTV could squeeze cable if it planned to pipe content directly to consumers, bypassing cablers. A shared box would mean Apple hopes to work within the established TV ecosystem.
Britt and Apple chief Tim Cook are know to have met in July the Allen & Co. conference in Sun Valley, Idaho.
For cable operators, the appeal might be the chance to save on the costs of manufacturing set-top boxes, although they would still have to service them. A pact with Apple could also give cablers a leg up on satellite rivals, as the satcasters can't compete with the volume of data that cable's broadband pipes can deliver. Apple already has a $99 box that allows consumers to download Internet video.
Observers compared the strategy for Apple TV box to the iPhone, which Apple sells by the millions using wireless operators to provide the telephone service. The carriers benefit by selling consumers more apps and services.
However, many in the media world are skeptical that cable operators would be willing to let Apple build new businesses on the back of the broadband infrastructure that cablers have spent billions to construct during the past decade. Apple's efforts to become a direct-to-consumer distrib of video programming have been stymied by the major media congloms, which have been reluctant to license prime channels (ESPN, CNN, USA Network et al) to Apple out of concern for disrupting the economic underpinnings of the traditional cable, satellite and telco services that pay them tens of billions each year in channel carriage fees.
Rich Greenfield, one of Wall Street's preeminent media analysts, argues that cablers should be open-minded about partnering with Apple, given the company's storied track record of making new technology and services appealing to consumers.
"Enabling Apple and others to innovate on the front-end of the cable television interface should enable cable operators to reverse market share losses over the past several years to satellite and (telcos) especially given consumer love of Apple brands and products," said BTIG Research's Greenfield.