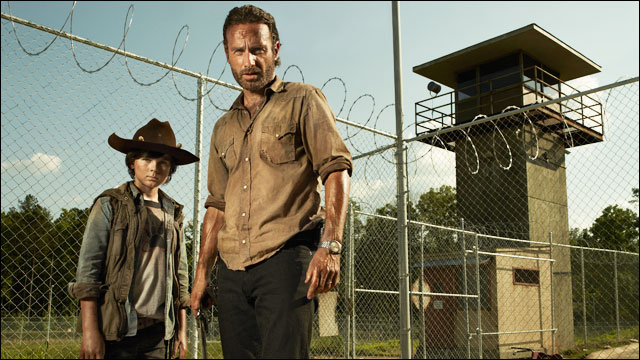 It's good times at AMC Networks fresh off a legal settlement and with quarterly revenue up an impressive 17% on strong demand for hit shows like "The Walking Dead."
AMC shares surged nearly 12% Thursday after it logged revenue of $332 million, including a 24% surge in affiliate sales and 9% growth in advertising. The stock closed up 8.5% at $52.57.
Net income slipped to $37 million from $40 million after Dish Network pulled AMC channels off its satellite system in July, a move AMC chief Josh Sapan said had a material impact on financials. The quarter also saw higher litigation fees as AMC and Dish headed to court in September.
Their Oct. 21 settlement included a long-term affiliate deal for AMC, IFC, We TV and Sundance Channel on Dish, which also agreed to pay $700 million that will be split between AMC and former parent Cablevision.
AMC's four national networks saw revenue grow 18% to $306 million. Operating income was flat at $99 million.
The jump in affiliate revenues to $199 million came from growth in digital and licensing distribution. Advertising of $107 million was due to strong demand for original programming, primarily at AMC.
The international and other segment, including AMC/Sundance Channel Global, international programming and IFC Films, saw revenue decline $1 million to $29 million. Operating losses widened by $9 million to $13 million.
Dish and AMC were battling over a suite of high-definition channels called Voom launched by Cablevision and AMC that the satcaster agreed to carry for 15 years but dropped after two.
On Thursday Sapan reiterated AMC's belief that the carriage termination last summer was an effort by Dish to give it leverage in the trial. But he also said AMC has "enjoyed a long relationship with Dish Network and are delighted to partner with them again in bringing our channels and programming to their subscribers.
"While the litigation and associated carriage dispute impacted our third-quarter financials, that issue is behind us, and we are fully focused on continuing our strategy of investing in quality original programming."
"The Walking Dead" premiered last month to blockbuster ratings and has become one of the biggest shows of the fall season among adults 18-49.