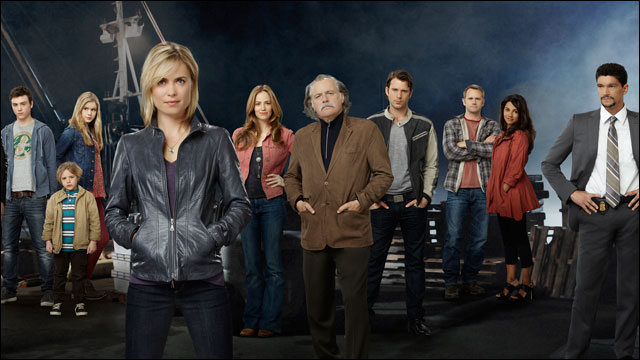 ABC laid out its midseason plans on Tuesday, setting a March 3 premiere for organized-crime drama "Red Widow" while skedding Anthony Edwards thriller "Zero Hour" for Feb. 14.
The Alphabet is also adding two new reality hours on Tuesday: "The Taste" and "Celebrity Diving."
Comedy "Suburgatory" is moving from 9:30 p.m. to 8:30 on Wednesdays beginning April 3, following the end of the season for newbie laffer "The Neighbors," currently in the 8:30 timeslot.
Also on the comedy front, Sarah Chalke starrer "How to Live With Your Parents (for the Rest of Your Life)" will debut at 9:30 p.m. (behind "Modern Family") on April 3. Show features Chalke as a recently divorced single mom who moves back in with her eccentric parents, played by Elizabeth Perkins and Brad Garrett.
"Family Tools" joins the Wednesday comedy lineup, but not until May 1 — after "Suburgatory" has wrapped its season.
Sitcom stars Kyle Bornheimer, J.K. Simmons and Leah Remini.
ABC had originally pegged the new comedies for Tuesday's 8 o'clock hour but had a change of heart, perhaps due to the net's weak performance on the night this fall.
As for reality fare, cooking competition show "The Taste" — with chefs Anthony Bourdain, Nigella Lawson, Ludo Lefebvre and Brian Malarkey — will debut with a two-hour telecast Jan. 22 at 8 p.m.. "The Taste" will normally run an hour at 8 p.m. on Tuesdays.
"Celebrity Diving," with judges Greg Louganis and David Boudia and based on the international series "Celebrity Splash," premieres at 8 p.m. on March 19. Comedies "Happy Endings" and "Don't Trust the B in Apt. 23" will continue to air in the 9 o'clock hour on Tuesday through mid-March.
The 16th season of "Dancing With the Stars" begins March 18 and the results show starts March 26, moving back to the 9 o'clock hour it had occupied prior to this fall.
Skedded for 8 p.m. Thursday, "Zero Hour" replaces "Last Resort," which ABC recently canceled. Edwards, in his first series regular turn since "ER," plays a man engaged in a mystery after his wife disappears.
"Red Widow," from "Twilight" writer Melissa Rosenberg and starring Radha Mitchell, examines how far a woman will venture into organized crime to keep her family safe.
After the two-hour March 3 premiere — likely to be amply promoted during the Alphabet's telecast of the Academy Awards one week earlier — the drama will shift to 10 p.m. Sundays a week later, replacing "666 Park Avenue." Dana Delany drama "Body of Proof" returns to the lineup on Tuesday, Feb. 5, taking over the 10 p.m. timeslot from outgoing "Private Practice."
CW also made scheduling news, setting a Feb. 19 premiere for new drama "Cult." Show stars Matt Davis as a journalist who engages with a fictional TV show's rabid fanbase and a charismatic cult leader.
(Rick Kissell contributed to this report.)