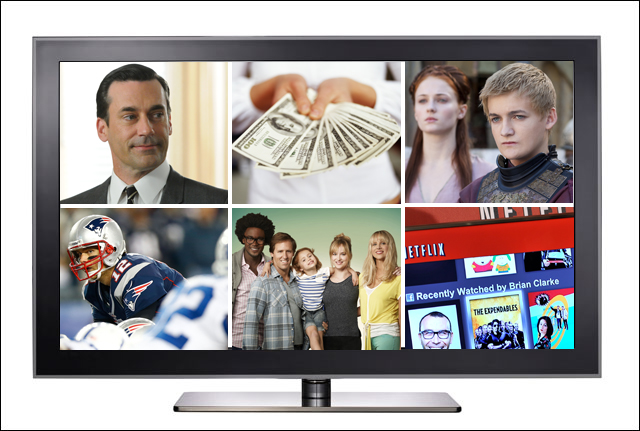 Year-end reflections are typically filled with lists of significant events. But when it comes to the busy intersection of TV and digital media, 2012 may have been defined best by what didn't happen.
Think of all the challenges that loomed over the pay-TV business as far back as late 2011. Cord-cutting? That continues to be more of a rounding error than a phenomenon. Apple TV? Still waiting on Steve Jobs' brainchild to come to market. Other so-called over-the-top alternatives rumored to be brewing everywhere from Intel to Facebook? Nary a peep.
Time will tell whether any of these threats may still come to pass. But they'd be overdue given that the multichannel world has long been begging for disruption. The cost of the average pay-TV subscription has skyrocketed 68% over the past 10 years, according to Bernstein Research.
But despite the fragility of their delicate bond, programmers and distributors didn't face any real challenge in 2012 from any of the expected upstarts hoping to gain rights to live TV and package it in more innovative ways.
If anything, the content companies demonstrated an increasing savvy in capitalizing on digital challengers. And what little damage the old guard sustained on new platforms seemed more self-inflicted than the result of any outside threat.
Which isn't to say there's no trouble on the horizon. It may be the tech titans who made serious strides this year in pursuit of their own content that could prove most disruptive in the long run.
If the absence of new competition to the pay-TV biz in 2012 came as a surprise, consider how it was clearly foreshadowed on the fourth day of the year.
On Jan. 4, a deal was announced that may have been more significant to the industry than anything that developed in the subsequent 361 days: a Comcast-Disney affiliate agreement. Its length — 10 years — and value — $20 billion, by analyst estimates — were indication enough this wasn't just another renewal. It was also the first such pact between conglomerates to incorporate TV Everywhere, an initiative aimed at making content previously restricted to the TV available across digital platforms.
When the owner of the most valuable set of channels including ESPN locked itself in for the long term with the biggest pay-TV distributor in the U.S., the template was set for protecting Hollywood's most lucrative revenue stream from those who wanted to break apart the traditional channel bundle via digital delivery.
The sky never fell
The Comcast-Disney deal was a vote of confidence for a business model that doesn't see as much cord-cutting as you might think. The nation's 13 biggest MSOs across cable, satellite and telco dipped a minuscule 50,000 video subs in the third quarter, according to Leichtman Research Group — and they're up about the same number year-to-date over the same frame in 2011. That the pay-TV subscription base managed to stay essentially flat over the past few years is actually remarkable considering it's such a mature market.
There wasn't much proof that cord-cutting was gathering steam in 2011, either, but that didn't dissuade a fleet of challengers interested in going to market with TV content.
The hype surrounding the mysterious Apple TV was building well before 2012 even began; many an analyst predicted a game-changer that would do to Comcast or DirecTV what various iProducts did to the likes of Sony and RIM.
And yet Apple TV has yet to make it to market — and the prevailing speculation is that Apple will have to partner with the very distributors it was supposed to kill. Talks held directly with the content companies necessary to secure TV programming proved fruitless.
And Apple was far from the only company that threatened to eat the pay-TV biz's lunch via the virtual MSO model. Microsoft flirted with the idea, then settled for the same kind of authentication setup Apple will likely employ. Intel, Sony and Dish Network are all said to be prepping similar OTT challenges, and yet their products are still about as hypothetical as Apple TV at this point.
This was also the year when an entirely new distribution platform for video was expected to throw its weight around Hollywood: Facebook. Even before its doomed IPO hit the market, top Facebook execs made all sorts of grand proclamations about reorienting the media business around social. But save a handful of one-off experiments in theatrical distribution, nothing of note surfaced.
Give these tech giants a little credit, though: They at least had the decency to approach the studios about formally licensing their content. A smaller breed of upstarts spent much of the year trying to convince various courts they were entitled to broadcast TV content without having to pay retrans fees. But it's not looking good on the legal front for IAC-backed Aereo, or lesser-known loophole-seekers like Skitter and FilmOn.
Perhaps the most stunning retreat from the pay-TV empire came in March from Netflix CEO Reed Hastings. He suddenly began talking openly of striking a deal to turn his streaming service into something cable operators could sell to their customers. Here was arguably the most disruptive competition to the pay-TV model taking an if-you-can't-beat-'em approach. But no companies have taken up Hastings' offer yet.
Co-opting the competition
In 2012, digital platforms seemed less a threat and more an opportunity for the content business to grow. Subscription VOD services collectively poured $3 billion into conglom coffers this year, according to Barclays, helping offset DVD declines and supporting a heretofore-barely existent aftermarket for serialized programming. That may only grow as new market entrants like Redbox Instant by Verizon emerge and exclusive licensing deals are struck at a premium.
There was one worrisome period in the spring when a ratings freefall at Nickelodeon seemed directly attributable to parent company Viacom licensing too much of its content to Netflix. But the consensus that emerged among analysts was that the decline, which proved short-lived, had more to do with the lack of investment in programming.
If anything, SVOD seemed more like a catalyst than a cannibal for on-air ratings given how Netflix was credited for boosting the audiences that came to new seasons of "Mad Men" and "Breaking Bad," two AMC shows that gave viewers an opportunity to check in mid-run via full backlogs of episodes. This catch-up model will be further put to the test this summer with CBS series "Under the Dome," which was partly financed through a preemptive sale of SVOD rights — an unprecedented arrangement.
The notion that digital viewing options represent competition to TV was further dispelled beyond SVOD to electronic sell-through storefronts like iTunes to ad-supported hubs like Yahoo, which were leveraged more aggressively than ever to launch the fall shows. Networks were willing to risk cannibalization for pilots from Fox's "Ben & Kate" to ABC's "Last Resort" just to boost buzz.
Their own worst enemy
Digital platforms also presented obstacles to media companies in 2012, but in those instances the media companies usually only had themselves to blame.
Serious ratings attrition across the broadcast schedule in the fall seemed less attributable to digital viewing alternatives than to DVRs — most of which are deployed by the MSOs. There's much talk of extending the C3 rating an additional four days to recoup more ratings, but C7 just scratches the surface of a much larger problem: the shortcomings of Nielsen measurement on mobile devices like tablets, on which video usage exploded this year.
DVRs also became controversial in an entirely different way beginning in May, when Dish introduced AutoHop, a feature on its Hopper DVR that allows skipping of commercials at the touch of a button for recorded broadcast fare in primetime. Several broadcasters sued the satcaster, showing that AutoHop may be less about consumer-friendly innovation than finding a leverage point in affiliate-fee negotiations.
With or without AutoHop, settling on compensation for content is becoming a more contentious issue than ever. Programmers and distributors in 2012 racked up a record 85 blackouts, allowing channels to go dark after failing to come to terms, as Viacom and DirecTV did in a memorable nine-day blow-up in July. It probably comes as no surprise that digital rights to content repeatedly emerges as a sticking point in these standoffs.
While Disney and Comcast put a flag in the ground on this TV Everywhere front in January, freeing up TV content for digital consumption continues at a sluggish pace. The industry's counteroffensive to OTT is hampered by myriad technical and contractual hurdles, though HBO Go and WatchESPN are notable exceptions.
Digital originals
But for all the dysfunction dividing programmers and distributors, they maintain a monogamous relationship. Licensing the firstrun content that MSO pay billions for has proven so prohibitive that some tech companies began moving in a different direction to fill screens: creating their own programming.
Digital originals are hardly a new phenomenon, but the sophistication and level of investment in this space in 2012 reached a whole new level. Just look at Google, which may have learned the hard way that it was best to cultivate programming outside the existing TV ecosystem when the broadcasters blocked Google TV from getting access to content in 2010.
Two years later, YouTube has been transformed from a homevideo dustbin to a hub for premium channel partners. Madison Avenue has awoken to the opportunity of an entirely new strata of programming for a global audience, supplemented by the growing crop of multichannel networks blossoming independently of them from Maker Studios to Machinima.
But the promise here isn't just about YouTube alone; it's part of a larger puzzle Google is putting together that could evolve into an end-to-end media economy. Also emerging this year was Google Fiber, an audacious experiment in distribution that Google chairman Eric Schmidt recently hinted could be extended beyond its Kansas City test bed. Add to that Google TV, which continues to evolve, and Google Play, a cross-platform transactional storefront, and you have the pieces of something that could become an alternate universe to the traditional pay-TV world.
Microsoft seems to be thinking along the same lines. After abandoning its own virtual MSO ambitions early in the year, the tech giant surprised Hollywood in September with the hire of CBS veteran Nancy Tellem to launch a Microsoft studio. Again, the potential here isn't just inherent in the content created but in what else Microsoft can bring to the table including XBox, which hit a milestone this year by delivering more total hours of video viewing than gaming.
But the most audacious plan for digital originals this year came out of Netflix. Its first series, "Lilyhammer," offered just a taste of the big-budget slate rolling out from the company in 2013, from an adaptation of "House of Cards" to the revival of "Arrested Development." Netflix's rivals in the SVOD space, Hulu Plus and Amazon Instant Video Prime, are following suit but placing smaller bets.
In success, Netflix et al could reduce their dependence on Hollywood licensing. But just as Disney began the year with a deal that reinforced the importance of its content, it ended 2012 with another that did same: Netflix paid for rights to stream the studio's blockbusters in the pay-TV window beginning in 2016, a sign that the new digital generation can't do without its traditional suppliers just yet.
The pact proved fitting closure to a year marked by the delicate balance of power between pay TV and OTT.