TV's biggest week is pretty much all glam and glitz in the days leading up the main event.
For post-primetime Emmys, there's a mad dash to limos to hit the afterparties that range from downtown to West Hollywood. Not on the dance card this year: The "Entertainment Tonight" mega-bash, a no-show after 10 years.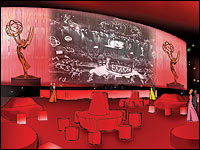 CREATIVE ARTS BALL
When: Sept. 15 following Creative Arts Emmy Awards ceremony
Where: West Hall, L.A. Convention Center
The scene: 2,800 guests will see red at the Creative Arts Ball where a blossoming rose-like sculpture will be suspended overhead, 200,000 red roses will decorate tables (topped by red linens) and rose-colored panels will mark the location of bars and dessert stations in the massive convention hall. Sequoia Prods. is producing the event and Patina Catering is handling the catering for the 17th time. Sparkling up and enveloping the room will be 36-foot high black LED-lit curtains, while 6,000 candles will add a warm glow. Two Grey Goose Vodka ice bars and hundreds of cases of Beaulieu Vineyard wine should help loosen the crowd. There's ample entertainment too, as Splash, the Red Hots and the String Ensemble are all scheduled to perform.
AUDI PRE-EMMY PARTY
When: Sept. 16
Where: Cecconi's, West Hollywood
The scene: Audi kicks off Emmy week for the fourth year in a row with a splashy nighttime indoor/outdoor fete at Cecconi's. The guest list includes tenpercenters, showrunners, nominees and media.
TV ACADEMY PERFORMERS NOMINEES RECEPTION
When: Sept. 21
Where: Spectra by Wolfgang Puck, Pacific Design Center
The scene: The official reception for nominated performers hosted by the TV Academy features hors d'oeuvres (tuna tartare cones, mini-cheeseburger sliders, lobster tacos) and a summery dinner buffet from Wolfgang Puck Catering. Sequoia Prods. handles set-up duties.
VARIETY AND WOMEN IN FILM PRE-EMMY PARTY
When: Sept. 21
Where: Scarpetta at the Montage Beverly Hills
The scene: The scene: The look will be Midsummer Night's Dream-inspired as 300 Women in Film members, guests and femme Emmy nominees take over the industry-favored restaurant. Saint Vintage jewelry line is the presenting sponsor.
ENTERTAINMENT WEEKLY PRE-EMMY PARTY
When: Sept. 21
Where: Fig & Olive, West Hollywood
The scene: Entertainment Weekly fetes 400 guests, including nominees and fall TV season thesps at the charming West Hollywood eatery. Sponsor L'Oreal Paris will have a custom cosmetics bar with champagne. Other amusements: DJ Mick Boogie and a vintage photo booth.
BAFTA PARTY
When: Sept. 22
Where: The London Hotel, West Hollywood
The scene: A rooftop afternoon tea party and cocktails awaits 400+ BAFTA/LA invitees. Nominees from the U.K. and Commonwealth will mix with TV execs, BAFTA members and other noms. A silent auction benefits BAFTA/LA community outreach and education programs such as Inner City Shakespeare in the Park.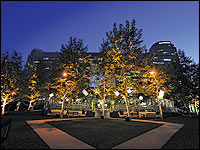 EVENING BEFORE PARTY
When: Sept. 22
Where: Century Park, Century City
The scene: The high-powered attendees at this benefit for the Motion Picture & TV Fund are a mix of talent, studio and network execs, agents and nominees with some probable Oscar contenders on the scene too. Decor is upscale cocktail party while major sponsors provide diversions and swag (Missoni goods from Target were a hit last year). Wolfgang Puck Catering creates the menu of grilled specialties; between 800 and 1,000 guests are expected. In all $1.5 million was raised at last year's schmoozefest.
NBC PRE-EMMY PARTY
When: Sept. 22
Where: Boa, West Hollywood
The scene: The Peacock is making a big change and moving its annual Saturday night soiree to Boa on the Sunset Strip, leaving Spago. Move is likely a good one as Spago was always supercrowded, with fire marshals always at the ready and turning people away. NBC's Emmy noms will arrive throughout the night and chat up party guests.
SHOWTIME PARTY
When: Sept. 22
Where: Sunset Tower Hotel, West Hollywood
The scene: CEO Matthew Blank and entertainment president David Nevins will hang with the cabler's talent pool, as the net's annual Emmy soiree shifts up Sunset Boulevard to its new locale from its usual spot at the Standard. Among the thesps scheduled to attend include "Homeland" stars Claire Danes, Damian Lewis and Dexter himself, Michael C. Hall.
PRIMETIME EMMYS GOVERNORS BALL
When: Sun. Sept. 23
Where: West Hall, L.A. Convention Center
The scene: Dinner is served for 3,800 as the TV Academy utilizes same decor and menu from previous weekend's Creative Arts Ball. Entertainment is varied somewhat. New this year: Just as after the Oscars, winners can have their Emmy statute personalized in the Emmy Winners Circle.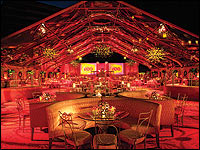 HBO EMMY PARTY
When: Sept. 23
Where: Pacific Design Center, West Hollywood
The scene: For the 10th year, HBO transforms the 50,000 square foot outdoor plaza at the PDC into a stunning party space. Event designer Billy Butchkavitz returns too. His design theme for 2012: A glorious garden. Expect a bloom of color throughout — lemon, lilac, cornflower and black — and the yellow-colored dining pavilion hung with a 30-foot diameter floral chandelier. Wolfgang Puck Catering's custom menu finishes with lemon and lilac-colored desserts.
COMEDY CENTRAL PRIMETIME EMMYS AFTER-PARTY
When: Sept. 23
Where: Cecconi's, West Hollywood
Relaxed, laid back and fueled by Northern Italian cuisine and plenty of drink, Comedy Central's nominees and the comedy community will celebrate the night at the West Hollywood eatery.
AMC PRIMETIME EMMYS AFTER-PARTY
When: Sept. 23
Where: Lure, Hollywood (former Cabana Club and Green Door)
The scene: Hollywood's latest sprawling nightclub welcomes AMC's after-party and cast of "Mad Men" and "Breaking Bad" to this Vegas-tinged venue. The large outdoor patio comes with lush landscaping and white leather booths. Inside there's a pulsing sound system and elevated VIP booths.
FOX, 20TH AND FX PRIMETIME EMMYS AFTER-PARTY
When: Sept. 23
Where: Recently opened Italian-eatery Soleto is the newest restaurant from Innovative Dining Group (BOA, Sushi Roku, Delphine). A carpeted outdoor patio and art installation/event space will host invitees, including key studio execs and all of Fox, 20th and FX's nominees from "Modern Family," "American Horror Story," "New Girl," "So You Think You Can Dance" and others.
Road to the Emmys: Down to the Wire
For Emmy voters, moments trump overall merits | Award gods' co-producer | Soirees fill up Emmy week | Trivia for this year's Emmycast