This year's Emmy battle for top comedy series is an insta-classic: old vs. new.
Backed by critical acclaim and the resurgence of at least one "Seinfeld" cast member, newcomers "Girls" and "Veep" scored nominations for likely different reasons. The former is an auteur's look at Brooklyn from 25-year-old multihyphenate Lena Dunham; the latter tapped into collective political angst and played to the strengths of Julia Louis-Dreyfus. If it features star power or risky emotional proclivity, it's HBO.
Meanwhile, "Curb Your Enthusiasm" and NBC's "30 Rock" have seen many seasons — "Curb" finished its eighth and "Rock" ended its sixth — and returned as flashy and funny as ever in the TV Academy's eyes.
Then there are "Modern Family" and "Big Bang Theory," each blending a bit of old with a bit of new. "Modern Family" hasn't evolved past its initial conceit, but it hasn't had to. It came out swinging — a sweet family sitcom disguised as a savvy mockumentary. "Big Bang" is the only multicam to grace the list, though its old-fashioned roots belie jokes that touch on contemporary culture.
Conspicuously, we're missing the show that blends traditions old, new and other — though there's always next year for "Louie."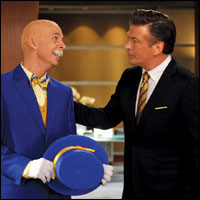 "30 Rock"
NBC
Liz Lemon finds herself in a functional relationship, Jack struggles with Avery's absence and Jenna and Tracy, as usual, outcrazy each other. Meanwhile, Kenneth the page loses his job and gains a rival in Hazel (Kristen Schaal).
Highlights:
• The "Leap Day" episode lends mythology to Feb. 29, complete with "Leap Day Williams" — a guy in a barbershop quartet hat who has gills and gives out candy for tears.
• The second "30 Rock" live episode, a celebration of TV history, with a cameo by Paul McCartney.
• Liz grants Jack and Avery a divorce, "by the power of an Estonian online ministry."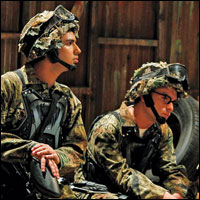 "The Big Bang Theory"
CBS
Howard prepares to go to space, Penny and Leonard give dating another try and Sheldon finds his way back into the gang's good graces.
Highlights:
• Sheldon presents his work to Stephen Hawking, who quips, "It was quite a boner."
• Howard finally makes it to space, right after he ties the knot with Bernadette.
• The girls invade a boys-only videogame-fueled sleepover, and convince them to play drinking games.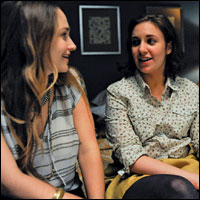 "Girls"
HBO
Hannah, an aspiring writer, is cut off from her parents and learns to make ends meet. Her friends similarly struggle with the uncertainty of their 20s by acting out and making regrettable decisions in the show's tonally distinct manner.
Highlights:
• Hannah accidentally ruins an otherwise excellent job interview with a poorly timed zinger about date rape.
• Jessa invites her friends to a warehouse for an undisclosed reason: her surprise wedding. Shoshanna, her uptight cousin, freaks out because she's wearing white.
• Hannah asks Adam to be her boyfriend during an intense shouting match on an abandoned street. In the cab back, she smiles knowingly to herself.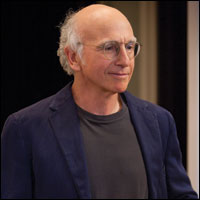 "Curb Your Enthusiasm"
HBO
Larry heads to New York with Jeff and Susie to avoid doing a charity walk-a-thon. Leon Black follows him there, where Larry manages to anger the entire city, including Mayor Bloomberg.
Highlights:
• Larry's car has a wobbly passenger seat, which gives Susie an offensively loud orgasm. The look of horror on Larry's face …
• Michael J. Fox shakes his head at Larry, who wonders whether Fox was showing disapproval or if it was a Parkinson's side-effect.
• Larry falls for a woman he meets at a Palestinian-owned chicken restaurant, and their affair would make David Ben-Gurion furious.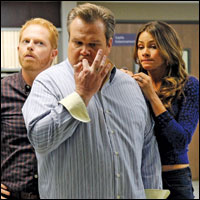 "Modern Family"
ABC
The parents grow up just as the kids are. Claire Dunphy runs for city council while Phil tries, as always, to be the man around the house. Cameron and Mitchell work on raising a now-toddler-age Lily. Jay is more comfortable as a father figure to Manny.
Highlights:
• Alex shares her first kiss with a hotshot Brooklyn teen she meets at a dude ranch.
• The saga of Cameron and Mitchell's next adoption plays out like a telenovela.
• Luke on playing videogames with his elderly neighbor: "He says cool things, like 'See you in hell, Klaus!'"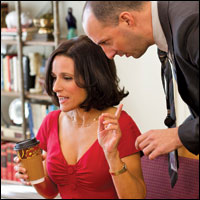 "Veep"
HBO
Louis-Dreyfus plays Selina Meyer, an apolitical vice president who deals with comical crises as they arise, all the while secretly hoping the president will pull her into the big leagues. The first season explored the highs and lows, and gave plenty to the gifted ensemble of actors.
Highlights:
• Because of a technical slip-up, Selina speaks about her birther leanings into a hot mic, to which the crowd starts chanting "USA! USA!"
• A midseason episode ends with Selina receiving news of her pregnancy, parodying Bush receiving news of the 9/11 events.
• "We are currently polling lower than a side of beef with eyes drawn on it."
Road to the Emmys 2012: The Comedy Nominees
Sitcom showrunners seeing spots | HBO's offbeat ways turn into nom romp | Shows full of big angst theories
>