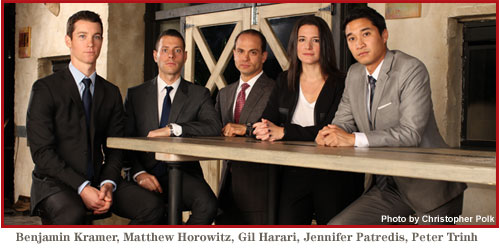 Mike Berkowitz
Partner, Comedy Department head, APA
The New York-born and -based Berkowitz, 34, knows what it's like to be on stage, but he back-burnered his skills as a guitarist to book talent instead. That talent includes Louis C.K., Craig Ferguson, Kevin Hart, Vanessa Bayer and Aziz Ansari, for whom he handles concert tours and standup gigs. For C.K., whom he met in 2007, Berkowitz helped orchestrate the model of selling tix directly to auds through the comedian's website, without a third-party middleman. "It was a huge risk, and it worked," says Berkowitz, who aims to stay ahead of the curve in a biz that's very tradition-bound. "What I'm trying to do is utilize the new digital age where artists can reach fans directly." Whatever the method, Berkowitz's clients are selling out venues all over, including Ferguson's recent gig at Radio City Music Hall. The late Greg Giraldo was his first client, and Berkowitz keeps a poster of the comic on his office wall. "I think I do a good job of shaking the trees."
Rich Cook
Literary agent, WME
Mark Wahlberg is part of Cook's entourage, as are Sylvester Stallone, "Taken 2" director Olivier Megaton, John Singleton and Robert Rodriguez. Cook, 29, and Doug Lucterhand packaged "Contraband" and the upcoming "2 Guns" with Wahlberg and director client Baltasar Kormakur. He's landed two other competitive signings recently: Gareth Edwards, whom he helped get the job directing "Godzilla," and Gareth Evans, to court whom he flew to London. "I get a lot of joy from breaking filmmakers into the studio system," says Cook, who works the film festivals searching for new talent. For Stallone, he helped put together "The Tomb" (with Arnold Schwarzenegger) and is working on "The Expendables 3"–and "some other things we can't talk about yet." Cook began interning at Endeavor while a sophomore at USC film school, coming on board full time the day after he graduated. "Tom Strickler gave me the best education I could ask for," says Cook, born in South Africa and raised in New Jersey. "He said, 'Make friends, work hard, never accept no for an answer and always tell the truth.' I took that to heart."
Seth Glewen
Co-head of Theater Department with Joyce Ketay, Gersh Agency
Glewen, 31, works with playwrights as well as other theater talent, including directors, costume designers and composers. He identifies new talent and focuses on guiding the long-term careers of clients, with an emphasis on developing projects across many types of media in addition to film and TV. Glewen helped playwright Matthew Lopez ("The Whipping Man") move into television as a writer for HBO's "The Newsroom." He also assisted Rajiv Joseph, a Pulitzer Prize finalist for "Bengal Tiger at the Baghdad Zoo," in jumping to TV as a writer for "Nurse Jackie." Joseph also recently sold his screenplay, "Draft Day," to Paramount, where Ivan Reitman will direct and produce it. "It's much easier to walk into a room in Los Angeles if you're already an established playwright in New York," says Glewen. "You've shown you know how to write for an audience, you're something different, and you're able to go back to writing plays if you want because you've had success there."
Gil Harari
Talent Agent, Production, Paradigm Talent Agency
Two of Harari's producer clients have taken home best picture Oscars since last year: Peter Heslop ("The King's Speech") and Richard Middleton ("The Artist"). A third, Dean Jones, was best picture nominee for "The Help." "The sort of relationships I've garnered with studio execs and producers has helped," says Harrari, 35. He's placed four other clients into top studio production gigs recently, including at Focus Features and the Weinstein Co. Growing up in L.A. and graduating from the U. of Arizona, Harari knew he wanted to be an agent early on. In 1999, he cold-called Ari Emanuel's office and was referred to HR. Shortly thereafter, he was pushing a mail cart at Endeavor. At Paradigm for six years, he partnered with agent Jay Gilbert, whom he considers a mentor. Among Harari's most satisfying accomplishments: helping clients like Brad Parker and David Ellis realize their dream of becoming feature directors. "I never take no for an answer. I keep hammering away."
Matthew Horowitz
Alternative television agent, CAA
Television always seemed to be in the cards for Horowitz, 30. At Yale he developed his own concentration under the American Studies major to focus on pop culture, TV and media. After a stint in the WMA mailroom and the New York Television Festival, he signed on with CAA in 2010. Today he reps some of alternative/reality TV's biggest houses (Authentic Entertainment, Ryan Seacrest Productions, the Gurin Co.) on shows that pop, such as "Here Comes Honey Boo Boo" and "Breaking Amish." "Success in nonscripted is all about breaking through the clutter," he says. In addition to selling TV, he's also behind connecting CAA clients like John Legend and Renee Zellweger with possible alternative TV outlets. Now that reality TV has become his world, he's no apologist for the medium: "The best shows, whether 'classy' or not, across the spectrum are provocative ones," says the Connecticut native. "Whether you're laughing or crying with them, they make you talk. That's the mark of any good television."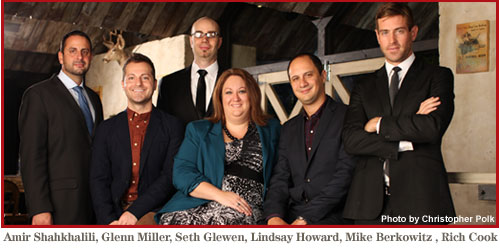 Lindsay Howard
VP, television literary agent, APA
Howard's client list of writers, producers and directors had a 97% employment rate in the past year — on staff, writing pilots or directing. One of the highest-profile, Ted Mann, co-wrote "Hatfields & McCoys" and was nommed for an Emmy. "The Middle" producer Vijal Patel, her first client, recently inked a two-year deal with ABC Studios and sold a pilot called "Square Roots" to ABC. "I like to work with clients on projects they're passionate about," says Howard, 32, a U. of Colorado graduate who started in the mailroom at APA and hasn't looked back. "There are a million ways to say no, but I'm as tireless as my clients are. You look for things you can get most excited about and run with it." She signed comedian Sarah Colonna to a miniseries deal based on her best-selling book, "Life as I Blow It." "This job is a perfect melding of being creatively driven and business-minded, helping people rise up and do their best."
Benjamin Kramer
Film Finance Agent, CAA
In the world of indie film financing, Kramer, 33, is a key player in the evolving definition of what actually makes a film independent. As true indies now break the bank with budgets in the nine figures, Kramer says careful handling of investors is required. "The world has changed from what was pure indie and pure studio," he says. "You work with a spectrum of investors today." He's helped find funds and distribution deals for films like "End of Watch," "Blood Ties" and "The Sessions," and also uncovered opportunities to transition actors and writers such as Matthew Weiner, Ralph Fiennes and Vera Farmiga into filmmakers. "It's not just about playing matchmaker with investors and directors," he says. "It's about helping people be smart with investments." And being at CAA, says the Wesleyan grad, helps him appreciate how everyone gets into the fray for every challenge. "Armchair generals are distasteful. I'm impressed by people who lead from the front."
Glenn Miller
Digital strategy and marketing executive, CAA
With a name like his, Miller, 30, seemed destined for the music industry — though there's no relation to the big band leader. Instead, Miller's had a big hand in expanding CAA's digital footprint by matching artists like Katy Perry, Fiona Apple and Bon Jovi with digital promotions. Brought to CAA in 2009 from AEG Live to launch the digital arm of the agency's music tour marketing group, Miller paired Jennifer Lopez and Enrique Iglesias with Zynga's "Draw Something" international launch, introduced One Direction to Tumblr and matched Kelly Clarkson with Shazam to launch the app's tagging feature. Lately he's spent time building relationships in Silicon Valley that he says will pan out down the road for his artists. "This isn't about a cycle for an album or a tour; it's about being able to guide the client's whole digital ecosystem," says Miller, whose first owned album was Alanis Morrissette's "Jagged Little Pill." "We have to be bold, creative and confident in what we're doing, and we can never stop innovating."
Jennifer Patredis
Talent agent, Innovative Artists
Identifying new talent and guiding young actors' careers is a skill that Patredis, 34, has in abundance. Her client Thomas Mann will appear in "Fun Size" this October and "Hansel and Gretel: Witch Hunters," and "Beautiful Creatures" in early 2013. Debby Ryan — whom she's repped since she was an agent in Dallas — is the star of her own series, "Jessie," on the Disney Channel. Client Emma Fuhrmann will be the lead opposite Morgan Freeman in the Rob Reiner project "The Magic of Belle Isle." Patredis also works with Zach Fox, who has a development deal at Disney, which resulted in his pilot, the untitled Zach Fox project. She still goes back to Dallas occasionally to scout for new talent. "I listen to my actors and find out what their goals are," says Patredis. "I feel lucky to be able to collaborate with them in making choices that can take them where they want to go."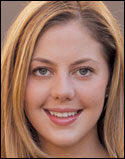 Milana Rabkin
Digital media agent, UTA
With frequent trips to Silicon Valley to meet with startups and established companies, Rabkin, 24, is looking for the next big thing. "A big part of my focus is on innovative financing and distribution models," she says. "How do we bring a client's ideas to life using digital media platforms?" Rabkin teamed electronic music master Paul Oakenfold with tech entrepreneur Seth Goldstein to form DJZ, an online hub focused on electronic dance music, videos and news. "I work closely with Paul on his digital strategy," Rabkin says. "He's excited how technology has fueled the exponential growth of dance music, and we're connecting him to start-ups that allow him to help shape the future of EDM." Among her other accomplishments since joining UTA in 2010: helping "Like Crazy" helmer Drake Doremus tap into social media with his newest project, "The Beauty Inside"; and negotiating a deal for client Jason Zada to direct an interactive experience for Paramount's "Paranormal Activity 4" and "PA 5." She's also assisted several clients in raising more than $1 million in production money through Kickstarter.
Amir Shahkhalili
Agent, Non-Scripted Television, WME
The UC Davis graduate opted for agenting rather than law school, aggressively pursuing a job at William Morris. "The timing was right, the business was growing with the proliferation of cable and the need for a significant amount of programming," says the 34-year-old, who now sees the need expanding even further. This year, he helped BET get into the late-night space for the first time, closing a 50-episode deal for Madeleine Smithberg and Sarah North to produce "Don't Sleep." For OWN, he closed an eight-episode deal for 44 Blues Productions' "Alaska Army Wives," and at the Hallmark Channel, a deal for Paige Davis to co-host the upcoming daytime strip "Home and Family," slated for 220 episodes this season. "I work hard to create a relationship between my clients and the buyers, positioning them strategically in the marketplace," he says. In addition to non-scripted, he works on branded lifestyle deals, such as chef Lorena Garcia's creation of the "Cantina Bell" menu for Taco Bell.
Peter Trinh
Agent, International and Independent Film, ICM Partners
As part of ICM Partners' red-hot Intl. and Independent department headed by Jessica Lacy, Trinh has helped broker over 20 distribution deals this year, including "Robot & Frank," the Duplass brothers' "Safety Not Guaranteed," "Struck by Lightning" and "How to Make Money Selling Drugs," a doc featuring Eminem, Susan Sarandon and 50 Cent. The team also recently signed Conroy Chan and Josie Ho's Hong Kong based 852 Films, with the goal of structuring strategic media investments, as well as production deals. "Digital distribution is having a big effect in the indie and international markets, especially as the home video market shrinks," says Trinh, 32, who's dealing with all the changes by being, "innovative and educated in that arena, figuring out how cost-effective it is, and maximizing profits and deal points for our clients." He, Lacy and the team are planning for a future, "where digital formats and distribution are the norm. It's a very exciting, pioneering stage."norm. It's a very exciting, pioneering stage."