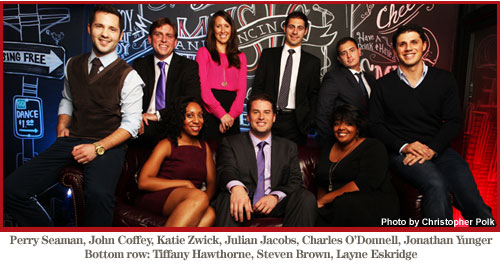 Steven Brown
ICM Partners talent coordinator
Following his graduation from Syracuse U. in 2006, Brown, 28, moved to Los Angeles and immediately began his career in representation. As the former assistant to ICM partner Lorrie Bartlett, he's worked with Kelly Macdonald, Zoe Saldana, Emmy Rossum and others on projects such as getting Macdonald the role in Pixar's "Brave" and scoring Josh Duhamel the leading role in the adaptation of Nicholas Sparks' "Safe Haven."
"Lorrie really taught me to trust my instincts, work hard and effectively all while being good natured," says Brown, who hopes to one day become an agent. He was recently was promoted to talent coordinator where, among other duties, he pitches the agency's talent clients to casting directors, producers and directors on independent projects he covers for the department. "It's a lot of responsibility but that's what drew me to this job. It keeps me engaged."
John Coffey
Assistant to Jeff Witjas, senior VP, talent, APA
Coffey, a New Hampshire native who majored in theater at USC, spent his early 20s figuring out which part of the industry he fit into. Following a brief stint as an actor, he worked in development at Village Roadshow Pictures before taking a job in the mailroom at APA and eventually becoming Jeff Witjas' assistant in 2009.
"The moment I started working on Jeff's desk I knew that representation was the career path I wanted to follow." As Witjas' assistant, Coffey, 29, has cultivated relationships with a wide array of agency clients ranging from Jason Momoa to Betty White. "Having an acting background, I can put myself into the shoes of the client and anticipate their questions." Looking ahead, Coffey would like to become a talent agent at APA, which is why on top of his assistant duties he focuses on "staying ahead of the curve and being on the forefront of that next big thing."
Layne Eskridge
Assistant to Maira Suro, senior VP of development and current programming, Universal Cable Productions
Ohio native Eskridge, 31, who joined Universal Cable Productions in March 2010, has already mastered the art of establishing and maintaining friendships within the entertainment community, and credits her boss with teaching her the importance such a skill.
While she's in charge of manning Suro's office, Eskridge also functions as a junior executive. "I bring projects to the table just like everybody else," says the Tisch grad. "Maira been influential in helping me structure my thoughts and form passionate pitches." Last July Eskridge took advantage of her position and her newfound skill sets when she formed a relationship with Mike Jackson, a partner in John Legend's Get Lifted Film Co. This ultimately led to a UCP pod deal with Get Lifted. "My goal is to get a few more successes under my belt, become a creative exec and eventually run my own production company."
Tiffany Hawthorne
Assistant to Bill McGoldrick, USA Network exec VP of original scripted programming
Prior to her role as assistant to Bill McGoldrick, Hawthorne, 28, wanted to be a theater actress. Then one summer, between her junior and senior years at Stanford U., she took an internship at FX, got a taste for development and realized that she belonged behind the scenes.
"I shifted my focus to becoming part of the business that buys projects and makes sure that those stories get on the air." Six years later, Hawthorne serves as a jack-of-all-trades at USA. In addition to managing McGoldrick's office, she oversees the internship program, reports diversity stats and recently joined the creative team of "Royal Pains" and net's upcoming untitled Heuton & Falacci project. "The most difficult part of my job is trying to balance it all," the L.A. native says. "There are so many opportunities here and I want to make sure that I capitalize on each and every one of them."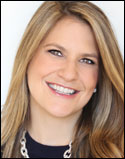 Cait Hoyt
CAA Books/Publishing department coordinator
Hoyt originally set out to be a talent agent, but when CAA made its first foray into the publishing biz in 2009, the Muhlenberg College grad found her true calling — marrying clients to book deals. "I'm a voracious reader," she says, "so when this opportunity came to me I felt like it was a crossing of two worlds. I have the opportunity to work with really creative and talented people and I get to read — a lot."
Like her boss, Simon Green, Hoyt, 27, is relentless when it comes to her clients. Working as Green's assistant for a little under 2 1/2 years and now in her new role as Books/Publishing department coordinator, Hoyt has been involved with more than 36 projects in various stages of development. She played an instrumental role in developing Jimmy Fallon's "Thank You Notes" and its sequel. The New York-based agent-in-training is working with Philippe Cousteau on his upcoming children's book.
Julian Jacobs, 25
Assistant to UTA CEO Jeremy Zimmer
As Zimmer's right-hand man, Jacobs, 25, works closely with every division at United Talent Agency, and he plans to keep it that way when he eventually becomes an agent. "People aren't just talent agents any more," he says. "They have to be versed in everything from lit to the licensing side of the business. Everyone has to be able to cross over."
Before officially joining the agency in 2009, the USC graduate worked at Korn/Ferry Intl. and interned at various companies, including UTA, as well as with producer Lorenzo di Bonaventura and film finance executives Shaun Reddick and Ray Mansifeld. "After working in all of those different capacities, nothing really excited me like my time at UTA." Jacobs adds that he's learned more than how to make a good latte while working on Zimmer's desk, which historically has been the last stop before being promoted to an agent position. "Jeremy has taught me to manage opportunities, leverage relationships, be willing to work in a team environment and move opportunities forward."
Charles O'Donnell
Booking coordinator and assistant Corrie Christopher, VP of Concerts
If it weren't for HBO's "Entourage," O'Donnell, 28, most likely wouldn't be at APA. "I'd be lying if I said that the show didn't influence my decision to come to Los Angeles," says the Pennsylvania native. While he admits that the show is "not quite" his reality, he has no complaints when it comes to his job as Christopher's assistant.
O'Donnell had spent just four days in the mailroom when Christopher hired him. "I had no intention of working in music when I came out here but Corrie is one of the best at what she does. The skills that she has taught me so far will translate into whatever kind of agent I decide to become." After one year on the job, in 2011, the Penn State grad was given the responsibility to book venues for many major tours including Imagine Dragons, Awolnation, Eric Hutchinson and the Dirty Heads, in the Midwest and Canada.
Perry Seaman
NBC Entertainment communications coordinator
Seaman, 27, might not be a household name, but in all likelihood you've seen his Emmy campaign ads, press kits or read a newspaper story that he pitched. At NBC, working under the net's exec veep of communications, Richard Licata, Seaman has been a significant creative force behind this year's Emmy campaigns for Peacock series including "30 Rock," "Smash" and "The Office." He's also the man behind the "Save Me" ad campaign featuring Anne Heche in a straitjacket
Prior to joining NBC, the UCLA grad worked as Licata's assistant at Showtime, where he also conceived numerous PR concepts, including the infamous image of two scissors intertwined cutting a paper heart for "The Real L Word" season two press kit. "The great thing about my boss and mentor, Rich is that he always encourages me to brainstorm and speak up. If I could be him 15 or 20 years down the road, that would be fantastic."
Jonathan Yunger
Assistant to Avi Lerner, chairman and founder, Nu Image/Millennium Films
Yunger, 25, was offered his current assistant position just 15 minutes into an interview with Avi Lerner. "There was no resume involved," says the Lee Strasberg Theater and Film Institute graduate. "We instantly connected. I think a lot of it had to do with the fact that there is no language barrier. I speak to Avi in Hebrew — and I get the way he runs his business."
Yunger not only gets Lerner, he's also managed to teach his boss about all things electronic and had a hand in convincing the producing pro to cast Chuck Norris in "The Expendables 2." The assistant hopes to continue working alongside his mentor well into the future as a producer. "Some people get excited for the end of the work day, but when Avi's in town I look forward to staying late into the night because that's when he does most of his work and I get to watch him negotiate. That's the real classroom time."
Katie Zwick
Coordinator for the Alternative Television department, CAA
Zwick, 27, works closely with CAA's co-head of Television, Ted Miller to help service the agency's international clients while also regularly communicating with top TV production companies, including Ryan Seacrest Productions and XIX Entertainment. "I love finding projects that already exist and need a production company to attach to," says the Santa Barbara native.
After earning a B.A. in journalism and mass communication from the U. of Colorado at Boulder, Zwick began her career in entertainment as an assistant at the William Morris Agency. In June 2009 she moved to CAA where she assisted TV senior veep Hans Schiff and Alternative Television agent Rosanna Bilow. The biggest challenges of her current job? "Prioritizing. I get to wear a lot of different hats at this agency, which initially was difficult but has become my favorite part of coming to work each day."