Current books by staffers include Cynthia Littleton's examination of the Hollywood writers strike, Robert Hofler's study of film's sexual revolution, Jon Burlingame's celebration of the music of James Bond, Justin Chang's compilation of the insights of A-list film editors. Editor in Chief Tim Gray presents a century-plus of Variety's unique look at world events.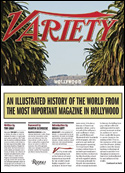 Variety: An Illustrated History of the World From the Most Important Magazine in Hollywood
By Tim Gray
Foreword by Martin Scorsese
Rizzoli, 320 pages, $50
Though showbizzers have a reputation for being self-absorbed, the book reminds that they actually have their fingers on the pulse of the world, because they need to. The shifts in the entertainment industry reflect the changing tastes, morals and values of the audiences. Art is never created in a vacuum.
The book looks beyond statistics to show the human side of history: During the Depression, a number of five-cent restaurants began in Hollywood, charging a nickel for every dish as a way to help extras, who were lucky if they found one day of work a week; in an interview, Al Capone talked about gangster films (he didn't like them; not realistic enough), his thousands of fan letters each week and his childhood nickname Snorky; after Pearl Harbor, the Hollywood studios took immediate measures to deal with the enlistment of able-bodied men, from execs to messenger boys; a reporter talked about reaction on the MGM lot on the day of JFK's assassination.
And while showbiz is always a mirror of what's going on, the industry often preceded changes: Variety issued a warning in 1930 that Adolf Hitler was dangerous, since he had started an Aryan-propaganda theater company; in 1961, Actors Equity and theater producers refused to play in segregated U.S. theaters, three years before the Civil Rights Act was passed; a CBS executive in 1970 issued an internal memo saying that women should be treated with respect in TV programming and ads, and not portrayed "just a kitchen slave or a single swinger." (Do we applaud him for his sensitivity, or bemoan the fact that he needed to issue such a statement?)
In his foreword, Martin Scorsese says "Variety makes you feel not only like a witness to history, but a part of it too, whether as a spectator or a participant."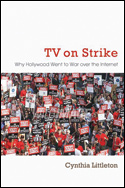 TV on Strike: Why Hollywood Went to War Over the Internet
By Cynthia Littleton
Syracuse U. Press, 288 pages, $20
The strike put a spotlight on how the advent of new-media distribution platforms is reshaping the traditional business models that have governed the television industry for decades. The uncertainty that sent writers out into the streets of Los Angeles and New York with picket signs laid bare the depth of the divide, after years of industry consolidation, between the media barons who rule the entertainment industry and the writers who are integral to Hollywood as the creators of movies and television shows.
With both sides afraid of losing millions in future profits, a critical communication breakdown spurred a fierce battle with repercussions that continue today.
The saga of the Writers Guild of America strike is told through the eyes of key players on both sides of the negotiating table and by the foot soldiers who surprised even themselves with the strength of their resolve to fight for their rights in the face of an ambiguous future. In the years since the strike ended, the rise of digital distribution platforms has changed the business landscape in ways few could have predicted when Hollywood guilds were feverishly trying to hammer out a contract template for a new era.
Sexplosion: How a Generation of Taboo Busters Remade
Pop Culture
By Robert Hofler
HarperCollins, 2013
The years 1968 to 1972 saw the end of taboos regarding language, subject matter and nudity in film, theater, TV and publishing. Hofler tells the story of those groundbreaking producers, directors, writers and actors who collaborated with each other, and often competed with each other during the heyday of the sexual revolution. The result was such seminal works as "Midnight Cowboy," "Hair," "The Boys in the Band," "Portnoy's Complaint," "Couples," "Oh! Calcutta!," "A Clockwork Orange," "An American Family," "Deep Throat," "All in the Family," "Last Tango in Paris" and many others.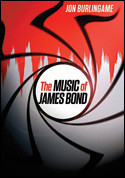 The Music of James Bond
By Jon Burlingame
Oxford U. Press; 294 pages; $35
Burlingame tells the backstories of the songs and scores for 50 years of James Bond films. From the almost accidental creation of the sound of the original "James Bond Theme" in "Dr. No" to the last-minute litigation over a song called "Mr. Kiss Kiss Bang Bang" that wound up being tossed from "Thunderball," the creation of 007's music turns out to have its own compelling narrative. This book chronicles the entire saga of music-making for Bond, including interviews with many of the composers and songwriters whose work underscored the action, suspense and romance of the 22 official" and two unofficial Bond films prior to this year's "Skyfall." It's filled with surprising revelations: how Frank Sinatra planned to sing "Moonraker" to a Paul Williams lyric, why Bond veteran John Barry was cut out of "Tomorrow Never Dies" due to studio politics, how singer Sheena Easton wound up in the opening credits of "For Your Eyes Only," among others. It's an often wild, frequently amusing tale of accidental connections (how Paul McCartney and Wings wound up doing "Live and Let Die"), MTV-inspired choices (Duran Duran for "A View to a Kill") and commercially savvy but controversial ideas (Madonna's electronica for "Die Another Day"). No previous book has tackled the music of Bond in such depth and detail.

FilmCraft: Editing
By Justin Chang
Focal Press; 192 pages; $29.95
Of all the cinematic disciplines examined by the "FilmCraft" series (cinematography, directing, screenwriting, etc.), film editing is a uniquely difficult one to comprehend, let alone discuss. This book is intended as some small corrective, featuring lavishly illustrated interviews with 17 of the world's most respected film editors, including Walter Murch, Anne V. Coates, Herve de Luze and Dylan Tichenor, who share their personal insights into this largely invisible art form. Their experiences and anecdotes present a strong argument for the director-editor relationship as one of the key collaborations in filmmaking, as evidenced by the celebrated partnerships of Michael Kahn and Steven Spielberg, Tim Squyres and Ang Lee, Christopher Rouse and Peter Greengrass. (And as "Eternal Sunshine of the Spotless Mind" editor Valdis Oskarsdottir notes, not every relationship lasts.)
The resulting volume is a testament to the diversity of the medium, establishing an implicit dialogue between old-school Hollywood craftsmen like Joel Cox, longtime editor for Clint Eastwood, and world-cinema avant-gardists such as Hong Kong's William Chang and Taiwan's Liao Ching-sung. The conversation includes editors as different as Michael Kahn, who has yet to retire his Moviola, and Angus Wall and Kirk Baxter, known for their cutting-edge work with David Fincher. Individually and collectively, they take stock of their ever-evolving craft, which, like all aspects of moviemaking inside and outside Hollywood, has been profoundly shaped by the film-vs.-digital divide. n