EL James's "50 Shades of Grey" trilogy has sold more than 40 million copies worldwide and has become a pop cultural phenomenom, spawning think pieces about "mommy porn" and marketers using the notoriety of the books to sell everything from CDs to ties to weekend getaways.
"Grey," James' first novel, was born out of a "Twilight" fan fiction site. but in place of vampires, it focuses on the complicated sexual relationship between Anastasia Steele and her not much older lover, Christian Grey. James published the first novel as on on-demand print book and ebook through the Writers' Coffee Shop in May 2011. Now, James says, it feels like she's always working, except when she's "sleeping or doing the laundry."
Universal co-chairman Donna Langley says she "couldn't put the book down" and that she "quickly saw the potential for film audiences to become as invested in the complex characters" as she had.
Val Hoskins, James' U.K. literary agent, doesn't love the phrase "mommy porn" that's been associated with the novel but likes to think of it as a love story. Hoskins has been working overtime with James on the flurry of success that's following the "50 Shades" trilogy.
The "50 Shades" phenomenom created a frenzy of interest in Hollywood, but in the end, U and Focus Features nabbed the film rights. Michael DeLuca and Dana Brunetti will produce. James is heavily involved in the project.
Though these women are heavily involved in one of the most highly anticipated book-to-film properties of the past year, charity is still important. Langley is a supporter of the Chrysalis Foundation, which helps the homeless forge a path toward self-sufficiency. Hoskins supports Centrepointe refuge centre for the young homeless since "they could be my children … they are somebody's." James is a supporter of the Winnie Mabaso Foundation, which helps children in South Africa orphaned by the AIDS epidemic.
With all the press and pending projects surround "50 Shades," how these three women balance their work and family seem to be just varying shades of grey. Hoskins swears balance is "red wine — after 7 p.m." Langley swears by organization, priorities and a great deal of support from family and friends. James is still searching. "If you find out, let me know."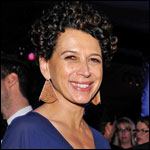 Donna Langley
Co-chairman, Universal Pictures
Under the watch of Langley and U Pictures chair Adam Fogelson, Universal's North American box office hit $1.128 billion Sept. 24 — fueled by "Ted," "Dr. Seuss' The Lorax"and "Snow White and the Huntsman" — the highest in the company's 100-year history. U has four more films set for 2012, including "Les Miserables" and Judd Apatow's "This Is 40." "Our film team has done a great job starting to turn things around and preparing the studio for the future. They have built some great new franchises, reinvigorated some older ones and acquired some very promising intellectual property. We are excited to see them execute on their plan in the years to come," said Steve Burke, CEO NBC/Universal.
What we should know: "The allure of showbusiness is much about its mystique, so I'm not going to burst anyone's bubble, dispelling myths and misconceptions by telling people how hard it actually is!"
Words of wisdom: "There is no substitute for hard work."
Smartphone on vacation? : "Yes, but family is important so I try to set boundaries and only address urgent matters."
Work week habits: "I work until the job is done."