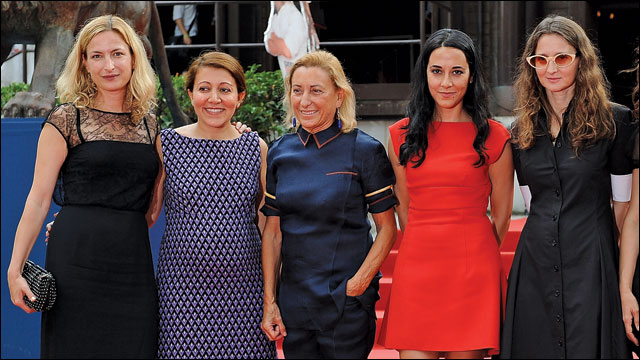 Above: Miuccia Prada, center, poses with "The Miu Miu Women's Tales" shorts helmers Zoe Cassavetes, left, Massy Tadjedin, Giada Colagrande and Lucrecia Martel at the Venice Days preem Thursday.
Prada women's-only label Miu Miu has stepped into film production with a series of festival-friendly shorts called "The Miu Miu Women's Tales," that will become a Venice Film Festival fixture.
The series, which opened the Lido's Venice Days section Thursday, comprises four experimental shorts exploring the female universe by Zoe Cassavetes, Lucrecia Martel, Giada Colagrande and Massy Tadjedin.
Project, which aims to support women filmmakers in their quest for creative freedom, is the brainchild of topper Miuccia Prada and producer Max Brun.
"A couple of years ago Mrs. Prada called me and asked me to suggest some women directors from which to pick one short to represent Miu Miu, which is a purely feminine brand," Brun said.
When Brun suggested four names, she told him to commission works from all four.
"Women's Tales" reps an innovative intersection of fashion and film, in that the idea is "the films must be inspired by the latest Miu Miu collection, but there are no other constraints on the directors."
"These are cult art projects; not promotional clips. Even the use of Miu Miu clothes is not imposed, it's up to them," he said.
Venice Days topper Giorgio Gosetti subsequently approached Prada to form a collaboration. Together they will pick another woman director for a short that will bow in Venice next year. Another "Woman's Tales" short, which was already in the pipeline, will start shooting shortly. The director's name is being kept under wraps.
As for distribution, these shorts go viral via a Miu Miu website and YouTube, but they also screen in some arthouse movie theaters, such as Milan's Anteo, ahead of the main feature.
In a separate production initiative, Prada also recently financed the Roman Polanski short "Therapy" starring a Prada-draped Helena Bonham Carter and Ben Kingsley. "Therapy" bowed earlier this year in Cannes.
Prada's more conventional product placement activities include the costumes for Baz Luhrmann's "The Great Gatsby," which follows its collaboration with the helmer on "Romeo and Juliet."