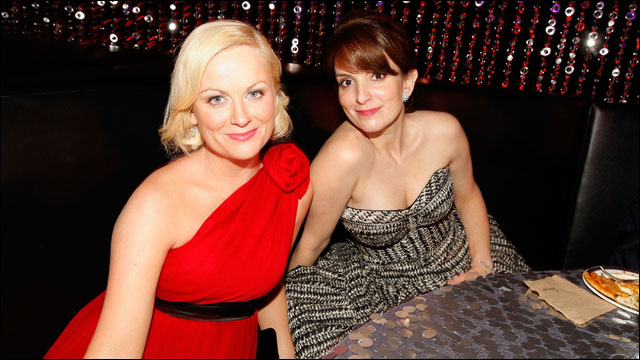 Tina Fey and Amy Poehler will host the 70th annual Golden Globes, airing live on NBC Jan. 13.
Fey (a two-time Globes-winning comedy actress for "30 Rock") and Poehler (a past nominee for "Parks and Recreation"), former teammates on the Peacock's "Saturday Night Live," have frequently shined as presenters on such kudos as the Emmys.
"Tina and Amy have a proven chemistry and comedic timing from their many years together on 'SNL' to their successful co-starring roles in 'Baby Mama,'" NBC alternative and latenight programming prexy Paul Telegdy said.
With Seth MacFarlane hosting the next Oscars, the selection of Fey and Poehler puts TV personalities at the front of the film industry's two highest-rated awards shows. The most recent Golden Globes drew a 5.0 rating among adults 18-49 and 16.9 million viewers overall.
The Globes, seen in nearly 200 countries worldwide, are produced by Dick Clark Prods in association with the HFPA. Ricky Gervais hosted the kudos the previous three years. Prior to that, the ceremony often went without any host.
Poehler helped implement two of the most memorable moments at the Emmys during each of the past two years: a pageant-like setup prior to the announcement of the 2011 lead comedy actress winner, and then conspiring with 2012 Emmy winner Julia Louis-Dreyfus to mix up acceptance speeches.
Fey's "30 Rock," a 2009 Globes winner, is two episodes into its 13-episode final season, which will wrap near the time of the Globes.