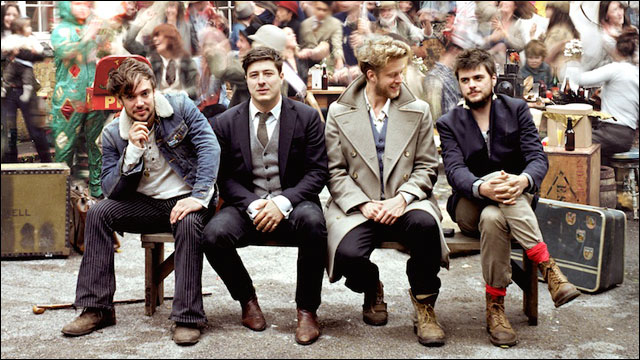 Amid a week of major movement on the U.S. album chart, Mumford & Sons' "Babel" held the top spot as another seven fresh titles moved into the top 10.
The English folk-rock act's set took No. 1 for a third week with sales of 96,000 (down 43%). Mumford's second Glassnote release has now sold 865,000 copies in just three weeks.
Otherwise, the landscape was shifting rapidly near the apex of the rolls in a season of quick-burning new titles. Of the seven releases that debuted in the last top 10, just one maintained a slot in the top 10: Muse's "The 2nd Law" (Warner Bros.) which dropped eight positions to No. 10, selling 31,000 and losing 70%.
Frame's biggest bow was Macklemore & Ryan Lewis' "The Heist," which entered at No. 2, tracking 78,000. The self-released indie title is the second full-length title from Seattle MC Macklemore (aka Ben Haggerty), and his first collaboration with producer Lewis.
Costumed hard rock icons Kiss moved in at No. 3, as "Monster" (Universal Music Enterprises) shifted 56,000. It's the second-highest chart position of the band's 38-year recording career: Only 2009's "Sonic Boom" placed higher, at No. 2, while 1998's "Psycho Circus" peaked at No. 3 as well.
Another white rap act, Cleveland's MGK (Machine Gun Kelly), stepped up at No. 4 with his full-length debut "Lace Up" (Bad Boy/Interscope), which moved 51,000. The performer, born Richard Baker, bowed earlier this year with the EP "Half Naked & Almost Famous."
Progressive rock unit Coheed and Cambria's "The Afterman: Ascension," arrived at No. 5 with 49,000 sold. Collection is first act in the New York band's projected two-part concept release; "Descension" is due early next year.
Pop punk unit All Time Low logged its third top 10 album in a row with "Don't Panic" (Hopeless), which took No. 6 with a 48,000-copy stanza. The Baltimore act has returned to its indie label home after a brief sojourn at Interscope.
Barbra Streisand signed on at No. 7 with "Release Me," which sold 44,000. The singer's collection of rarities is her 23rd album to reach the top 10 since her Columbia debut 49 years ago.
English singer-songwriter Ellie Goulding's "Halcyon" (Interscope) rounded out the top 10 debuts, settling in at No. 9 behind a 34,000-copy week. It's the vocalist's first U.S. top 10; her debut album, known variously as "Lights" and "Bright Lights," topped out at No. 21 two years ago.
Pink's four-week-old holdover "The Truth About Love" (RCA) fell four slots to No. 8, selling 36,000 and losing 30%.
Country singer Jason Aldean – whose nearly two-year-old "My Kinda Party" has sold almost 2.8 million – will seek to dethrone Mumford & Sons next week with "Night Train."