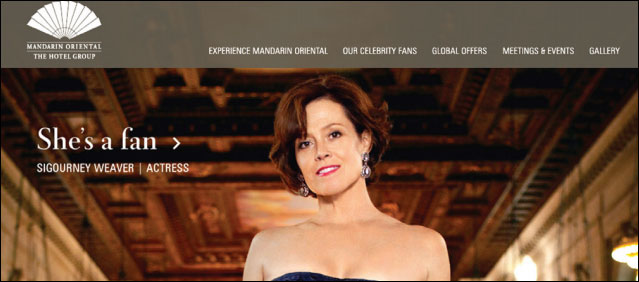 While most marketing campaigns for consumer brands get refreshed every couple years, the Mandarin Oriental luxury hotel chain isn't looking to turn its back on its celebrity fans anytime soon.
The company has spent the past decade promoting its properties around the world with print ads prominently featuring photos of guests such as Kevin Spacey, Helen Mirren and Sigourney Weaver over the tagline "He's a fan" or "She's a fan," referring to the luxury chain's signature symbol.
Mandarin Oriental is now looking to expand that effort through video interviews that unspool across its website and other online destinations, as well as play on its in-room TV channel.
The move into digital video is meant to give the Mandarin a way to better incorporate new media in its marketing plan rather than rely solely on print. In doing so, the company can better position itself in front of a younger demographic of business travelers tethered to their mobile devices and eager to consume entertainment — think the YouTube generation with deep pockets.
Overall, Mandarin has enlisted 24 international celebs — including actress Sophie Marceau and Michelle Yeoh, fashion designers Vivienne Tam and Christian Louboutin, author Frederick Forsyth, architect I.M. Pei, musicians Bryan Ferry and Hélène Grimaud — to be featured in its campaign, with recent additions, including Italian actress Caterina Murino ("Casino Royale") photographed by Mary McCartney. Others were shot by the late Patrick Lichfield.
Videos will be presented in two to three-minute segments, with Liam Neeson, for example, musing on his favorite destinations in Paris.
While Mandarin Oriental's average guest is in his mid-40s to early 50s, "we're picking up a younger generation" that has gravitated toward the company's newer properties in cities like Paris and Barcelona who are willing to spend $800 a night on a room, according to Jill Kluge, Mandarin Oriental Hotel Group's director of brand communications. Company's top market is the U.S., followed by China and the U.K.
As payment for appearing in its ads, Mandarin Oriental provides its famous "fans" with donations to charities of their choice and discounts on future hotel visits or free stays. Every individual must have already been a guest of the chain in the past to be featured in the campaign.
"They all are genuine fans," which is crucial for us," Kluge said.
To attract a younger customer, Mandarin could have tapped up-and-coming Hollywood stars, but execs wanted to focus on individuals "at the height of their profession," Kluge said.
That includes Taiwanese actress and model Lin Chi-Ling, who has more than 3 million followers on China's equivalent of Twitter.
"She's an example of a younger 'fan' that have a real following with their own fans," Kluge said.
The celebrity strategy has enabled the chain to "show the quality of our hotels in a far more interesting way than traditional hotel advertising by focusing on celebrities who clearly appreciate the finer things in life," Kluge said.
Since Mandarin Oriental started expanding beyond its home base of Asia, the company has sought to emulate the marketing efforts of luxury brands like Burberry, Bulgari and Tiffany with simple and classic images.
"We wanted to be portrayed as a luxury brand rather than a hotel brand," said Kluge, which meant turning to its fan logo (each hotel features a unique fan to represent the city where it operates). As a result, "we felt strongly we wanted to promote a campaign that had longevity," she added.
Whereas most hotel chains like to show off photos of rooms in ads they can be hard to distinguish from a competitor, the company has found.
"When you put a hand over a logo with a beautiful room you'd be hard pressed to know which hotel it may be," Kluge said.
So far, the move has paid off.
"When we do research every two years, the recall factor for our brand performs extremely well," Kluge said.
Mandarin Oriental realizes it may be risky to rely on the same campaign for a long period of time.
"But just as a customer is getting used to a campaign, that's when it's the wrong time to change," Kluge said.