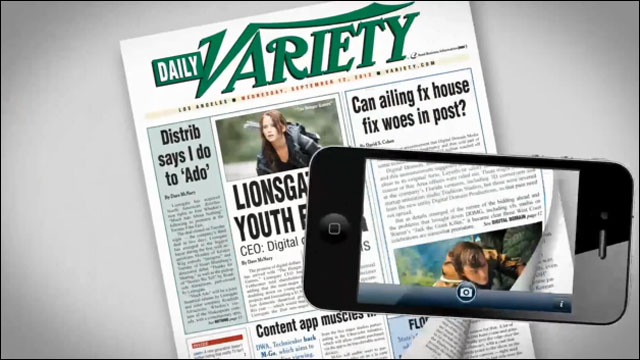 Your smartphone just got a little smarter.
Today's issue is a first for Variety and probably for you. On Page 2 of the Friday print edition, you can see all the pages that have interactive content. When you hold a mobile device over any image on one of these pages, the screen will show you a trailer for a film or TV show, Web page or some other digital content.
This is a special one-day use of the technology, to use on our Variety Emmy Commemorative and Emmy Showrunners sections, starting on page 27. Then we will take a hiatus and resume use of the iD Technology in every issue of Daily and weekly Variety during awards season, starting with the Oct. 30 VPlus Awards Season Launch.
First step for you readers is to download the free iD Browser app from the iTunes or Google Play store; the app can be used on the iPhone, Android phone or any iPad with a camera.
After that, hold the device over the photo from "MASH" on page 27, for example. You will then have the choice of reading past reviews of the show from the Variety Archives, or watching a brief clip from the series.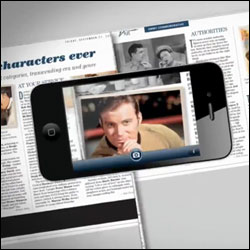 For editorial articles and reviews, Variety has curated digital content that will supplement the pieces. Every advertisement in this issue has also been activated. Hold your iD Browser app over the ad, and you will see digital content from the advertiser.
To some of you this may sound confusing, but once you try, it's surprisingly easy. In the short run, this technology is jaw-dropping and useful. In the long run, the potential is so enormous, it's both astonishing and scary.
Market research firm Intl. Data Corp. said 491.4 million smartphones were sold worldwide last year. A February survey from Pew Internet Project estimated that 46% of U.S. adults own a smartphone; among 25-34 year olds, that number is an amazing 71%. In July, Apple said third-quarter sales of iPads were up 44% from the previous quarter to 17 million. In other words, a lot of people will be using this technology within a very short time. (Other companies are experimenting with this, but my techies assure me that iD Media is superior.)
If you have questions on this, email: tech@variety.com.
I only have one personal request: Please don't do this while driving. I'm telling you, this is fun and seductive. And you people are already distracted enough when you're behind the wheel.
Will this change journalism? Maybe. Ask me again in 10 years. But I do know it marks a new step in the relationship between print and digital coverage.
For more than five centuries after Gutenberg, print was the method of mass communication. At the start of the 21st century, digital became a powerhouse, and some journalists proclaimed print is dead. Well, it's not; it never was. (Interestingly, there have been a few showbiz-targeted print startups in the past few years, a reminder that print is important to the industry.)
But this app from Nantworks offers a great merger of digital and print. When television boomed in the 1950s, some people predicted the end of moviegoing and the end of radio. People are still going to movies and listening to radio, but in different numbers and in different ways. And that's similar to print.
Variety always knew that readers' relationship to print would change. Now it is just one of our tools. Most subscribers tell us they read Variety in a combo of print, email news alerts, apps and the website.
So iD Technology is a marriage of the two. Print and digital are not enemies. They can work together. This technology just expands the possibilities for readers, for advertisers and for journalists. It's exciting for us, and we hope it's exciting for you.