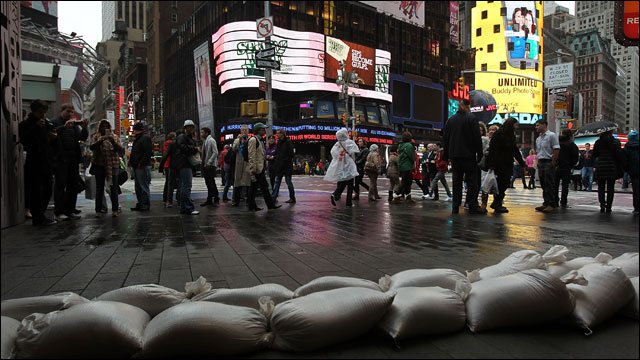 Above: The Holland Tunnel is closed due to Hurricane Sandy, on October 29, 2012 in New York City. (Photo by Andrew Burton/Getty)
Gotham business ground to a standstill Monday as the city began to feel the effects of Hurricane Sandy, with city officials warning of serious flooding in low-lying areas, potential power outages in all five boroughs and gale-force winds that, by mid-afternoon, had already caused a crane collapse in midtown Manhattan.
With public transporation shut down until further notice and some vital roadways closed — including the Holland Tunnel, the Brooklyn-Battery Tunnel and six of the city's bridges — as the storm worsened, the city geared up for one more day of hurricane precautions. The New York Stock Exchange, already closed Monday, was scheduled to be shuttered Tuesday as well; the same was true of Gotham's public schools.
The Broadway League, the trade assocation of legit presenters and producers, said all shows on the boards would be nixed for Tuesday, extending a shutdown that had been in effect since Sunday evening. "The safety and security of theatergoers and employees is everyone's primary concern," said League topper Charlotte St. Martin, adding, "We expect normal operations to resume Wednesday morning."
TV production also took a breather, with Jimmy Kimmel calling off a skedded Monday taping of "Jimmy Kimmel Live," the first of five episodes this week planned in a Brooklyn venue. Other talk shows taking the day off included "The Daily Show," "The Colbert Report" and "Live with Kelly and Michael," although "Late Show with David Letterman" and "Late Night with Jimmy Fallon" went ahead with tapings sans audience.
Both "Letterman" and "Fallon" tape in midtown locations that likely provided less of a transportation hassle for those involved. "Daily Show" and "Colbert Report," on the other hand, tape on the far west side of Manhattan, with "Daily Show" just a block from the mandatory evacuation zone that runs along the Hudson River.
"Letterman" taped Monday afternoon with previously skedded guests Denzel Washington and music act Paul Banks both appearing alongside Letterman and Paul Shaffer.
Audience safety appeared to be the major concern in many decisions to cancel previously skedded activity, including the "Kimmel" taping at the Brooklyn Academy of Music. " I'm disappointed too, but we want you to be safe," Kimmel tweeted.
"Fallon" had initially hoped to tape with an audience, but gave up on the idea. In his own tweet, Fallon said, " We sent our audience home just to be safe. But we are doing our show tonight anyway. Should be fun."
Network series production in the city, including on skeins such as "Elementary," "The Good Wife" and "Person of Interest," also was suspended.
City meteorologists expected New York would feel the worst of the storm effect's overnight. Area rainfall, with an estimated two to five inches expected to fall over the course of the day, was less of a concern that the extreme winds and the flooding that could potentially be worsened by a tide anticipated to be even higher than usual due to a full moon Monday night.