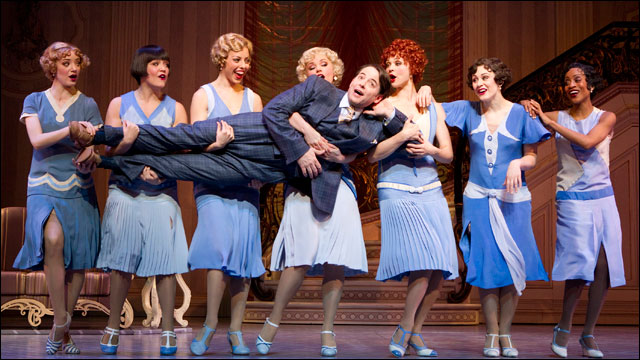 Above: Matthew Broderick-starrer "Nice Work If You Can Get It" earned over $1 million last week on Broadway.
Box office at nearly every Broadway show — including, notably, "Nice Work If You Can Get It" — rose last week in the wake of the post-Thanksgiving softening, while the closed or soon-to-close productions made it clear that producers had likely made the right choice in opting to shutter prior to the holidays.
"Nice Work" ($1,064,228) proved an anomaly to broader Rialto trends, surging back into the millionaires' club in a non-holiday frame when it had steadfastly remained below the $900,000 mark during the Thanksgiving frame and the subsequent week. Show has behaved in surprising ways for months, with a middling summer followed by an unexpected, multi-week rise in B.O. in the fall. The bump last week could potentially be a mark of the tuner regaining steam in the wake of superstorm Sandy, which knocked sales down a peg for more than a month.
"A Christmas Story" ($1,130,429), snowballing as the titular holiday approaches, and family draw "Annie" ($1,058,727) also stepped back up to more than a million each, giving the frame's millionaires' club an unusually populous 10 members. Other shows to get particularly strong rises included "Elf" ($994,479), also benefitting from the impending Yule fest, and "Peter and the Starcatcher" ($341,942), both up by significant percentages.
Overall sales climbed almost $1.9 million to $23.8 million for 30 shows on the boards. The attendance of 232,101 was up from the 220,611 logged the prior frame, but the overall capacity of 77% was less than the 82% logged during the same week in 2011, when there were more shows on the boards (and therefore more seats to fill) to boot.
Among the few shows to downtick last week, two of them had already thrown in the towel. In the wake of negative reviews, "The Anarchist" ($335,045) played its second-to-last sesh with no rush of last-minute sales, at least not yet. The same was true of "Scandalous" ($177,438), which plummeted in the days before it shuttered Dec. 9.
Jessica Chastain topliner "The Heiress" ($533,874) was down a bit but remained one of the top-grossing plays on the boards, as was Katie Holmes starrer "Dead Accounts" ($436,664), which rose somewhat.
The biggest grossing non-musical, of course, was Al Pacino vehicle "Glengarry Glen Ross" ($1,181,244), which actually climbed slightly even in a week that accomodated press perfs and an opening night.
Weekly sales seem likely to fluctuate, though not by much, over the next couple frames in anticipation of the big week between Christmas and New Year's, which is traditionally the Street's highest grossing sesh of the year.