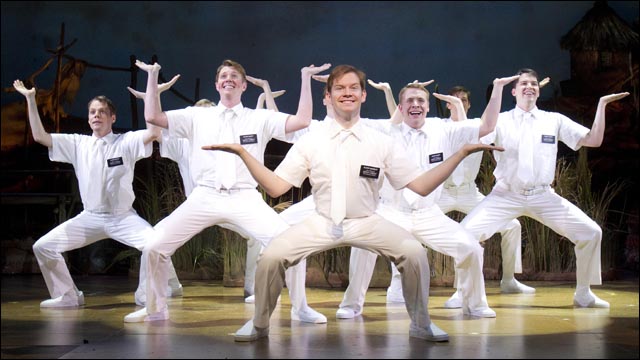 Energizer-bunny demand for "The Book of Mormon" pushed the hit tuner into the No. 1 slot in a post-Labor Day week that whittled down sales at nearly every production on the boards.
"Mormon" ($1,639,848) surpassed more frequent pole-position occupants "The Lion King" ($1,566,963) and "Wicked" ($1,313,195), the latter of which dropped $385,000 in a frame that typically drains the Rialto of attendees because of back-to-school distractions.
All in all, though, the early-September dropoff wasn't nearly as severe as it's been in some years, with overall sales down about $2.4 million (or around 12%) to $17 million for 21 shows on the boards. Some in the industry attribute the relative robustness to Broadway Week, the fortnight-long program that aims to drum up sales during fallow frames with two-for-one ticket offers.
The initiative helped keep B.O. steady at productions including "Evita" ($1,127,304), "The Phantom of the Opera" ($829,896) "Porgy and Bess" ($610,897) and "Chicago" ($609,315), all of which managed to uptick, if only slightly, during the generally down week.
Tony magnet "Once" ($979,937) dropped below the $1 million mark for the first time in several weeks but still looked plenty healthy, while another of the Street's spring offerings, "Newsies," was down $150,000 to $808,755. One of the most recent additions to the Rialto slate, "Bring It On" ($416,594), was off 21%.
Dips at the latter two titles seem to make sense, since "Newsies," "Bring It On" and "Mary Poppins" ($637,053) are among the shows likely to attract the young-skewing auds most liable to keep away from the Main Stem in what is, for many in the Gotham area and beyond, the first week of school.
Broadway's first official opener of the fall, "Chaplin" ($488,740), managed the impressive feat of rising by close to $100,000 in a post-Labor Day sesh that also incorporated comp-heavy press previews ahead of its Monday night opening. In its closing frame, "The Best Man" ($685,991) rose thanks to last-minute biz.
Overall Rialto attendance was down by around 9,000 to 181,598, which looks pretty good compared to the 165,000 logged by the Rialto during the same frame last year. Legiters are hoping the good luck continues through the coming week, with Broadway Week set to last through Sept. 16.