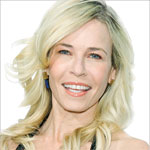 Comedy Person of the Year
Chelsea Handler
With her 5-year-old E! talkshow renewed through 2014 and her $12 million salary reportedly making her the top TV earner per viewer (besting the likes of Letterman and Jon Stewart), Chelsea Handler could potentially slow down — if she wasn't such a self-confessed workaholic.
"My secret is, I just work really hard all the time," she says. "Although I like a finished product, I don't really enjoy the act of doing anything. The show's great because it's on that night; I like finishing a standup show, walking offstage and having a drink; and it's great to write a book when it's published."
A driven actress, standup and author (including the 2008 bestseller "Are You There, Vodka? It's Me, Chelsea"), Handler is already working on her fifth book. "Here's a scoop: It's called 'Fifty Shades of Chartreuse — This Time It's Personal,'?" she says.
Although NBC canceled Handler's "Are You There, Chelsea?" sitcom in May, the comedienne says she wasn't surprised: "I didn't have that much invested in it, and the past year has been the best ever for me. And now the show's moving in October to a huge new stage, so we're getting a bigger audience. That's pretty exciting."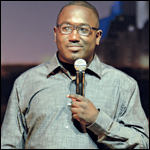 Rising Comedy Star of the Year
Hannibal Buress
Chicago-bred, New York-based standup Hannibal Buress disputes recent published reports that a tough childhood informs his acerbic standup routine. "It was fine," says the comic, whose self-described "no bells and whistles" style earned him writing gigs on "Saturday Night Live" and "30 Rock" (where he appears as "homeless guy"), as well as appearances on David Letterman, Jimmy Fallon, Jimmy Kimmel and Craig Ferguson.
"I just talk about everyday stuff and my experiences — whatever I think's true and funny," he says of his standup act. "I like writing OK, but I prefer the rush of performing live."
Buress, who's touring and working on a follow-up to his recent album, "Animal Furnace," says: "Even though doing standup isn't easy, I can't ever see me stopping doing it, and right now I'm really enjoying co-hosting 'The Eric Andre Show' on Adult Swim. It's different from anything else I've done — and just so much fun."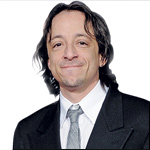 Comedy Writer of the Year
Michael Bacall
Twenty-five years after the hit TV series "21 Jump Street" kickstarted Johnny Depp's career, Michael Bacall's clever comedic spin on the property has similarly catapulted the scribe to the front of the line.
"I loved the show as a kid, with its really edgy vibe, but I didn't want to go the parody route," says the L.A. native, who developed the story with "Jump" co-star Jonah Hill. "Our concept was to update it as a hard-R buddy-cop movie with a strong emotional throughline."
That he succeeded so well is a tribute in part to his own parallel career as an actor, ("Inglourious Basterds," "Free Willy"). "It's really helped me with my writing and understanding plot construction," he says.
Though Bacall began acting at 9, he didn't take up writing until 1997 after graduating UCLA. Next up, he has already finished a "Tropic Thunder" spin-off featuring Tom Cruise's Les Grossman character for Paramount and is writing a "Jump" sequel.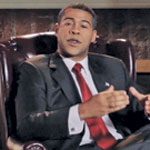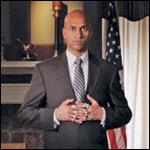 Breakout Comedy Star
Key & Peele
The world offers no shortage of Obama impressions, though Comedy Central's "Key & Peele" deserve credit for cracking a fresh angle on the presidential parody: While Jordan Peele plays the ever-diplomatic commander-in-chief, sketch partner Keegan Michael Key "translates" the aggressive subtext of his words.
"We recently met Obama at an 'undisclosed location' — OK, it was the Beverly Hilton," Key says.
"He told us he and Michelle love the show, and not just the Obama stuff," adds Peele. "His endorsement has been huge for our careers in the past year, and it's because of him that we even have a show and are able to do a lot of the subject matter we tackle."
The bi-racial team (both have white moms and black dads) began collaborating as regulars on Fox's "MADtv" a decade ago. "We're still trying to figure out what bi-racial humor is," quips Peele.
Both see movies as the next step: "Maybe remake the Hope-Crosby road movies," suggests Key.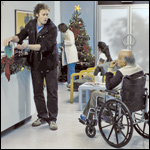 Comedy Short of the Year
'Love and Germophobia'
It sounds like a punchline, but Tyler Spindel, who moved to L.A. after graduating from Harvard to pursue standup comedy, swears that what he "really" wants to do is "direct and write" — and he's not wasting any time.
Last November, he wrote, directed and co-produced "Love and Germophobia," which premieres at Just for Laughs. The 10-minute short tells the story of a guy visiting his girlfriend in hospital: "She wants a hug, but he doesn't want to get sick," describes Spindel, who has been back in Boston this summer directing second unit — "doing all the stunts and crashes" — on Adam Sandler's "Grown Ups 2." Next, he will helm a standup special for comedian pal Greg Fitzsimmons.
"I'm also writing two TV ideas and two movie scripts," says Spindel, who's acted in various features, including "Funny People" and "Paul Blart: Mall Cop." "To be honest, I don't do too much acting or standup anymore. Directing is my real passion now."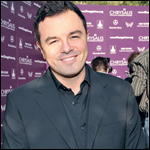 Comedy Director of the Year
Seth MacFarlane
By Seth MacFarlane's own admission, 2012 has been "an amazing year," thanks to the surprise success of his feature debut, "Ted." Capturing a mainstream aud with his irreverent sense of humor, the irreverent "Family Guy" creator wrote, produced and directed the film, while also supplying the voice of its title character, a randy, pot-smoking teddy bear. The laffer has earned more than $180 million in the U.S.
"Its success was definitely unexpected, especially for an R-rated movie," he says. "But directing felt very comfortable and I can't think of any better training ground to do this than television animation. I found the two processes to be very similar. As you have few budget limitations for sets, extras and special effects in television animation, you often find yourself staging pretty complex sequences."
MacFarlane says he "definitely" wants to direct more, admitting there's already pressure to do a sequel — "but I haven't decided yet."
Montreal Just for Laughs 2012
Googling for giggles | In pursuit of podcasting | The Honorees
10 Comics to Watch