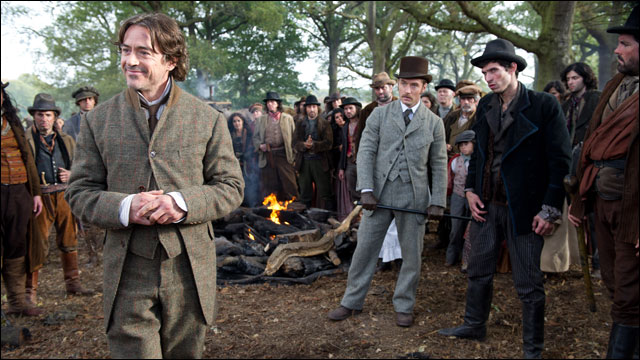 Above: The Warner Bros. pact with BSkyB includes recent releases such as "Sherlock Holmes: A Game of Shadows."
LONDON — Warner Bros. has reupped its output deal with U.K. satcaster BSkyB, which fought off Netflix and Amazon's bids for the studio's movie slate.
The wide-ranging, multi-year pact spans the first pay TV and pay-per-view windows. Subscribers to Sky's premium movie channels and its new Internet service Now TV will get exclusive access to WB releases around six months after they end their cinema run.
Before that, the films will also be available non-exclusively on the Sky Box Office PPV platform, simultaneously with the DVD release.
The deal is a blow to Netflix, which has declared that it intends to outbid Sky for at least one U.K. pay TV deal with a Hollywood major. Warner is the first studio whose Sky deal has come up for renegotiation since Netflix launched its subscription VOD service in the U.K. in January.
Amazon, which owns rival service Lovefilm, has been less public about its plans to bid for first-run studio pay TV deals.
Lovefilm already has a longterm pact with Warner for films and TV shows in the second pay TV window, which comes a year after they are first shown on Sky.
Warner Bros. Intl. TV Distribution president Jeffrey Schlesinger said, "In an increasingly competitive environment for high quality features, we have once again selected Sky as the best home for our films in the first pay window."
The new agreement between Sky and Warner includes an unspecified commitment for the pair "to work more closely on the release and marketing of films in the U.K. and Ireland." This follows their extensive co-operation on promoting "Harry Potter and the Deathly Hallows, Part 2."
The pact includes recent releases such as "Sherlock Holmes: A Game of Shadows," "The Dark Knight Rises," "Dark Shadows" and "Wrath of the Titans," as well as upcoming pics including "Man of Steel," "The Hangover Part 3" and "The Great Gatsby."
Sky will also have exclusive access to a wide range of Warner library titles.
Josh Berger, president and managing director of Warner Bros. U.K., Ireland and Spain, said, "This innovative and ambitious deal presents consumers with myriad ways to enjoy our films, many of which will have been produced in the U.K."