With Christopher Nolan declaring himself out of the running for "Justice League," Warner Bros. has approached another of its go-to directors in Ben Affleck, who's expected to discuss the project with studio brass in the coming days, multiple sources tell Variety.
Since guiding WB's "The Town" to commercial success and critical acclaim from both sides of the camera, Affleck has ascended high on the studio's list of filmmakers who can be trusted with prime properties. Thus far, Affleck is the only candidate who's been sent Will Beall's "Justice League" script, which the "Gangster Squad" scribe was hired to write last summer.
DC Comics' answer to Marvel's Avengers, "Justice League" is expected to bring together marquee characters Batman and Superman, as well as Green Lantern, Wonder Woman and The Flash. Affleck has made it clear that going forward, he's only interested in directing films in which he also stars — "The Town" and "Argo" are proof of that — so its likely that if this pairing ever came to fruition, he would likely don a suit of his own. DC Entertainment, Warner Bros. and Affleck's reps declined to comment.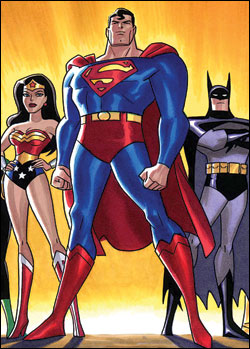 One possible hesitation on Affleck's part is that any involvement with "Justice League" would take him out of circulation as a director for a few years. He could, however, still fit in an acting gig at Warners.
Affleck has spent the last several weeks mulling an offer to star in topline Greg Berlanti's long-gestating sci-fi drama "Replay," which WB has spent more than a decade developing. Based on Ken Grimwood's 1987 bestseller, story follows a man who dies and gets the chance to relive his life over and over again, changing partners and professions each time.
As a director, Affleck is also keen to bring another epic adaptation to the bigscreen: Stephen King's "The Stand," a potential two-part pic that will be a co-production between CBS Films and Warners. Should Affleck sign on for "Justice League," it remains unclear whether WB would wait for him to move forward on "The Stand" or bring on another filmmaker.
Warner Bros. took control of DC Comics in 2009, folding the comicbook company into the studio and re-launching it as DC Entertainment to better manage how its characters wind up on the big and small screens. The CW will air "Arrow," based on the Green Arrow character this fall, but the studio hasn't greenlit any new films since "Man of Steel," which bows summer 2013. Other pics based on Wonder Woman and the Flash also are in development, but are only in script stages.
"Justice League" won't likely be ready for release until summer 2015, which could put it up right against Marvel's "Avengers 2," which has Joss Whedon returning to helm.
Since making his directorial debut in 2007 with "Gone Baby Gone," Affleck has been balancing acting and directing duties. After "The Town," he signed on to work with Terrence Malick on "To the Wonder" before returning to Warners for "Argo," which preems at Toronto next month. Multihyphenate recently wrapped New Regency's online gambling pic "Runner, Runner," and is also developing a movie about Boston crime boss Whitey Bulger with fellow "Good Will Hunting" Oscar winner Matt Damon.
Affleck is repped by WME and Ziffren, Brittenham.
(Marc Graser contributed to this report)