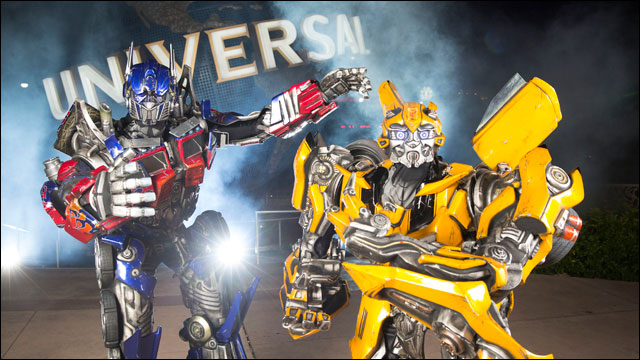 Universal Studios will add a third "Transformers" ride to its theme parks, with plans to open the 3D attraction based on the film franchise at its Orlando resort in summer 2013.
Park revealed the plans Thursday night at Universal Studios Florida.
Ride, which costs more than $100 million to create, will be a replica of the "Transformers: The Ride — 3D" that opened at Universal Studios Hollywood in May, featuring the same cast of robotic characters, footage and technology developed by Industrial Light & Magic. ( Daily Variety , May 22). The exterior and line pre-show will be different to distinguish the attraction from its counterparts.
Whereas the ride in Hollywood and at Universal's theme park in Singapore took three years to build, the Orlando attraction will be constructed in a year, according to Thierry Coup, senior VP of the park's creative studio at Universal Creative. That will mark one of the shortest build times in Universal's history.
"What helps is that we've done this twice now and the same team is assigned to this project," Coup said. "They know that it's going to take to bring this to life. It will be a huge accomplishment."
Riders wear 3D glasses from Germany's Infitec to view action — often as close as 15 feet — that unfolds on 14 screens of various sizes, the largest 60 feet high.
The addition of "Transformers" follows a busy year in which Universal Orlando Resort also opened a revamped "Spider-Man" ride, new "Despicable Me" attraction and announced plans to expand The Wizarding World of Harry Potter, which broke attendance records and still marks a popular draw.
"It's a good time to be at Universal right now," Coup said.
New "Transformers" attraction will replace a soundstage that used to house a live "Hecules and Xena: Wizards of the Screen" show that shuttered in 1999 and has hosted small events since.
"We're so happy to bring this to Orlando now," Coup said. "This is too good to keep in Hollywood."
Hasbro licenses the rights to the ride to Universal. Toymaker worked with "Transformers"-helmer Michael Bay to develop a new character, EVAC, that it could monetize as merchandise. Bay serves as a creative consultant on the ride.
Attraction has helped boost ticket sales in Hollywood since the ride opened its doors.
"The ride has already proven to be a hit at our Hollywood and Singapore parks, and we're excited that Universal Orlando guests will soon be able to join the Autobots in the fight to save the world," said Mark Woodbury, president of Universal Creative, who called it "the perfect addition to Universal Orlando's thrilling theme park experiences."
The three "Transformers" films, released by Paramount, have earned $2 billion worldwide.
The three films, released by Paramount, have earned $2 billion worldwide.