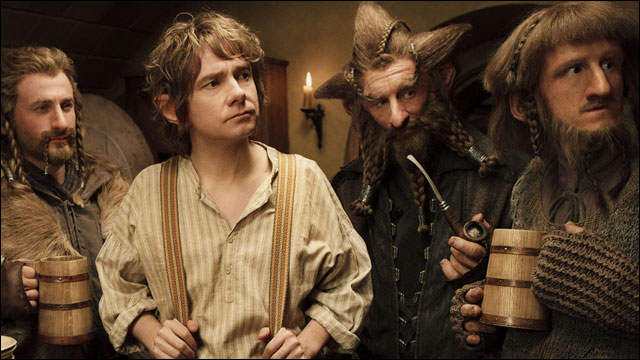 Warner Bros. Pictures and its New Line subsidiary are standing behind Peter Jackson and "The Hobbit" producers in denying accusations of animal abuse on the films, and attributed the reports to disgruntled animal wranglers who were fired for cause.
"The production acted swiftly and responsibly in addressing any incidents involving animals in its care throughout the long filming process, and in fact, measures were taken to protect all farm animals, including those uninvolved with the films," the studio said in a statement issued Tuesday.
Warner and New Line noted that the triology's first film — "The Hobbit: An Unexpected Journey" — is due to open worldwide in mid-December and questioned the motives of the whistleblowers.
"We question the timing of this misinformation — given 'The Hobbit's' imminent release — and have no recourse other than to reveal that the primary source of these new allegations can be traced to freelance animal wranglers who were dismissed by the production over a year ago for cause," the statement said.
Jackson and the "Hobbit" producers distanced themselves Monday from reports about the deaths of up to 27 animals involved in the production, stressing that none was harmed during filming and pointing out that the filmmakers spent "hundreds of thousands of dollars" to improve conditions at the farm near Wellington, New Zealand. The American Humane Ass. said that animals were treated well while on location.
However, the People for the Ethical Treatment of Animals has maintained that whistleblower concerns about the alleged mistreatement of the animals were ignored by the head wrangler and head of production.
"It seems to PETA that instead of vainly defending himself, Jackson should be giving a firm assurance that this will never happen again," PETA said on its website. "He is the CGI master and has the ability to make the animals and other interesting creatures in his movies 100% CGI, and PETA calls on him again to do so."
PETA is planning protests at the Nov. 28 premiere in New Zealand, as well as at its U.S. and U.K. preems.
The animal wranglers told the Associated Press that the farm near the "Hobbit" shoot contained bluffs, sinkholes and broken-down fencing that caused three horses to suffer grave injuries, including a miniature that was slated to carry a hobbit in the movie. Six goats and six sheep were also said to have died after falling, contracting worms or reacting to new feed; chickens left out of their enclosures were reportedly mauled by dogs.
Jackson is producing the films with Zane Weiner, Carolynne Cunningham and Fran Walsh; exec producers are Alan Horn, Toby Emmerich, Ken Kamins and Carolyn Blackwood.