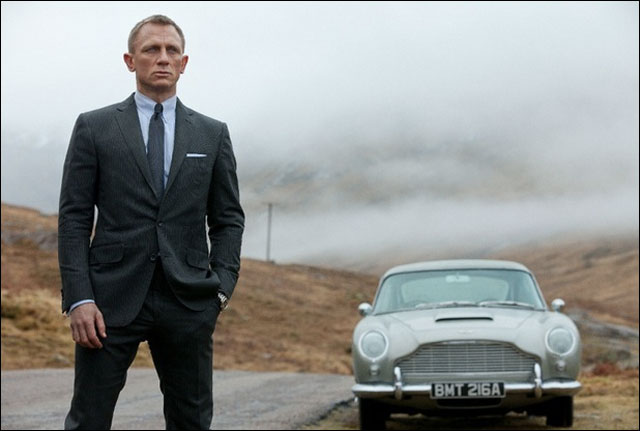 Three, two, one … liftoff.
With a hefty $320 million overseas haul already in the bank, Sony-MGM's domestic launch of "Skyfall," which begins exclusively Thursday at premium large format screens (including Imax), comes off almost like an afterthought. Stateside Bond fans aren't likely to care, though, with expectations for the 23rd Bondpic's domestic B.O. starting at north of $70 million.
Sony and Imax partnered to preview "Skyfall" a day before the pic's nationwide release at 3,500-plus locations. The early Imax release mirrors what Paramount did last year with "Mission: Impossible — Ghost Protocol," though that film had a weeklong exclusive run in Imax.
The large-screen B.O. results for "Skyfall" — the first Bond installment from director Sam Mendes — should be sizeable enough on Thursday, though the release strategy's main point was to ignite word-of-mouth via fanboys.
Previous Bondpic "Quantum of Solace" debuted with $67.5 million in 2008; "Casino Royale" earned $40.8 million during its opening weekend in 2006. Neither film had Imax, however.
Also laying an early foundation is Steven Spielberg's "Lincoln," which Disney bows at some 10 locations Friday, to be followed next weekend by a nationwide expansion. A decent result for "Lincoln" would see the pic average at least $50,000 per screen, though its two-hour runtime could limit screenings.
Imax has become an increasingly useful launch tool for pics.
The successful early Imax bow of "Mission: Impossible" helped pave the way for "Skyfall" as well as Universal's Tom Cruise sci-fier "Oblivion," which will have an exclusive Imax launch on April 19, a full week's run before the film's wider bow.
There were rumblings that some exhibs may have been irked by the "Skyfall" preview via Imax, but Sony insisted the studio is on good terms with all theater owners.
"Skyfall" launched two weeks ago in some international territories, before last weekend's expansion into 53 markets, which resulted in a whopping $156 million three-day gross. Across the board, the film has far outperformed the two previous Bondpics, with narrow drops in most holdover markets. In the U.K., for instance, "Skyfall" dropped just 21% last weekend, for a local 10-day record take of $85.8 million.
Overseas holidays (midterm school breaks in the U.K. and All Saints Day throughout Western Europe and parts of Latin America) were the primary reasons behind the plan to launch "Skyfall" overseas ahead of the U.S. The international marketplace also has become increasingly competitive for studio tentpoles, forcing distribs to take a market-by-market approach with some films — especially adult-skewing properties like "Skyfall."
In terms of this weekend's domestic play, the big B.O. perf of "Wreck-It Ralph" last weekend bodes well for "Skyfall," as exhibs provide some timely escapism for auds following the national election and Hurricane Sandy.