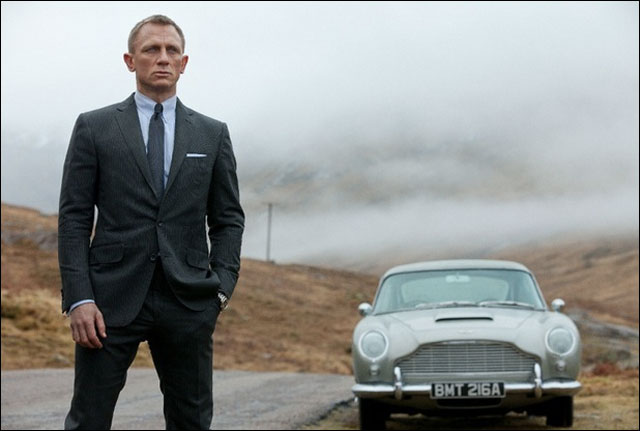 "Skyfall" is expected to be a windfall for marketers as the James Bond actioner rolls out in U.S. theaters.
Brands who have their products placed in the film are expected to receive over $7.6 million in exposure as the film plays in theaters this weekend, according to research firm Front Row Analytics.
Marketers with the most on screen presence include Heineken, Audi, Sony, Adidas, Omega and Aston Martin with their beer, vehicles, computers, shoes, watches, TVs and cell phones. Front Row Analytics did not cite Coca-Cola, which is one of the film's primary promotional partners. Audi, Adidas and Aston Martin are not spending around the film's release.
Front Row's figures are based on the firm's proprietary evaluation metrics developed from historical theater data, movie patron viewing behavior, overall theater viewers, exposure time, and values attributed to each viewer.
James Bond has long been a brand magnet, with marketers always eager to launch expensive campaigns to associate their products with the British spy. In addition to fees companies pay to appear in the film, marketers pony up more than $45 million combined on high-profile marketing campaigns around the world.
"Skyfall" is turning out to be a good bet, with the film having already earned $321 million overseas since its release Oct. 26, and becoming the most successful 007 film in the United Kingdom. Pic's also earned $4.6 million already in the U.S. from midnight and Imax screenings.
"This shows how far we have come (with product integration) from E.T. chasing after Reese's Pieces in Elliot's backyard, to a Wilson volleyball in 'Castaway' to now having Ian Fleming's super spy 007 switching his drink of choice to Heineken." said Eric Smallwood, senior VP of Front Row Marketing Services and Front Row Analytics. "These brands spent millions to be a part of a marquee movie franchise and the world will take notice, now that's a great return-on-investment."