The five costume designers nominated for an Oscar are a mix of newbies to the Academy and previous winners or nominees, but they share a love of research in order to get their designs absolutely right. In a time when they can no longer depend on vast studio resources — including costume departments — they all re-created, rented or bought the clothes that helped bring the characters to life. Challenges included finding the right fabrics and dealing with tight budgets. The reward: creating worlds on film.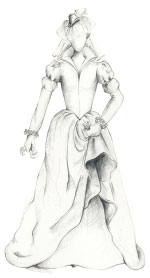 ANONYMOUS
Lisy Christl
"I like to take something and transform it into something else," says German-born Christl, who found herself working on 16th century English costumes for fellow German Roland Emmerich's Elizabethan period drama.
The costume designer had three months to prep and spent a lot of time in Berlin and London museums. This is her first Oscar nomination.
From two workshops in Berlin and one in London, her team made Elizabethan outfits for the main cast and most of those in the plays in the film. They found fabric in Africa, Romania and a "wonderful old man in Berlin selling old sarees." Fabric from flea markets was dyed and embroidered to make the outfits worn by Xavier Samuel and Vanessa Redgrave. Christl had never worked with helmer Roland Emmerich before, but he hired her because of her costumes on "Shadows of Time," directed by his friend Florian Gallenberger. "He really trusted me and he gave me all the freedom."

THE ARTIST
Mark Bridges
The costume designer, during an interview for the job on "The Artist," hit it off with helmer Michel Hazanavicius immediately. "We referred to the same sources and talked of the same films." Bridges says he's been a classic movie buff since he was 10 years old — so one could argue that he's been researching the subject a long time.
During the eight weeks' prep, costumes were made for the principals.
Among the challenges was the fact that fabrics are no longer of the same texture that they used to be. "The wools are not as heavy and the silks are without that lightness," he notes. Also nommed by the Costume Designers Guild, he's proud of is the scene where George gazes into the store window at a tuxedo.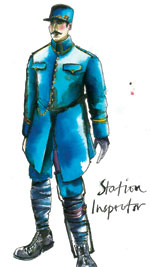 HUGO
Sandy Powell
The three-time winner, who also has several Oscar noms, is nominated by the Costume Designers Guild as well. "Of course it was a great advantage to have worked with Martin Scorsese as we now know each other and he trusts me to make decisions without running each one by him," says Powell. "You can develop a shorthand in communication."
She drew inspiration from the source material, the book "The Invention of Hugo Cabret" and the period films Scorsese screened. "I looked at photographs from the period, art and written material and studied original pieces of clothing."
All the principals' costumes as well as those in flashback scenes of Georges Melies making his films were made from scratch, while the extras were dressed in rented or bought outfits. Powell is most proud of the shoes worn by the cast.
"One of our most fortuitous discoveries were hundreds of pairs of unworn women's shoes from the '20s that had been found in an old factory by a dealer in Paris."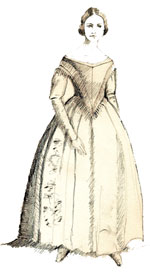 JANE EYRE
Michael O'Connor
Brit designer O'Connor, who's also nommed by the Costume Designers Guild, had read "Jane Eyre" before he was hired to work on Cary Fukunaga's version, and reread the Bronte novel once he had signed on, making notes as he went along. His research consisted of examining paintings and photos of the 1840s. His team made outfits for all the principals: Jane, young Jane, Rochester, Mrs. Reed and her son and daughter. Some of the clothing items, like the men's waistcoats, were rented, O'Connor says. With two months' prep time, "we were ready with everything," he adds.
Getting the fabric was a bit of a problem since the prints of that period were not easily available, but in the end they found them in the U.S. from vendors for quilters. But he was particular about certain materials, such as the lace. "You can get nylon lace, but it doesn't fall in the same way," O'Connor says.
"The budget was impossibly tight, and (although it was increased) it was (still) very tight," he says.
Even though the one-time Oscar winner ("The Duchess") had not worked previously with Fukunaga he says they got along well. "He was great, a very stylish man." The two exchanged images via email and Fukunaga visited the workshop where he'd give his input, says O'Connor.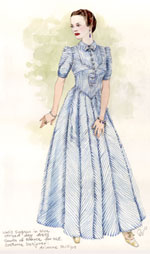 W.E.
Arianne Phillips
Phillips had dressed Madonna for nearly 15 years before she took the job of costume designer for the singer's royal romance story. "I knew about it in advance because she talked to me while writing the script." That gave her a long lead time in researching costumes for the film, which intertwines historical and contemporary storylines. With a three-month prep time, she was able to gather the outfits. "The budget never allowed us to re-create all the costumes from scratch," she says. "I knew I had to decide where to spend the money, what to re-create and what can be found; it's always a combo."
Andrea Riseborough (Wallis Simpson) alone went through hundreds of costume changes. Besides the clothes, Phillips also re-created the jewelry with the help of Cartier. While many pieces are in private hands, the jeweler was able to make paste versions (since destroyed) of items such as the famous diamond cross bracelet given to her by the Duke of Windsor.
Working with Madonna has "raised the bar for my work," says Phillips, who has was previously Oscar-nommed for "Walk the Line" and is nominated for a CDG award this year as well.
Eye on the Oscars: Art Direction, Costume Design & Makeup
Costumes | Art Direction | Makeup
Divine costume design once again at FIDM