The year's contenders for adapted screenplay attacked an extraordinary range of material: a work of nonfiction; a children's graphic novel; a stage play; a classic spy thriller; and a modern seriocomedy of manners. Each posed unique challenges these A-level scribes were eager to meet.
Alexander Payne, Jim Rash & Nat Faxon
"The Descendants"
Co-writer/helmer Payne was cognizant of the need to bring a visual dimension to Kaui Hart Hemmings' heavily dialogue-driven novel, in which Matt King "learns the news of his wife's imminent death and then of her infidelity, and then he drives around a lot talking to people, which isn't terribly cinematic." This led Payne to hasten in "getting to the moment where he picks up his tiny brood and takes them off to the island in search of her lover. That's where it starts to pick up."
The Nebraska native had anatomized his home state in "Citizen Ruth" and "Election," and gotten the Santa Barbara's measure in "Sideways."
Now it was the islands' turn. "Overall, from the adaptation through the shooting, I wanted to get the proper sense of the story taking place in Hawaii, amid this bizarre, self-styled upper class," he says. "It's not my world at all. I had to learn it through the book and then research, and in a way, the process of adaptation didn't finish with the words 'fade out.' That was just the first 10%. The whole damn process was one of adaptation — adapting myself to that world. Like a documentarian, in a way."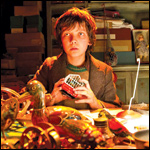 John Logan
"Hugo"
So Martin Scorsese could make something his kid could watch, Logan sought the right tone for Brian Selznick's graphic novel.
"Though it's for a family audience, it deals with harrowing events. All the way along, the important thing to me was to keep the tone austere, to play honestly that orphan's story, because it's a tough one. When Marty and I were working. we talked about things like 'The 400 Blows' and Dickens' panoply of orphans trying to make their way through life."
Logan decided to juxtapose bustling urban life with his orphan immediately.
"Irising in on the child's face seemed to be the right way, because I always felt the movie would live or die on the face of that actor. So going through Paris and through the station, and right up the clock, and then seeing Hugo's sad, wayward eyes staring out was really the thing that unlocked it. And every point when I worked, I kept coming back to that face, trying to capture the sadness of that boy, which meant that we couldn't be overly frolicsome with some of the lighter material. I always tried to go back and forth between the more exhilarating elements of the story, and Hugo in isolation."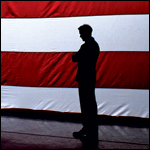 George Clooney, Grant Heslov and Beau Willimon
"The Ides of March"
In translating Willimon's "Farragut North" stage play to film, says Heslov, "we wanted to find big moments, moments that would leave the audience on the edge of their seats." They brought onto the screen the originally offstage presidential hopeful (helmer Clooney), and then made him central to the conflict. In the play, the g.f. of staffer Stephen (Ryan Gosling) sleeps with the campaign manager, "but to us that wasn't such a big deal. But by having her schtupp the candidate and then get pregnant by him, that would raise the stakes considerably."
The opening-up process took the characters literally out of smoke-filled rooms. "We had the opportunity to go to places you just can't in the theater. That meant getting on a campaign trail, going to rallies and big events," a journey that eventually took them home. "It's funny, D.C. is not unlike Hollywood, sort of a one-business town. And it's no different with big business, or a big newspaper, it's still the hierarchy of power. Jockeying to get more of it and all the shit people pull, it's similar. That's why we hoped that the screenplay transcended politics, something that anybody who's been in any of those worlds could relate to."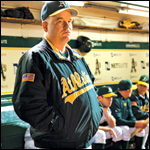 Stan Chervin, story; Steven Zaillian and Aaron Sorkin, screenplay
"Moneyball"
Each member of the triumvirate attended to different challenges in the pic's development, proving that (as the saying goes) many hands can indeed make light work, and make it seamless. First scribe Chervin, seeking "the universal story" to bring broad aud appeal to a baseball g.m.'s journey of personal redemption, phrased it as "the story of a man who discovers that it is far more important to know your value than your price.' … It enabled me to sell 'Moneyball' off a pitch (and) guided me through every draft."
Zaillian found Michael Lewis' book "most interesting to adapt," in that "it covers a lot of ground in terms of the idea, history and practitioners of 'moneyball' sabermetrics, allowing room to create a narrative. Especially appealing to me was the tenable debate between tradition and nonconformity, and the inevitable clash."
As for Sorkin, he says, "Stan and Steve had done a great job cracking the book by the time I was brought in, but I remembered some advice Akiva Goldsman gave me when I did my first adaptation, 'Charlie Wilson's War.' He said, 'Fall in love with the book and then break up with it.' "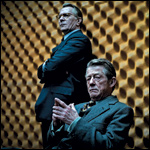 Bridget O'Connor and Peter Straughan
"Tinker Tailor Soldier Spy"
Maintaining fidelity to all facets of their source material was a tricky business for the husband-and-wife scribes. "Apart from most spy literature, John le Carre is always interested in the human story underneath the spy plot — the emotional costs to these men and women fighting in the Cold War," Straughan says. To convey that, "the novel has this wonderful sort of autumnal melancholy. So it was trying to keep the space in there, trying to keep the silence in the air and let the thing breathe, and not just be plot point, plot point, plot point."
Their solution was partially structural — "rearranging the story elements so you could tell it in a more economical fashion" — but mostly involved taking advantage of the medium: "We would write a scene that was four or five pages, a lot of it dialogue taken from the book, and use that as a starting point. We'd say 'OK, how can we reimagine this cinematically; how can we boil down these two pages of dialogue into an image? What are the images that can tell the story, instead of two people talking to each other?' Which is kind of always the role of the screenwriter, really."
Eye on the Oscars: The Writer
We need to talk about money | Scripters searched for contrast and color | Reviving a lost art: the silent scenario