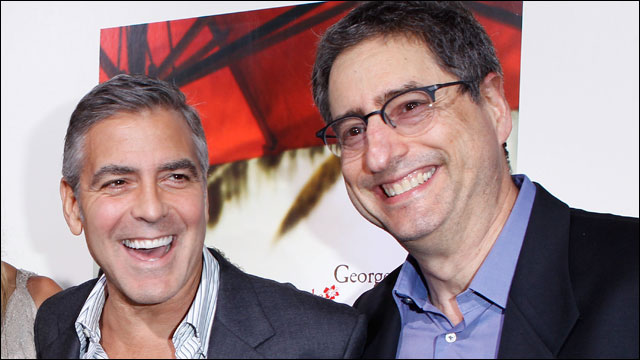 Above: Tom Rothman, right, at last year's premiere of Fox Searchlight's "The Descendants."
The film biz was rocked Friday by the news that Twentieth Century Fox co-chairman and CEO Tom Rothman will ankle the studio as of Jan. 1.
Rothman has steered Fox's unit with co-chairman Jim Gianopulos since 2000. In announcing his departure, News Corp. also unveiled a restructuring of at the studio that will make its TV production units a stand-alone business unit for the first time — a big vote of confidence from News Corp. topper Rupert Murdoch and prexy-COO Chase Carey, in 20th TV chiefs Gary Newman and Dana Walden.
Rumors of a Rothman departure have swirled around Hollywood for months, though the timing of Friday's news was a surprise to many on the Fox lot, including senior execs on the film side. Many who worked on the Fox lot only heard about Rothman's departure from media reports. Rothman is said to have had about two years left on his contract.
"I'm proud as hell of that run. But I've done the same thing, at the same place, for a long time (indeed, in the 75 year history of our studio, no one has supervised movies for longer (except Darryl Zanuck himself). I do need some new challenges and to write a new chapter," Rothman said in an email to staffers.
Departure leaves questions about who will fill the exec's responsibilities. Gianopulos is well-known for his work in Fox's anti-piracy and technology expansion efforts. He also has good relationships with some of Fox's biggest talent, including James Cameron, whose "Avatar" films Gianopulos championed.
But Rothman's departure is likely to mean more freedom and responsibility for Fox's division heads, notably production prexy Emma Watts.
To his supporters, Rothman had a hands-on approach to running the studio. It was not uncommon for the exec to tweak newspaper ads for Fox films in their second or third week himself, or personally manage an event's guest lists.
But to his critics, Rothman was a micromanager with a personal governing style which often grated on those he worked with both inside and outside of Fox. Managers and agents often moaned about the studio's pennypinching, while financial players complained of the difficulty of making a Fox deal.
It's unclear where Rothman will go after Fox. His name has popped up in recent months whenever high-level film exec posts have become available, such as the Disney Studios job that ultimately went to Alan Horn. There's been much chatter about the prospect of Rothman taking the reins of Universal Studios from Ron Meyer.
Exec also recently purchased a home in Manhattan, according to one insider, and has two daughters living on the east coast. Rothman also sits on the board of Brown U., his alma mater.
With the studio restructuring, the Fox Filmed Entertainment division that previously housed the film and TV production operations will be split in two. The film side will assume the name Twentieth Century Fox Film, comprising 20th Century Fox, Fox Searchlight Pictures, Fox 2000, Fox Animation/Blue Sky Studios, Fox Intl. Prods/, and Fox Home Entertainment. The TV side, overseen by 20th TV chairs Gary Newman and Dana Walden, encompasses 20th Century Fox TV, Fox Television Studios and Fox 21. Newman and Walden now report to Carey rather than Rothman.
"Tom has played a critical role in building our film business into one of the industry's leading studios," News Corp. chief Rupert Murdoch said in announcing the changes. "He has spearheaded a legacy that includes many of the business' biggest grossing films, consistently outstanding profits, and enduring quality. I know great success will continue to follow him. We are well positioned for future success under the leadership of Jim Gianopulos, whose talents will ensure that we continue to engage audiences around the world on multiple platforms."
Carey's statement signaled strong support for Gianopulos.
"Jim has been an equal driving force in bringing some of the greatest films of all time to audiences around the world over a career that spans more than three decades," Carey said. "I am confident that Jim will take our film business to new heights. As we continue in our commitment to develop superior television content, I look forward to working more closely with Gary and Dana, who … are unquestionably one of the best teams in the business."
A lawyer by training, Rothman came to Fox in 1994 as the founder of its Fox Searchlight speciality unit. He was quickly promoted to prexy of production for 20th Century Fox in 1995.
Rothman earned a reputation for skillfully managing the creative process while maintaining a rigorous focus on cost controls and profit margins. But insiders say that News Corp. has grumbled at Fox's film performance as of late.
While 2009's "Avatar" has helped the studio's bottom line and relationship with slate investor Dune Capital Management, the studio has had a number of misfires and lukewarm performances. This summer, Fox saw disappointing grosses for Timur Bekmambetov's "Abraham Lincoln: Vampire Hunter" and "The Watch," the latter of which earned just half of its production budget at the domestic box office.
But Fox has held a tight grip on its marketshare, and its long-standing relationship with financial backer Dune suggests a satisfaction with the studio's overall profitability. Fox also leads the studio pack internationally, with $2.061 billion in international grosses as of early September. Fox and Sony marked the only two studios to pass the $1 billion mark this summer.
The decision to split the film and TV operations was spurred in large part to restore the management hierarchy that existed prior to Peter Chernin's departure as News Corp. chief operating officer in 2009. Newman and Walden shifted to reporting into Rothman and Gianopulos after Chernin departed in 2009 and was replaced by Carey. That decision was an effort to cut down on the number of Carey's direct reports. But in practice, sources said Rothman and Gianopulos have never been too hands-on with TV, and major decisions inevitably wound up going to Carey anyway.
Transforming TV production into a separate business unit is also a recognition of the TV studio's recent hot streak with such hits as ABC's "Modern Family," Fox's "Glee" and "New Girl," Showtime's "Homeland" and FX's "American Horror Story" and "Sons of Anarchy." "Modern Family" alone promises to generate $1 billion in syndication revenue over the next few years, and it's nabbed two consecutive Emmys for best comedy series.
Rothman got his start in the film biz working at Gotham entertainment law firm Frankfurt, Garbus, Klein & Selz. At the firm, he repped clients including Jim Jarmusch on "Stranger Than Paradise," and helped produce his 1986 follow-up "Down by Law," and worked with such other emerging auteurs as Bill Sherwood, Robert Frank and Spike Lee.
"I learned then that great filmmakers make great movies," Rothman told Variety last year. "It's the heart and soul of what I do everyday in my job: Try to pair the right talent with the right material."
Rothman later moved on to Columbia Pictures during the Dawn Steel-David Putnam era before seguing to Samuel Goldwyn Films. His indie experience landed him the job of launching Searchlight for News Corp.
At Fox, Rothman earned the reputation as a tough dealmaker who didn't believe in extravagant expenditures. Those who worked with him — both inside and out of the studio — often complained of his fiscal conservatism, mentioning his law degree in reference to his tough dealmaking strategies. His frugality extended into his personal life, though he insisted that he was just being practical by driving a 10-year-old car.
At a Variety marketing summit last year, Rothman talked about the expanded role of marketing, and of the importance of including publicity efforts from the earliest stages of a film's development.
"I can see the logic of that," Rothman said at the time. "Because you don't want to make a film that you can't sell. But I wonder if creatively, Hollywood is losing something. That's why I like Fox Searchlight. They make films that should be made, and then try to figure out how to sell them."
Cynthia Littleton contributed to this report.