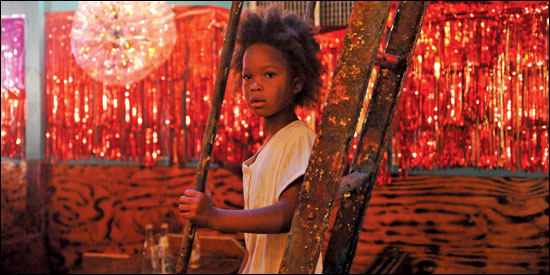 Often actors will try to tap into something within themselves when they tackle a role. But that was a tall order for tiny Quvenzhane Wallis, who made her acting debut in "Beasts of the Southern Wild" as Hushpuppy, a character with whom she had little in common.
"I actually asked, 'Who is this? It's not me,' " Wallis says. "I'm not really like her, so I was kind of confused as to who she was. They told me, 'It's you.' 'Me?' So it was difficult to get used to."
Wallis, whose mother reports that her first name means "fairy" in Swahili, says there was really only one aspect of Hushpuppy that she could identify with.
"Some parts of the film, like with the animals. That was me," she says. "Touching the animals, that was me. There was only one animal I didn't like. The pig. Big, black and hairy."
Central to the story in "Beasts" is the relationship between Wallis' character and her father, played by relative newcomer Dwight Henry, a restaurant owner in New Orleans. When the two met on set, it took a little while before they connected.
"When I first met him he brought me sweets," Wallis says. "We went outside and played little games. Then we started getting used to each other on the second day. We cooked together."
Wallis, a native of Houma, La., who has fished and gone crabbing with her family in the area where "Beasts" was filmed, beat out more than 4,000 kids for the role of Hushpuppy. And she's ready for more.
"I would like to keep acting," she says. "I would like to keep doing different parts."
| HOME | Naomi Watts >>