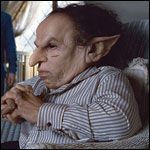 HARRY POTTER AND THE DEATHLY HALLOWS – PART 2
Nick Dudman
Makeup effects designer Nick Dudman had spent a year and a half on "Harry Potter and the Deathly Hallows: Part 2," and wanted to liven things up for actor Warwick Davis, who had to endure prosthetics and makeup each day in his role as Prof. Filius Flitwick. So he began writing obscene words on Davis' forehead in eyebrow pencil, then covering them with makeup for the day's filming.
Hilarious, until he used a Sharpie one day rather than the pencil. "It began to bleed through!" recalls Dudman. "I could have lost my job."
Having worked on all eight of the "Harry Potter" films, a sacking seemed unlikely, and he got his reward in January: Dudman, with makeup designer Amanda Knight and chief hair designer Lisa Tomblin, earned a berth in the achievement in makeup category.
"Part 2" was a massive undertaking, says Dudman, who oversaw a crew of 150 at one point. The trick in a series of films like this, he says, is "you're trying to up your game each time. We wanted every piece to be flawless."
Not easy with dozens of battle scenes, in which actors degrade visually every minute. "Continuity became quite extreme," says Dudman, adding that the Gringotts Bank sequence was also "a milestone" for the sheer amount of prosthetic work.
Still, Dudman believes he'll stick to the tools of his craft and leave the Sharpie at home. "Lesson learned," he says.
— Randee Dawn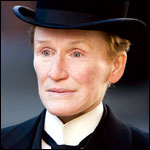 ALBERT NOBBS
Matthew Mungle
With this 19th-century period piece, Mungle (a multiple Oscar nominee and winner for "Dracula") took on two of makeup's most challenging tasks — convincingly turning a woman into a man.
"It took about an hour and 20 minutes each, for both Glenn Close (who disguises herself as the titular butler) and Janet McTeer (who disguises herself as a housepainter), and a lot of makeup and prosthetics," he says.
To complete the physical transformations, Mungle and his team — Martial Corneville and Lynn Johnston — gave Close a silicon nose tip and nostrils, gelatin earlobes and dental plumpers, "to push her cheeks out," along with a custom wig applied by Corneville. "Janet also had a full silicon nose without the nostrils, to make it look broken, longer earlobes, and dental plumpers," he says, adding that they added "dental veneers on her tops, to give her a rougher look, along with latex on her cheeks and light-brown contacts."
The team worked closely with director Rodrigo Garcia and d.p. Michael McDonough, "especially on the lighting," says Mungle, who stresses that "there were no visual effects at all — it was all in camera, and everything you see is real. And the first time Glenn saw herself with the full makeup, she teared up and said, 'That's Albert.'?"
— Iain Blair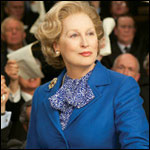 THE IRON LADY
Mark Coulier and J. Roy Helland
Re-creating the noble nose of former British Prime Minister Margaret Thatcher was the greatest challenge faced by "The Iron Lady" makeup artist Mark Coulier, but he knew he had struck nasal gold when no one seemed to notice its presence. "It is quite a simple piece but in a really tricky area in the center of the face," says Coulier. "When the first pictures went out around the world and nobody really commented on the nose appliance, we were delighted."
Transforming Meryl Streep into Thatcher, and then substantially aging the character, presented further challenges. Coulier, fellow nominee J. Roy Helland, and makeup effects artist Barrie Gower made 20 full neck pieces, 20 sets of cheeks and 40 sets of noses for Streep alone, not to mention prosthetics for supporting actor Jim Broadbent (applied by makeup artist Stephen Murphy). Thatcher's teeth were made by FangsFX, and her wigs by Peter Owen. Streep was wearing a prosthetic in every shot in the movie, "and because it was a low-budget movie, they were packing in the shots," says Coulier. "They were filming her all day every day — just maintaining the look of that nose after it has been on for 12 hours and they are doing close-ups? That was tricky."
— Caroline Ryder
Eye on the Oscars: Art Direction, Costume Design & Makeup
Costumes | Art Direction | Makeup
Divine costume design once again at FIDM